When local plastic fabrication company, Abplas met Hamid Daya, an ENT Specialist Surgeon at St George's Hospital, London they decided to work together to help protect medical staff during life-saving operations. The prototypes of their new St George's COVID Shield, designed by Matthew Buckley, are currently being used by NHS teams performing operations at St George's Hospital.
The family-run business prides itself on being a 'team of problem solvers who work with plastic on a daily basis'. Their custom-made products range from domestic kitchen splashbacks to larger exhibition and retail display units commissioned by the likes of Google, Nike and Selfridges. In the wake of COVID-19, Abplas have also repurposed production lines to cater for the increased demand for cough and sneeze guards.
Matthew and Victoria Buckley, who live in Reigate, Surrey are the husband and wife team behind the business. I recently spoke to Matthew to learn more about Abplas and the fundraising campaign that has recently launched to help make the pioneering St George's COVID Shield project become a reality:
Could you tell me how Abplas began?
We are a family business which was established over 70 years ago by my Grandad. He originally started out making lampshades and jewellery! My dad then took over and we progressed into timber and DIY; finally concentrating our efforts on plastics, selling sheets, secondary glazing and roofing. As plastics were a fairly new idea 'back in the old days', it took a while for people to realise the advantages. Since I took over the reigns, we have seen the business change again. Until recent events, we were producing a lot of bespoke signs and pieces for events, set design companies and the retail sector. Alongside supplying domestic customers with cut-to-size plastic.
Typically, what type of products do you manufacture during a normal working week and who are your customers?
Typically, no one week is the same....we could be making an LED lit sign for Google, making bespoke tables for a retail display, engraving a cross section of a car into plastic panels for a motor show or supplying splash backs for a customer's home.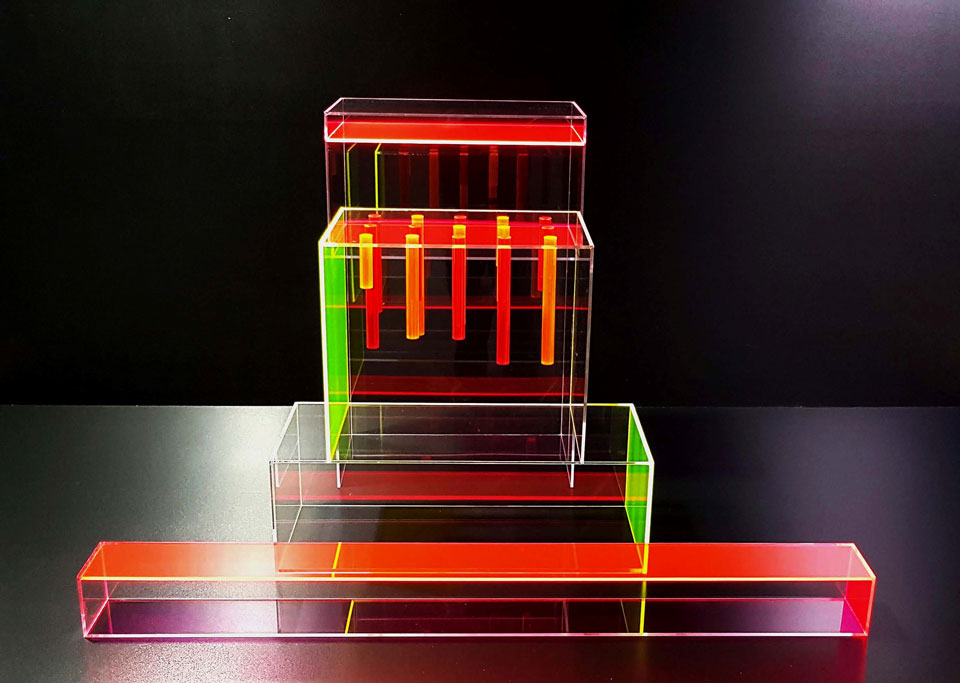 In the wake of COVID-19, you have re-purposed and expanded your production lines. When did you recognise that you could play an active part in the response to the pandemic and what has this looked like in practical terms?
To begin with we were very worried as many of our customers are from the sectors worst hit i.e. events, retail etc. We had to make the difficult to decision to furlough our employees in order to buy ourselves some thinking time about how the business could survive the current situation. Fortunately, I love the challenge of finding solutions to problems and inventing things. I was also very keen to help if I could as, like everyone else, I am immensely grateful to all the key workers out there. As it became apparent that there was a need for cough and sneeze guards, I came up with a design that was robust, easy to assemble and could be flat packed. Since then, I have been working as much as I can to meet demand, whilst also aiming to keep our business afloat. We have had lots of positive feedback from our customers which has been lovely and made the long hours worthwhile.
Recently, I have also been working alongside a surgeon at a local hospital to design and build a protective screen to be used in theatre to protect NHS staff. This project is still in the early stages, but we are hoping to get our design rolled out as quickly as possible. We really want to help as many of the amazingly brave NHS staff as quickly as we can. If all goes to plan, will be asking our staff to come back to work shortly. We have decided to call the design St George's COVID Shield.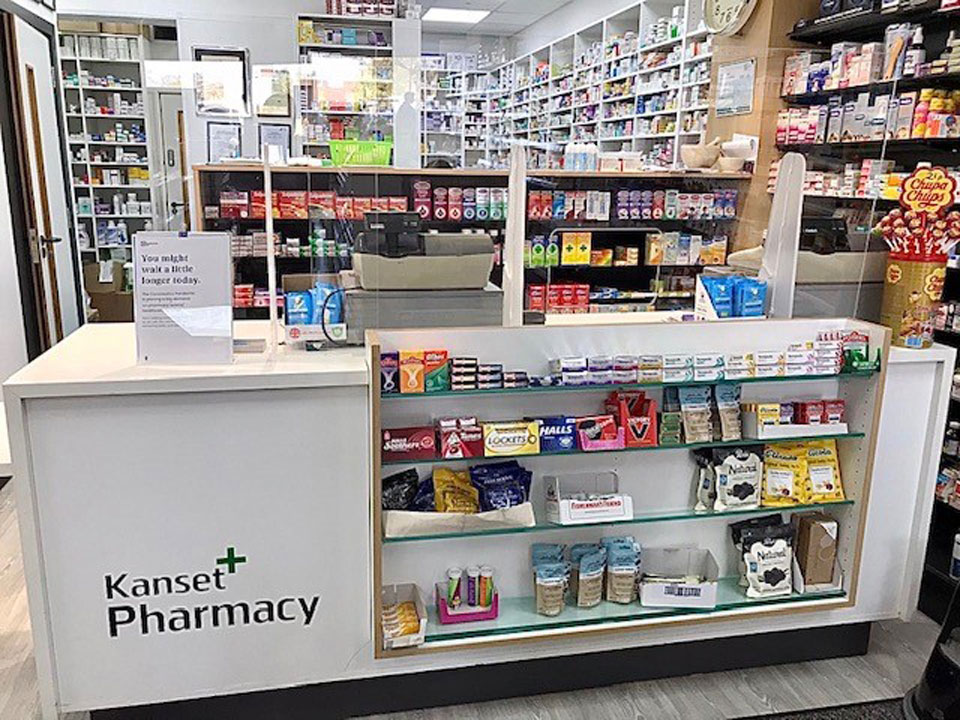 Tell me more about the St George's COVID Shield
We are extremely proud to be involved in designing and building the St George's COVID Shield.
This project began only a couple of weeks ago when St George's Hospital ENT surgeon Hamid Daya phoned to explain that his son, Jahan Daya, had come up with a design for a product to protect NHS staff from COVID during surgery. I said that I would be delighted to see it and explained that I had also been working on a design; after seeing news coverage and reading about this dreadful virus I wanted to design something to help.
Hamid and I (whilst adhering to social distancing of course!) made a prototype of Jahan's design, but I also showed Hamid my own prototype. Since that first meeting things have developed at a great pace, as all parties involved were keen to provide additional protection to NHS staff on the frontline as quickly as possible. The St George's COVID Shield has been used with success over the last week at St George's Hospital, by Hamid and his colleagues. It has been minimising the risk of contamination and elevating the level of safety for the NHS staff.
It is clear from data emerging around the world that there is a considerable risk to the surgeons and nursing teams who are caring for COVID patients without adequate protection. The St George's Shield provides additional protection for NHS theatre teams of doctors and nurses performing an operation that helps transfer the ventilation tube to an opening in the front of the neck (tracheostomy) allowing patients to come off ventilators and be transferred out of intensive care units.
Hamid and Jahan Daya are working tirelessly with our team, alongside St George's ENT Department Charity, to produce and distribute as many St George's COVID Shields to other hospitals around the country so that their operating theatre teams may also benefit from this life-saving product.
At the beginning of this week, we launched a Just Giving page to help raise funds to get these shields produced in the quantities needed. Please spread the word!
How are you communicating your repurposing efforts with your customers and the wider community?
We have been using social media, Google Adwords, our website and word of mouth to get the message out there. Our friends have been brilliant at sharing and liking our posts, as have our customers. Our posts have been shared on various pharmacy and convenience store groups and forums, as well as email. Word has also spread between hospitals.
We would really appreciate shares of our St George's Shield Just Giving page and of course, donations are very gratefully received!
Prior to the pandemic, the environmental impact of plastics was frequently making headlines in the news. How do you address this issue as a business?
We are dedicated to reducing waste, increasing efficiency and reusing and recycling plastics wherever possible. We will always try to get the maximum amount of usage out of each sheet of material thus producing as little waste as we can.
As part of our commitment to reducing the environmental impact of the plastics we offer free recycling of any acrylic or polycarbonate purchased from us. The products and designs we build can be used as permanent fixtures, or they can be stored by our customers and used over and over again.
As a business, what have you learned from this experience and will this change how you operate in the future?
We have survived seven decades, by always learning, adapting, and coming up with new ways to solve problems. So hopefully we will continue with this attitude in the future!
Matthew, many thanks for taking the time to talk to us and we wish you every success in bringing the fantastic St George's Shield project to life!
Do you have a small business story to share? Get in touch with our team.
You can donate to the St George's COVID Shield Just Giving campaign here: