At the beginning of the first Covid-19 lockdown local residents and neighbours Delano Pienaar and Bradley Johannie started to hatch a plan over their adjoining back gardens to create an innovative new gin brand, and just a few months later, Batts Hill Gin was conceived. Rhi spoke to Delano & Brad to find out more about the creation and launch of Reigate's first gin brand, their exciting vision for the business, as well as the challenges which lie ahead as we enter into a second lockdown.
Can you tell me about your career backgrounds and what made you decide to launch a gin brand?
We both have a passion for food and flavour. I am a chef and Bradley works in the food services industry. We love a celebration and over the years we've shared many meals and of course, gin. During lockdown we started experimenting in our baby copper still - and the dream of bringing our own gin to our patch of Surrey was born.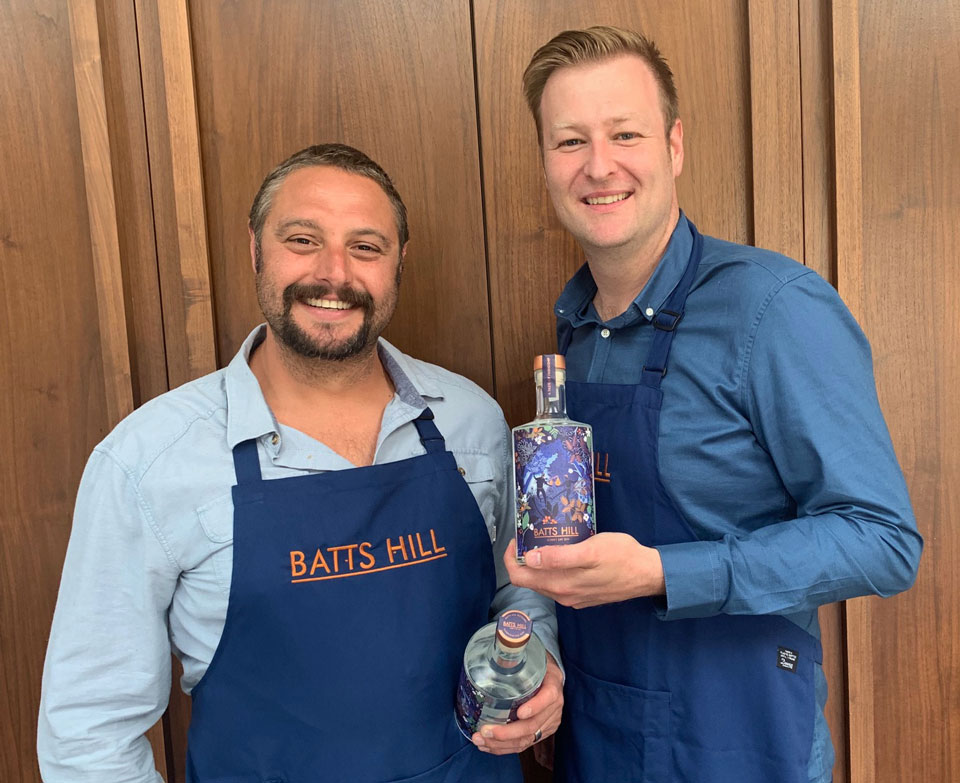 I love the branding – what inspired the name and the brand design?
The name is inspired by our location, we are neighbours that live just off Batts Hill. We wanted a name that was recognisable as being local to our patch of Surrey. Most of our distilling happens at night, when the kids are in bed and we have time to set up our small copper still, and importantly taste our results. We wanted the branding to reflect the joy that developing the gin has brought us. We worked with local Surrey Artist, Lucinda Kidney, to bring our essence 'A taste of Friendship' to life.
There is a lot of competition within the gin market, how have you differentiated Batts Hill?
Our aim was to create a gin that we would love to drink over and over again - one that blends traditional distilling methods with innovative ingredients.
We have started with a different base. Where most other gins use grain spirits, Batts Hill has a sugar beet base which gives it a particularly glorious mouthfeel and we've used macadamia nut to round our gin making it smooth enough to enjoy neat over ice.
Our unique blend of citrus and spice provides a highly versatile product - it is delicious with every tonic we have tried and perfect for creating interesting cocktail recipes. We really love it and the people that have tried Batts Hill seem to agree. It is really special.
As a new independent business in Reigate, which marketing communications channels will you be focusing on to build brand awareness and grow sales?
Our social media channels are very important to engage with our customers, particularly with our local community. Once a week we host Gin O'Clock where we use Batts Hill to demonstrate seasonal cocktails and food pairings. Having a local presence is really important too, so have been attending local farmers markets and events. We have also been extremely lucky, and are very thankful, for the support of local independents that despite challenging times, have started to serve Batts Hill and stock Batts Hill on their shelves.
As we approach Christmas, what plans do you have to capitalise on the opportunities this prime selling period presents?
First and foremost, we love a celebration and are excited for Batts Hill to be a part of peoples' celebrations, so we'll be sharing festive cocktails and food pairings on our social media channels regularly. We have also put together some very special gift bundles that we think will make excellent presents and will be delivering these for free locally during lockdown. We're also hoping to capture the imagination of local businesses who may have to forgo their annual Christmas parties by providing individual Batts Hill party packs for them to ship to their employees. Virtual celebrations have to be a trend this season!
What market challenges do you see ahead?
In the crowded gin market, there is no space for mediocrity. Our product has to be superior - only the best ingredients, triple distilled, small batch and hand-crafted. We are promising something special and that is what we aim to deliver.
We have had to make peace with the current situation and accept that our business may grow slower than we'd hoped, especially now that we are entering a second lockdown and bars and restaurants closing for the next month. We've had a great response from the markets and fairs we've been attending and look forward to getting out there again when we can. In the meantime, we're trying to be inventive, develop product bundles for people to enjoy at home and offer extended service, such as free local delivery, to make it convenient and easy for people to enjoy Batts Hill and to give it as a gift.
What is your long-term vision for the business?
In the long term we would like to have a space where people can come and experience our taste of friendship. Sit down, have a drink, and see how we make Batts Hill. We'd also like to get our still out in the community, enabling personal gin making for events. We've got so much pleasure out of our adventures in gin and we'd love others to experience it too. We have a way to go, but every bottle gets us closer to our dream.
Finally, what are your top tips for the best way to serve a glass of Batts Hill?
We each have different ways we like to enjoy it. I prefer a slice of orange with a small bay leaf and Fever Tree Indian Tonic. Bradley prefers his with Fever Tree Mediterranean Tonic, lemon and thyme. We would encourage people to think beyond the standard lime and tonic -although that is great too. Gin is great in so many ways – with lots of different mixers and in both cold and hot cocktails. We are always sharing tips and recipes so stay tuned to our channels for new ideas.
We wish you the best of luck with the upcoming launch activities and even though we won't be able to go out for the next few weeks, we certainly look forward to joining you for weekly Gin O'Clock cocktails from the comfort of our sofas!
Follow Batts Hill Gin at:
Instagram @battshilldistillers
Shop Batts Hill gin at battshilldistillers.co.uk
Do you have a local business story to share? Get in touch with our team. We'd love to hear from you!