Bespoke at Littleton Manor Farm are a full-service venue and events management company who specialise in producing high-quality bespoke, engaging, and memorable events. Nestled within 70-acres of beautiful Surrey countryside, Littleton Manor Farm offers a uniquely private and versatile outdoor events space just outside of Reigate. Karianne Levett launched the business in 2020 alongside business partners Kate Tarrant, a talented professional Events rider, and her husband Matt, who run the world-class Equestrian Centre also based on-site at Littleton. A partnership born out of friendship has flourished into a fledgling lifestyle and events business with exciting potential and a driving ambition for growth. Beccy recently met with Karianne to find out more about the business, the challenges she has faced launching during the pandemic and her plans for the future:
Tell me more about your background and where the idea for Bespoke at Littleton Manor Farm came from?
It was quite a funny turn of events! I first met my business partners (landowners Kate and Matt) when they were expecting their first baby and enrolled on a Hypnobirthing Antenatal course with me (another passion of mine). We kept in touch, and after coming to some of my events in Surrey, they approached me to see if I would be interested in embarking on a joint venture running events on their 70-acre farm. As soon as I saw the space, I realised the huge potential that such a beautiful vast blank canvas held and was very excited about such an amazing opportunity. We partnered together shortly after that.
In your view, what sets Littleton Manor Farm apart from other event venues?
For me, what sets us apart from other venues is the opportunity to build your event from the ground up in a unique location. Individuality. Giving you complete control over the look and feel of every element so it can truly reflect your personality and style.
We are fortunate to have different spaces at the farm suitable for a variety of different types of events. From festivals, corporate events, bridal showers, birthday celebrations, weddings, and everything in between.
We also offer great flexibility in how we work with our clients. With over 15 years of corporate and agency events experience, we have the knowledge and skill to provide fully manage an event from conception to delivery. Alternatively, or if an events agency is looking for land hire only, we can of course provide this too. We are happy to recommend suppliers from our trusted network or if someone want to use their own supplier, this can also be arranged.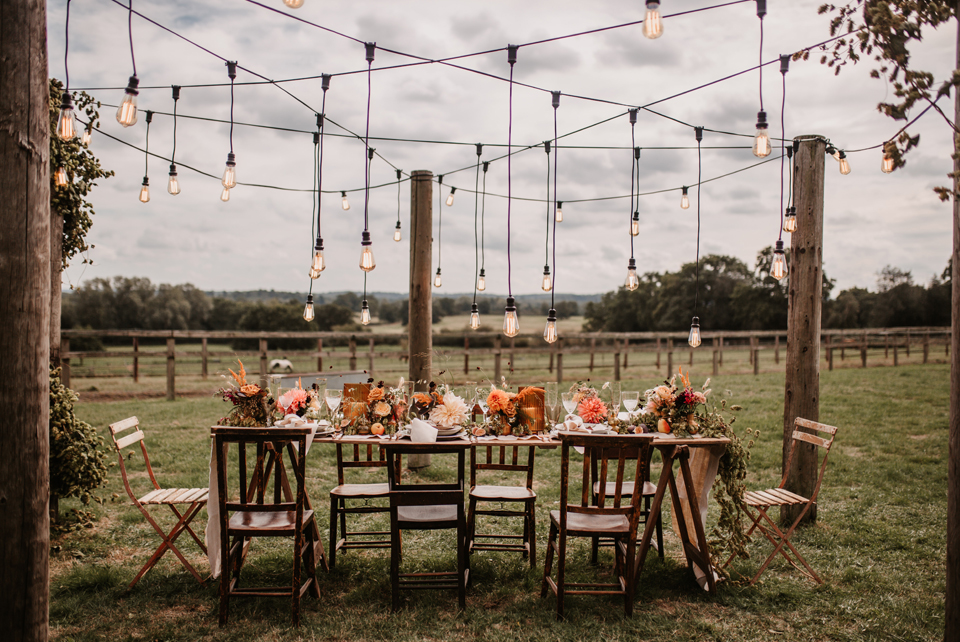 Bespoke at Littleton Manor Farm was founded in 2020. To launch an events business during the year of a pandemic must have been extremely challenging! Can you tell us how your first year of business has been?
Yes, you could say there couldn't have been a more challenging time to launch an events space during pandemic! However, it did mean there was time to get focus on the website design and complete all the behind the scenes functions ready for our launch. It also gave us an opportunity to hold focus groups to engage with our market and refine what we offer to our clients at Littleton Manor Farm.
Now that confidence around holding events is returning, there is a huge backlog of weddings and a real shortage of venues with availability. We have been busy reaching out to local events agencies and wedding planners to see how we can help them and deliver a creative solution to their clients. As things are starting to open-up again, we have noticed a growing demand for outdoor space, not only from a Covid-19 health and safety perspective but also what we can offer in terms of choice of flexible space and budget.
You work with a close network of trusted suppliers to create an entirely bespoke experience. How do you typically select your suppliers and what makes them so unique?
Trust is a big one for us. The suppliers we work with share our values and building and maintaining a good working relationship is paramount. Turning a green field into a fully functional and inspiring events space is no mean feat but, from experience, we know our trusted suppliers are creative thinkers and to not only understand but also deliver the objectives of each event.
The setting is truly idyllic and lends itself to a wide variety of events. What type of events have you hosted to date?
Historically, we hosted a charity Music Festivals for ten consecutive years. It started out with a few hundred people and grew to a few thousand people. The positioning of the lower fields is perfect for this type of event for several reasons.
Firstly, there's a natural slope that acts as an amphitheatre – perfect for positioning a main stage and the crowd. The trees at the boundary offer excellent acoustic screening to help keep noise disturbance to the neighbouring houses to a minimum.
We have held Tough-Mudder style Obstacle Courses in the gallops, perfect for an alternative company away-day!
The view from the top field is simply stunning and lends itself beautifully to weddings and other celebrations due to the size and positioning. We have held intimate weddings in elegant sailcloth tents for 30 guests up to a giant Tipi wedding for over 300 guests. It also works well for smaller, more immersive events like festival style boutique bridal showers or birthday parties. Beautifully positioned bell tents around a firepit with a champagne bar, a pamper tent for a little R&R whilst listening to a DJ play your favourite tunes!
The field that sits conveniently behind the wedding field works brilliantly for creating a wedding glamping village – a fantastic accommodation option to offer to your guests. What could be better than debriefing on the antics of the night before over a bacon butty and hot cup of coffee fresh from the barista van in the middle of the Surrey Hills.
We've also held Birthday Celebrations, Christenings, Corporate Away-Days, Pony Clubs, Weddings, Glamping Parties and Horse Trails to name but a few!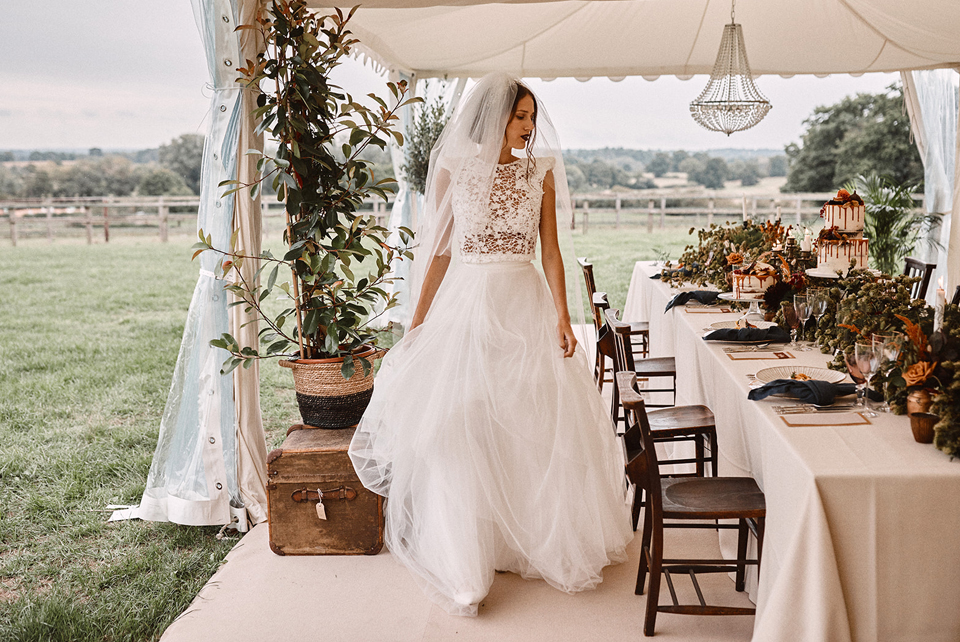 Do you have plans to entertain larger-scale events as the restrictions on numbers attending events ease?
We have some very exciting larger-scale events shaping up for 2022. The space really lends itself to larger-scale events and has already had numerous enquiries for music festivals, food festivals as well as corporate festivals. We are fortunate to have enough space to host these events with the ability to use the land to offer separate zones for things like, VIP hospitality areas, children's entertainment area, food and drinks or a retail village along with parking for a couple of hundred cars.
Littleton Manor Farm is a working equestrian centre. How do you work the events around the needs of this operation?
We are fortunate to have a variety of exclusive and unique spaces across the 70-acre site that we can use for events. Sometimes people like the backdrop of horses, if they don't and they're looking for something more exclusive or more secluded then we can offer this too.
The events space at Littleton Manor Farm is outdoors and open to the elements. Has this created a seasonal bias for your business, or do you see opportunity year-round?
I believe that in our ideal location coupled with the vast, flexible space we have, there are opportunities to hold events all year round.
From seasonal events with our neighbouring corporate companies in Reigate to Christmas Markets or cosy winter weddings.
With the Great British summers, I think people appreciate that sometimes they need to embrace the wet outdoors and just "dance in the rain…"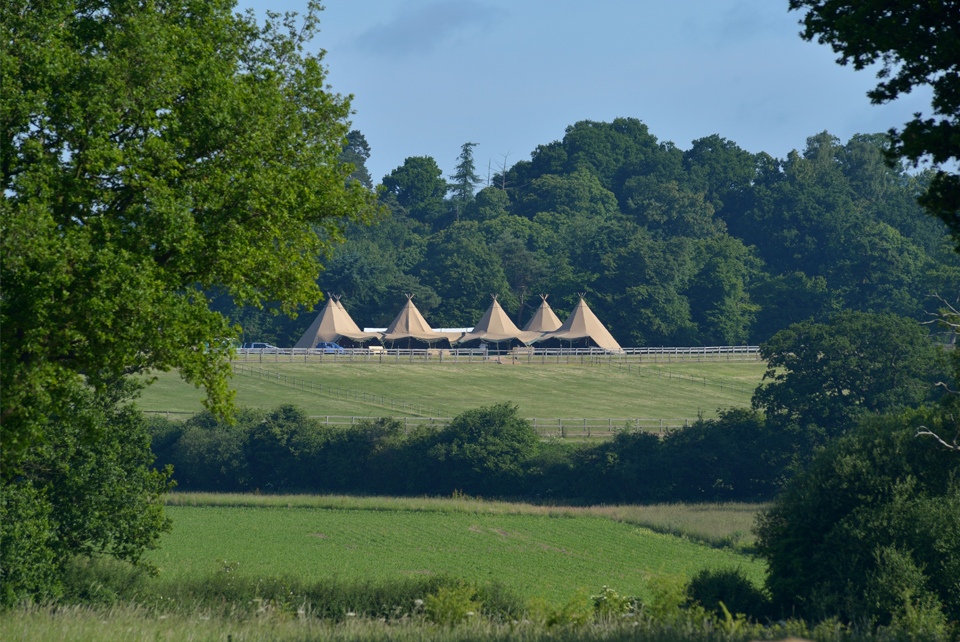 Do you plan to focus principally on the local market or is there potential beyond Reigate & Surrey?
We are already receiving enquiries from London and further afield. I think being within an hour of London and so close to Gatwick and Heathrow, it's a great location for the South-East.
What is your vision for Bespoke over the coming years?
For Bespoke at Littleton Manor Farm, to continue producing a variety of high-quality memorable events for all manner of clients and occasions. I would also love to explore more immersive events such as food festivals, pop-up dining experiences and outdoor cinema and theatre events.
For Bespoke Events Management, although not on the radar right now, longer-term would be to look to take on more events spaces work with other landowners to help utilise their beautiful and scenic land.
Karianne, thank you for taking the time to talk to us about Bespoke at Littleton Manor Farm. We look forward to seeing the business grow as the hospitality and events industry returns to strength over the coming year and beyond.
Find out more about Bespoke at Littleton Manor Farm here, and follow them on social:
Are you a business owner who wants to be featured in one of our small business interviews? Contact us to get involved.