Many companies (including ours!) have embraced the theme of 2020 vision and brand communications have followed suit. For Marc and Joelle Cullender, 2020 is the year that they finally get to see their vision for a community-focused and family-run restaurant brought to life in Reigate, Surrey.
You might remember our interview with Marc back in November 2017 as he and his wife, Joelle celebrated the 9th Anniversary of their popular delicatessen and kitchen located in central Reigate. Fast forward a year and we saw a shift in direction for the family run business. I recently caught up with Marc to discuss their reasons for selling the deli and why they decided to come back to Reigate and open a restaurant this year.
Talk us through your reasons for selling the deli
We completed the sale of Cullender's in April last year. It was time for us to move on from that site. We were always busy and enjoyed a loyal customer base but as much as I loved it, I felt I'd exhausted all the ideas on where to take the business next. We'd hosted everything from weddings to private parties to oyster nights and, with the limited space available, the opportunity to sell came at just the right time. Following a 30% rent increase and the approach from someone to buy our business, after much deliberation we agreed the time was right to sell. We were fortunate that we could keep our name which we felt passionate about as it's our family surname and before selling, we agreed on a six month non-compete clause leaving us with the option to come back into Reigate once we'd had some time out to assess our options.
Moving on from the sale, what made you decide to take the plunge and open a restaurant?
Since the sale, I've explored various business opportunities which are still ongoing. I had the summer off which was amazing! Once the kids went back to school, I had more time on my hands and decided to start the hunt for a new site. In the meantime, I worked at Hartsfield Manor in Betchworth as a chef supporting their head chef during their busy Christmas period. It was a great experience and I really enjoyed it.
The only site available at the time was the Reigate Pop-Up, which we almost took but my heart wasn't really in it. The venue didn't give us much more space than our Bell Street site and we were looking at very high refurb costs. In November, the same agent called to say Serge was retiring from La Barbe and was looking to sell the property. We immediately jumped at the opportunity to become tenants of the new owners and knew the site was just perfect for us. A few weeks after we showed interest we were thrilled to find out that we had secured the site and I was going to be a restauranteur in 2020!
What is your vision for Cullender's Parkside?
We are going to be open initially for breakfast and lunch with the introduction of evenings once we've got going. We will be open seven days a week with a big focus on brunch as we feel there is a huge demand for it in the town and it certainly was our most popular offering at our previous site. We have been researching popular brunch restaurants in London to offer our customers something a little different on our menu as well as keeping some of our most loved dishes.
The restaurant is currently 70 covers but we plan to remodel to increase the capacity to seat 90. There will be a similar informal vibe to what we had in the deli with music on, relaxed atmosphere which is family friendly but also suit those wanting a small meeting. We are planning to offer a casual dining experience as opposed to fine dining. We want to be inclusive – you can pop down for a beer and small plates, a coffee and cake or come for your special birthday brunch. We'll offer private hire as well, as the restaurant layout lends itself to this with the natural split. It's been very exciting, and we're really inspired by the space and the opportunities it presents. We've got plenty of ideas to put into action and we can't wait to get going and catch up with our old regulars as we've missed the conversations and being part of the Reigate community.
We'd like to thank Serge, the team at La Barbe and our new landlord for helping to make this become a reality. We feel extremely proud to be taking on such an iconic food destination in the town's history.
Will you be taking an active role in the cooking?
I'm designing the menu now but I will build a team so that I don't need to be in the kitchen full-time. We have a couple of head chefs already lined up and I plan to have a full kitchen team and full front-of-house team. There will be times when I may need to jump in and lend an extra hand in the kitchen but I will be more customer-facing and Joelle will be a crucial member of the team on site as well as behind the scenes.
You're moving into a bigger space. Will the restaurant represent an extension of the Bell Street venue in terms of design and atmosphere?
It's going to be the same ethos but a bigger menu. In terms of design and layout, we're going to take out all the partitions and add banquet seating along the right-hand side. We'll lay a new floor, inject some new lighting, a new bar….just bring it up-to-date really. We want to create an informal and inclusive space with large round tables for bigger groups to gather and tables for two for possible work meeting or couples etc. We're designing it ourselves and have a clear vision of what we want to achieve. The trades are all lined up and ready to go in!
And will there be any changes to your brand design?
We will tweak the existing logo and branding. We are keeping the gold typeface but will look to introduce new accent colours to elevate and update the brand. All will be revealed soon!
Previously, you collaborated with local suppliers and focused on product providence in your offering. Is this something you will continue to do?
Yes, absolutely! We are hugely grateful to local producers for their support over the years and we are all about supporting other local businesses. I was introduced to Ian Jones from Hill House Farm at the Salt Box Salt Box Christmas party. He is a local pig and lamb farmer based in Dorking. I went to visit him at the farm recently and had a tour and hopefully they will be providing a lot of our meat as well as sourcing great meat from Robert Edwards We contacted Chalk Hills before we signed the lease to let them know what we're doing and plan to use their fantastic products. We will use Simons Free Range Eggs in Hookwood who always supplied us previously. We'll work with the team at The Vineking on our drinks menu and we have spoken to Hoffmeister who are based in Reigate to supply our house lager and Crumbs Brewing will supply us with local beer. It will be similar to how we operated before, just on a bigger scale.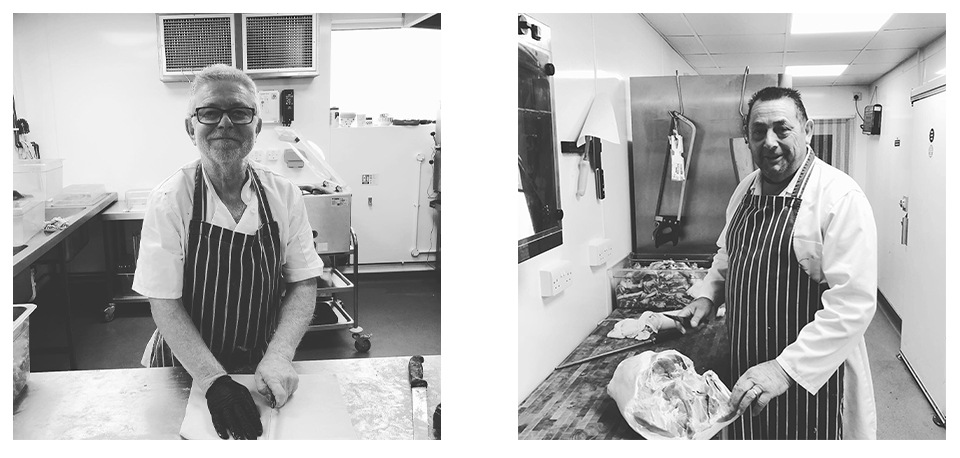 Reigate is a competitive high street when it comes to hospitality. How will you differentiate to attract custom?
Initially, I think curiosity will drive custom but we obviously can't rely on that longer term. We will be one of the last family-run restaurants in town which is an important USP. Guests can expect the same level of customer service that they experienced from the deli. Being independent, you have a greater level of manoeuvrability to change things quite quickly which larger chains aren't always able to do. We can change menus overnight; we can adapt to something that was on TV that may have peeked interest. In terms of dietary requirements, everyone will be looked after! Hopefully, our excitement and enthusiasm for everything we are doing will also shine through.
With the café, you used social media to help reach your audience. Do you plan to do something similar with the restaurant?
Yes, Instagram and Facebook are hugely important, and we will continue using these channels. We're also considering a YouTube channel to document the process of opening a restaurant, from signing the lease to the refurb to the opening. We can include recipes and teasers for what will be going on the menu. Our Cullender's community is very important to us and we want to keep them involved every step of the way!
Many thanks for taking the time to talk to us Marc! It all sounds very exciting and we wish you the very best of luck with the opening.
If you would like to share your business story with us, get in touch with the team.