Rainbows have emerged out of this situation to symbolise a sense of hope in these testing times. I have loved rainbows since I was a child. They are nature's colourful way of showing us that there is an end to any storm and we can rest on the promise that all will be ok in the end. It seems so fitting that since the COVID-19 virus started to sweep across Europe, Italy's children adopted the rainbow as their emblem of hope with 'Andrà tutto bene' written on banners strung over balconies. The UK shortly followed suit. It was in September 2018 I took this picture of a rainbow appearing over our office building, Chart House in Reigate. As I walked in the rain up the hill towards the office, I was contemplating if personally I had made the right decision stepping away from the financial security of a corporate life to set up a small Marketing consultancy. It was at that moment, the rainbow appeared, and I suddenly felt a sense of faith that 'everything would be alright'.
Hey? This isn't the plan...
Like every other small business, we ended March this year with the team in a state of shock and disbelief with what was going on around us. The day the enormity of the pandemic started to hit the news, was the first day we sat in our new larger office, which we had spent the last three weekends painting, to accommodate our growing team. The office was not quite ready either. It did not go according to plan for various reasons beyond our control. It was a mish mash of desks, chairs, display screens and intermittent WiFi connection. A haphazard office move and everything around us felt rather chaotic, as we took a much needed break from our screens and openly discussed the situation. 2020 was going to be our year. At the start of this new promising decade we had created a direct mail campaign around the 2020 vision theme and, rather ironically, we framed the campaign creative to display on our new bright pink office wall.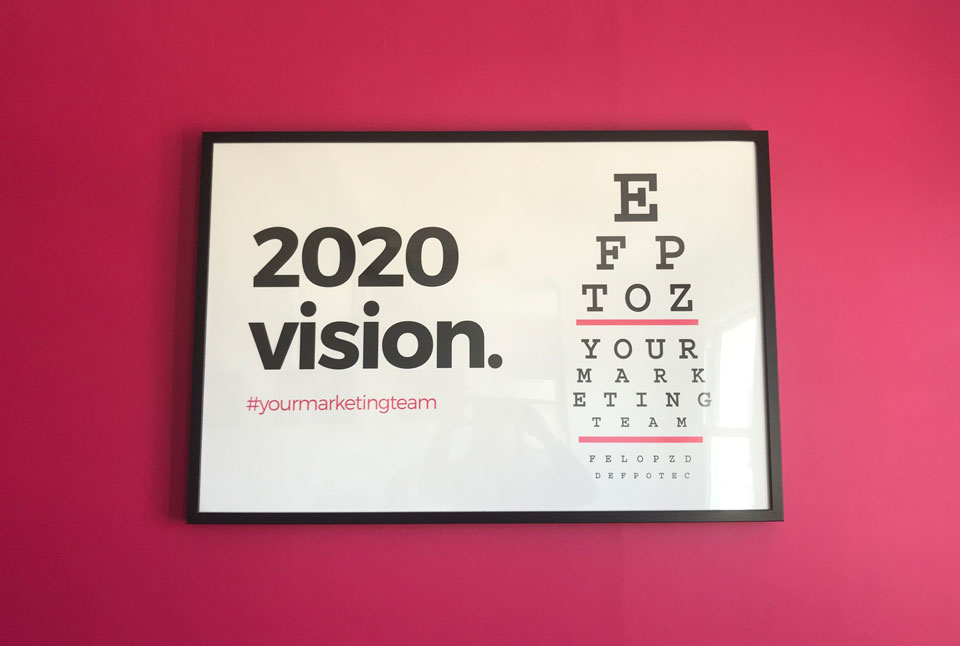 Learning to adapt
Looking back at the past six weeks; all that has happened and the pace in which events unfolded feels like something straight from a blockbuster movie, rather than real life. During March, like other businesses, we were forced to take stock of our situation. We took the difficult decision to pull our Spring direct mail campaign. The theme and messaging we chose jarred with the current breaking news and we felt it inappropriate to press ahead regardless. We advised many of our clients to do the same. It's not easy running a Marketing consultancy during a time of crisis. The sensible advice is to take stock of all activity and be sensitive to how customers are feeling currently. In some cases, this meant advising our clients to stop their activity altogether. As an owner of a Marketing consultancy, how do you maintain professional integrity, yet survive a significant drop in monthly income? When business owners need to cut costs, inevitably the Marketing budget is the first area to be targeted.
When life doesn't go according to plan, there are two things I fall back on. The first is prayer. The second is taking a positive approach. We have a choice. We either give in to our fears and see the things we now can't do or we choose to focus our energy on all those actions we can take. After the initial shock and monetary squeeze, what budget does each of our clients have and how can they use this most effectively over the coming weeks to ensure they survive? When our customers survive, we survive. As they grow, we grow. What opportunities are there out there? Who can we serve right now and how? To embarrassingly take a quote from Anna in Disney's Frozen II lets... "Just do the next right thing".
How small business is changing with new purpose
The Covid-19 virus response has stripped us all back. It has eliminated the unnecessary and shone an essential light on what we need, rather than what we desire or idolise. This is not an appealing picture to paint for the success of commerce. The suffering is felt across all areas of the economy. After the initial shock, and onslaught of branded empathy emails filling our inboxes, many business owners looked for the opportunity to repurpose their proposition. Re-evaluating their method of delivery to customers or reinventing what they produced in the first place, in order to serve a new market or meet a new emerging demand. To make this a success, communication is key, therefore Marketing still has an important role to play. In whichever way a business chooses to respond to this situation, to pull through in difficult times, it is important to always keep talking. Social media has had an essential role to play for most brands, as screen time across all age groups increases and businesses are forced to re-evaluate or improve their online offering. A task they may have originally put off for a rainy day. There is no doubt that Covid-19 has accelerated the adoption of digital channels at a rate that will have significant impact on our working patterns and purchasing behaviours across all sectors in the years to come.
How can we help?
When there is no time…
For many business owners, lockdown has resulted in less time. Furloughing team members, encouraging children to home-learn whilst squeezing in zoom meetings, can bring in pressures never felt before. Repurposing, relearning, reading up on the new Government support schemes and staying in touch with staff and customers can feel overwhelming. It is difficult to pause to consider how Marketing consultancy services might be of service. Your Marketing Team works as an outsourced marketing team, with a range of skills across the whole mix. Bringing us in is like having an extra pair of hands to help with anything that sits under the umbrella of marketing. This could be keeping social media feeds full of relevant content, coming up with campaign ideas, raising the profile of a revised offering to a new audience or putting together a polished press release. We work on an hourly rate, which means we can do as little or as much as you wish depending on the budget available.
When there is plenty of time...
Some essential services are unaffected by the impact of Covid-19 and they continue to function. Without the need for face to face interruptions and the daily commute they find they have more time on their hands. For other business leaders, lockdown has resulted in more time because there is simply no alternative option other to down tools and wait until the storm passes. These brands are in the perfect position to prepare themselves for the surge of demand when lockdown is lifted. They will have a competitive advantage if they put plans in place now. Here is where putting a Strategic Marketing Plan for the year ahead can help. Freshening up a tired brand or improving the design on a dated website could make all the difference to sales figures in the coming quarter. Business owners often put off this job because it takes time out of their day they can't afford. Now could be a perfect time to prioritise a new brand image. Perhaps the approach to campaign planning has in the past been sporadic. A process of trial and error. Having a cohesive marketing communications plan in place at each stage of emerging from lockdown in a specific market area could pay off in the long term and help identity and where to maximise spend.
In whichever way a business is currently responding to this situation, I am in no doubt that many of us will emerge from our homes blinking in the daylight with a slightly altered perspective on our lives. How this will translate into our purchasing behaviours beyond lockdown is somewhat difficult to predict. Considering any changes made to a business model as a result of this period of consumer stillness, to continue to be successful, it remains essential to understand and anticipate the needs of the target audience and stay true to the core brand values.
We remain open for business and are here to help. Get in touch with us for support with your plans.