East Surrey Domestic Abuse Services provides vital services as cases increase amid lockdown – An interview with CEO, Michelle Blunsom, MBE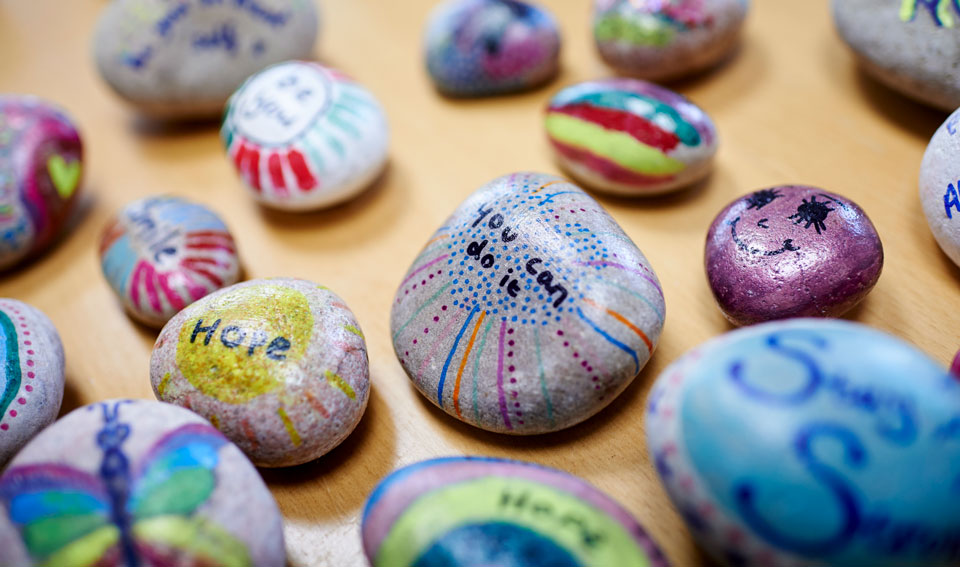 COVID-19 has brought many challenges to countless households but for those who are facing lockdown conditions with an abuser, it has undoubtedly been a frightening and increasingly isolated experience. East Surrey Domestic Abuse Services (ESDAS) is an independent charity who provide outreach and associated services to support those experiencing domestic abuse and their dependants. Working in the borough of Reigate & Banstead and the districts of Mole Valley and Tandridge, ESDAS' broad spectrum of support services covers legal, housing and safeguarding advice amongst many others. The charity seeks to empower survivors, enabling them to take control of their futures.
In May this year, ESDAS reported double the number of referrals from May 2019. In the UK, 32 suspected domestic abuse killings of females have been recorded during the lockdown period alone (23rd March – 17th May). These stark statistics highlight the severity of the issue and the dangers that many sufferers are currently facing.
I recently spoke to Michelle Blunsom, (MBE) CEO at ESDAS. Alongside her work as CEO, Michelle represents ESDAS as the Lead Provider of a cross-county specialist domestic abuse services partnership and works at an inter-agency level across Surrey which includes the police, local authorities, safeguarding and social care. Michelle is proud to work alongside Women's Aid in the development and delivery of the Change that Lasts model as one of the three national pilot areas and is also one of the foremost Domestic Abuse Trainers in Surrey. In the 2018 New Year's Honours, Michelle became a Member of the Most Excellent Order of the British Empire (MBE) for her services to survivors of domestic abuse.
We discussed how ESDAS has responded to the increase in referrals and how the charity has adapted the delivery of their services amid lockdown restrictions. In particular, we talked about how the public can help to get a vital online chat facility for sufferers up and running via donations to their AVIVA Community Crowd Funding page.
Can you tell me about the services East Surrey Domestic Abuse Services (ESDAS) provides?
ESDAS was established in 1993 and began delivering services in East Surrey in 1998. Our purpose has always been the relief of hardship, needs and distress of those who are experiencing or have experienced domestic abuse (DA) including any associated children.
We are proud to have developed one of the first community (non-refuge based) Outreach Services in the country which to this day operates on a needs-led, strengths-based, trauma-informed basis and continues to be a model of replication and best practice both locally and nationally.
Our Outreach Services provide advice, advocacy, information and support on a range of issues including criminal and civil law, benefits, debt, housing, safeguarding, risk and safety planning as well as empowering survivors to take control of their own futures. We aim to provide holistic services to avoid survivors and their children being re-traumatised by repeating their experiences to multiple professionals.
Our associated services include Independent Domestic Violence Advisors (IDVA) at Multi-Agency Risk Assessment Conferences (MARAC) and Surrey's Specialist Domestic Violence Court (SDVC). Our holistic programme of group work includes an informal Drop-In Support Group, the Freedom Programme and Recovery Toolkit as well as Self-Esteem and Parenting Workshops. Our Counselling service is tailored to meet the needs of survivors who feel unable to access talking therapies through usual means through fear, long waiting lists or lack of funds.
Our Volunteering Project is aimed at harnessing the skills and experiences of survivors of domestic abuse to help others recover from abuse and reintegrate into their local community. Our services for children and young people (CYP) include 1 to 1 work, group work, and expert consultancy to professionals, in particular Children's Social Care.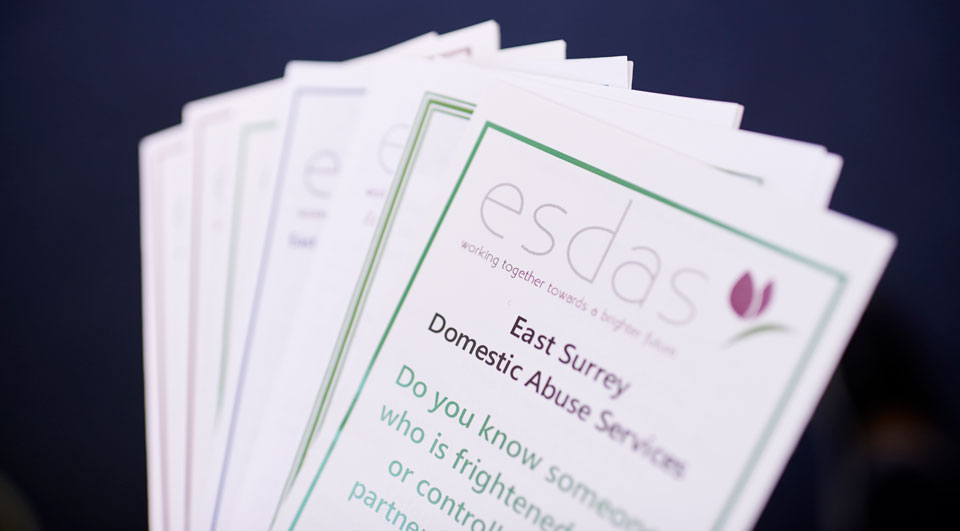 How is the organisation funded?
We receive some funding from Surrey County Council, Surrey Police and the Office of the Police and Crime Commissioner for Surrey, as well as our local boroughs and districts. However, a large portion of our funding comes from fundraising through trusts, foundations and community events.
Are the majority of people who come to you women?
Yes, because domestic abuse is unfortunately a gendered issue in that it overwhelmingly affects women in society. However, that does not mean that men cannot experience domestic abuse. We work with men who have experienced domestic abuse both within our Outreach and Counselling Services and can put men in touch with Surrey's specialist men's service if they would like.
I understand that the COVID-19 lockdown has put many at a greater risk. Have you seen an increase in cases since the pandemic began?
Yes, the number of referrals has increased dramatically from this time last year to now. Like in many other countries, the anticipated increase means we are having to plan to find the necessary resources to manage up to a 40% uplift in demand. Sadly, as well as an increase in demand for our services the national picture around the number of women killed since lockdown began is devastating. The Counting Dead Women project, which identifies UK women killed by a man or where a man is the principal suspect, revealed to HuffPost UK that their latest figures show there were 32 suspected domestic abuse killings of females at the hands of men between March 23 (when lockdown began in the UK) – and May 17.
The predictions around increases in domestic abuse incidents and homicide are stark but it is important to note that the pandemic, lockdown and the socio-economic consequences of these events do not cause domestic abuse but they have highlighted the prevalence.
The restrictions imposed have made it even more difficult for those who are suffering to contact you. Have you needed to change how you reach those in need of help during this time?
Yes, like many organisations we have had to move all of our services online and operate remotely in most instances. However, we tried to be prepared when we thought lockdown was coming and we reached out to those survivors we knew would be 'locked in' with their abusers and attempted to safety plan with them. For some survivors and children lockdown is a waiting game and they need to stay silent just to survive their current situation but for others we have been led by them.
Survivors are incredible in their resilience and their ability to manage very unsafe situations should be recognised. So many have found creative ways to stay in contact with us. Unfortunately, I cannot reveal details as we risk putting survivors at risk in doing so.
We have undoubtedly seen and are increasingly concerned about the trauma survivors and children are experiencing whilst 'locked in' with their abuser and the longer-term impact that this will have on their emotional and physical well-being.
You create Care Packages for victims of domestic abuse. Can you tell me more about how these, why they are so important and how the public can donate?
As I said, the mental health issues arising from either managing being locked in with an abuser or going into lockdown after freeing yourself from abuse is making it increasingly difficult for survivors and children to cope. We know that flashbacks, problems sleeping, post-traumatic stress, self-harm, suicide attempts and anxiety, although already common among survivors of domestic abuse, is increasing. However, what we know is that we can go some way to reducing these by providing resources for survivors and children that make them feel valued, aide sleep and promote good self-talk and care. We are asking for donations of items that help promote self-care and sleep to create the Care Packages. To date, we've gratefully received items such as dreamcatchers, Eye Masks, Sleep Mists, sleep/well-being teas, neutral nail polish and manicure sets, etc.
Last week we delivered the first lot of self-care packages and received this feedback from one survivor:
"The self care bag has blown me away tbh. I've never been given anything so lovely as that. Plus, some of the things are very expensive. I haven't looked at it all properly yet as I feel I don't deserve it ... in a way? But I will look at it all ... I don't feel that comfortable using such lovely things on myself ... but I will ... obviously. I don't feel as though I deserve these really nice things ... This is something I have felt for always ... and something I need to address."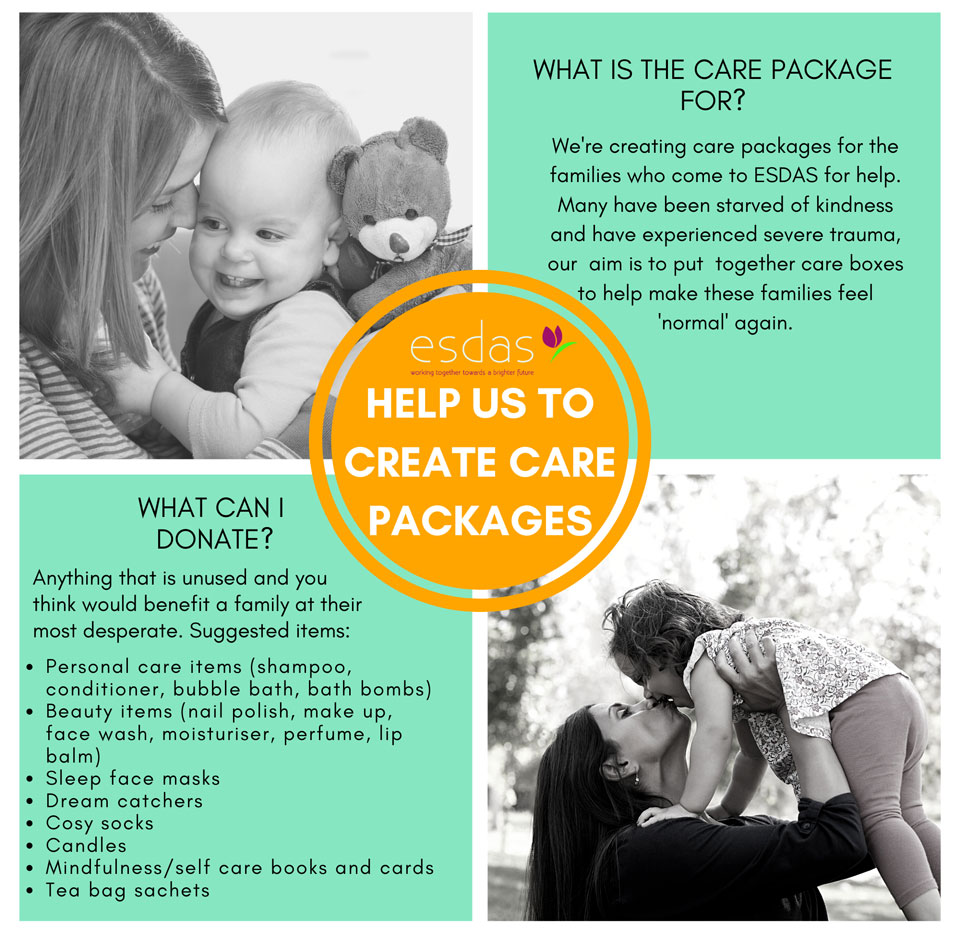 If you would like to donate items, you can contact us at comms@esdas.org.uk. Alternatively, you could purchase items from our Amazon Wishlist which will get delivered directly to us (please remember to check the 'registered wish list address' for delivery on checkout):
Are there other ways that the public can support your work?
We have just launched a Crowdfunding page aimed at raising enough money to start an online chat facility for survivors of domestic abuse in our area. The pandemic has shown us clearly how vital this service is and what a lifeline it can be for those trapped in their homes, as well as those for whom English is not their first language as the chat facility will incorporate an inbuilt translation function. For further information and to donate please click here.
If there is somebody reading this article who is suffering domestic abuse at home or who suspects a case of domestic abuse, what should they do?
We need you to see every contact with a survivor as an opportunity to provide potentially life-saving safety advice. Our window of opportunity to provide follow up advice and support safely has also lessened so the 'one chance rule' is more important than ever:
If you are having contact over the phone with survivors, always presume the perpetrator is present and that you could be on loudspeaker
Please listen out for your neighbours and call for help 999 if you think someone is at risk
If safe to do so, please reach out to anyone you believe is in an abusive relationship and encourage them to contact us for advice and support particularly around safety planning during these times
If it is not safe for the survivors themselves to contact us then we are always willing to support friends, family and any professional so they can safely pass information on
Encourage survivors to try and keep a mobile phone with them and charged at all times if possible
Ensure survivors are aware of the The Silent Solution system Click here to find out more
Tell them about specialist DA Services so when they are able, they can seek support from us
Above all be kind - survivors and children need to know now more than ever that when this is over and when they are ready that you are there for them and that there is support available.
Michelle, thank you for taking the time to talk to us about such an important issue. We hope that this interview will help to raise awareness of the invaluable services you provide.
To find out more about how you can support ESDAS, click here.
To help get the online chat facility up and running, you can donate here.
To donate items for the Care Packages, visit their Amazon Wishlist. Alternatively, you can contact comms@esdas.org.uk.
Follow ESDAS on Twitter here.
Follow ESDAS on Facebook here.