Reigate recently welcomed a new frozen yoghurt venture, FABBRO, to its High Street. Despite opening during the coldest week of the year, huge queues formed with people eagerly waiting to try the product as word of the opening spread like wildfire across local social media platforms.
We spoke to FABBRO's owner, Jack Smith, about how the business idea came about, his exciting plans to grow the brand and the challenges faced:
Can you tell us a little bit about yourself, your business background and how the decision to open FABBRO came about?
After finishing school, I wasn't sure what career path to take. One day I spotted a bus advert which said there was a shortage of quantity surveyors, so I ended up doing that for 15 years but never really had a passion for the construction industry and knew I wanted to escape the rat race and do something I really enjoyed. My parents are both in hospitality, so I always had that background, and while working in London I spotted a gap in the market for a plant-based frozen yoghurt business. I bought a food truck and started selling vegan frozen yoghurt at private events around East London.
Everything was going well but then the pandemic hit and of course we had to stop trading. Considering my future options for the business, I decided I wanted to bring the business to Reigate and create a permanent base. I know the town well and felt that it would work really well here and people would be really receptive to the idea. Frozen yoghurt is a great fun product; kids love it, adults love it, you can have it any time of year and be as healthy or as indulgent as you want!
What can customers expect when they visit FABBRO?
A relaxed environment with great music and friendly staff where people can hang out in the day and enjoy a frozen yoghurt and a coffee. We have an alcohol license as well as a late license to open until 11pm and plan to open as a cocktail bar evening – we have a fantastic outdoor terrace which is perfect for enjoying an al fresco evening drink. I would love to be the go- to destination on the high street, reconnecting the local community with incredible produce and great music in a buzzy feel-good setting. Our soft-serve Fro-Yo is probiotic, gluten-free and fat-free, we also cater for vegans and those with dairy allergies so this really is a treat anyone can enjoy! We have a vast range of exciting and unusual toppings and sauces, aimed at both kids and adults, so there is definitely something to appeal to everyone and you can be as adventurous as you like!
What kind of vision did you have in mind when you planned the branding and shop fit?
I wanted to create a cool, edgy, fun London vibe for people to hang out, something a bit different. FABBRO is my name, Smith, in Italian and I wanted to create something unique and personal that I could really build as a brand as the business grows.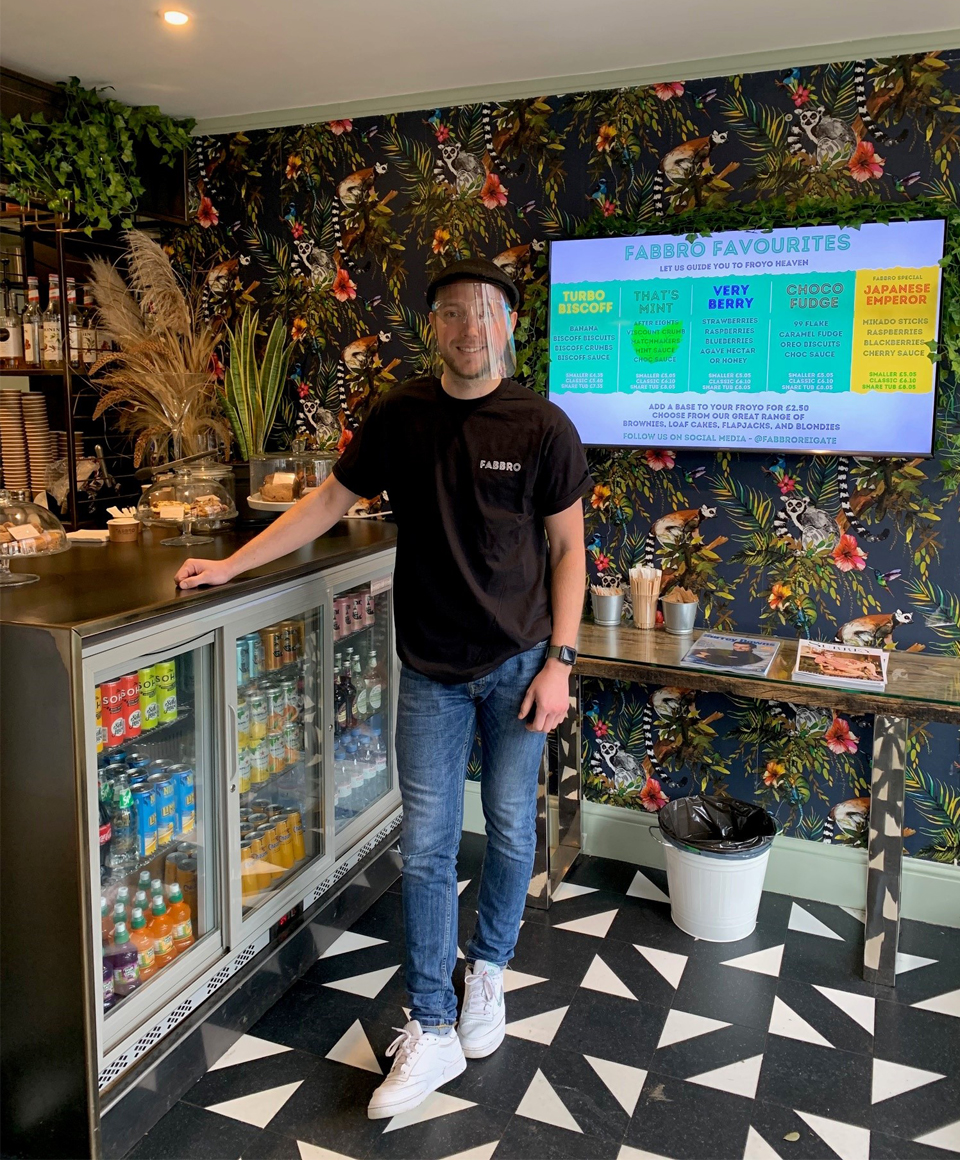 Which marketing tools have you used to launch the business? Which of these have proven most successful?
Social media has worked extremely well for us. Our product is very photogenic, so images on social media have really caught people's attention and created a huge buzz with high engagement levels. We ran a competition when we opened asking people to share images enjoying their frozen yoghurt and this proved very successful. Word of mouth advertising has also proved very effective and we have definitely benefitted from customers spreading the word.
What future plans do you have for the business?
I have lots of exciting plans in store. I am looking to extend the range of frozen yoghurts on offer to include adult options which will be served in the evening alongside cocktails. I have been experimenting with adding different ingredients such as limoncello and Baileys and look forward to adding these to the menu!
I plan to grow the event side of the business and have bought a small van to bring the FABBRO experience to corporate events, school fairs and birthday parties (the van is small enough to park up in gardens!) across the area.
I am also hoping to expand the delivery side of the business and plan to invest in electric bikes to bring FABBRO directly to the customers.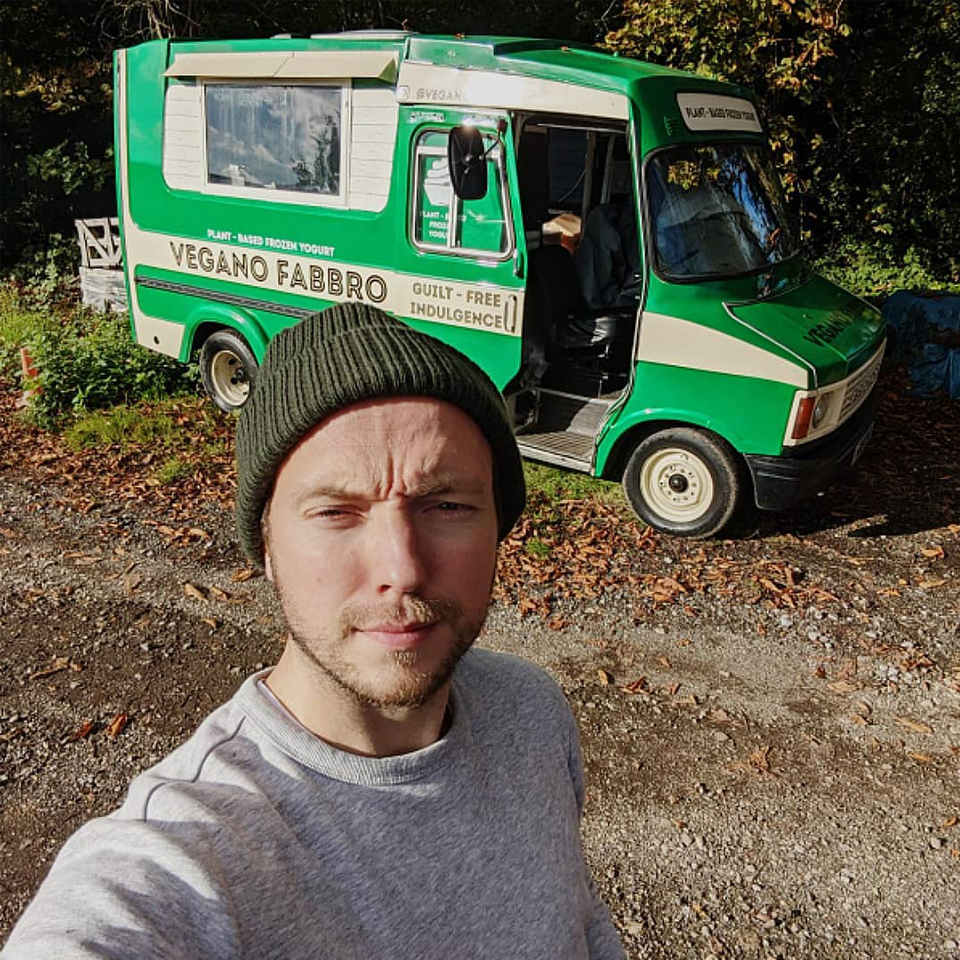 I imagine it was difficult setting up and opening the business during lockdown, so you must be very relieved that restrictions will soon be eased and you will be able to welcome customers to sit inside - what other challenges do you anticipate in the year ahead?
I was certainly concerned about opening a new business mid-pandemic but the response has been incredible, we have had such a fantastic reaction to the product. Our opening day coincided with the big winter freeze and I was worried the weather might put people off coming down, but we were really busy and people still queued down the street despite the snow! There is of course a worry of further lockdowns which would curb our growth plans as well as concerns about the impact of Brexit – we have suppliers based in Italy, but so far deliveries haven't been affected, which is a huge relief.
The toppings all look incredible – it makes for a tough decision choosing which to go for! Which yoghurt flavour/topping combination would you recommend?
My favourite is the "turbo biscoff" - it's a banoffee pie combination containing banana, biscoff crumb and caramel sauce – definitely one to try if you are stuck making a decision!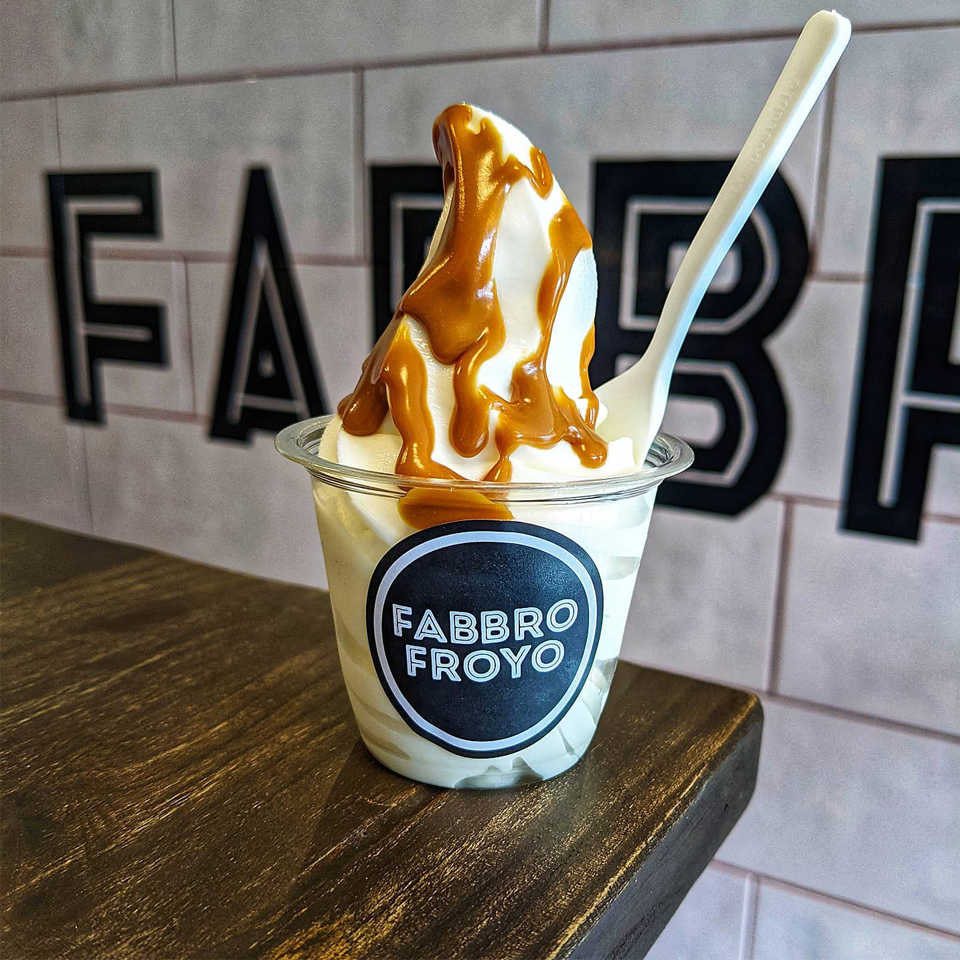 Thanks Jack for taking the time to do this interview with us. Unique, interesting small businesses are what makes Reigate so special and FABBRO is such a fantastic addition to the town. We look forward to popping in soon for a Fro-Yo and eagerly await the warmer evenings to enjoy one of your adult Fro-Yo creations!
Follow FABBRO here:
Are you a small business owner that's looking to share your business' story? Get in contact with our team to be featured.