Caroline Pocock is a natural light photographer based in Reigate, Surrey. Her passion for telling people's stories through photography developed into a business, Fable Photography, and her talent for capturing everyday family moments within the home environment has been in high demand locally. Caroline also photographs small businesses, helping them bring their brand to life through headshots and other creative images.
In March, Fable Photography had to cease operations following the pandemic lockdown guidelines. Inspired by similar images coming in from around the world and wanting to help raise funds for frontline workers, Caroline launched her 'Families on doorsteps' project. To date, the initiative has raised over £3,600 for SASH Charity at East Surrey Hospital.
I recently spoke to Caroline to learn more about why she started Fable Photography, the 'Families on doorsteps' venture and how she plans to develop the project to incorporate the local business community:
Could you tell us a little about your background?
I spent 16 years working in book publishing, an industry I loved. After moving to Reigate, I decided that commuting with young children was going to be too much of a juggle and working locally would be a better fit for our family.
For 5 years I worked for a charity based in Oxted. I became pregnant whilst there and it was when I was on maternity leave that my love of photography really grew. I started to seriously think about moving it from being a hobby to a profession.
Where has your love of photography come from?
My dad loved taking photos and we have lots of albums from my childhood which I treasure. I often spend hours looking back over them.
I've always been the one amongst family and friends who snaps away at get-togethers. I really love capturing people, their connection and everyday life.
My house is full of photos, frames on shelves, on walls and I have two doors in my kitchen where I have prints stuck on the inside - we call them our happy doors. Every time we open them, we are reminded of happy memories.
What made you decide to start Fable Photography?
It was whilst I was on maternity leave that I started to think about starting a business. I've been very lucky to have friends and family who have encouraged me throughout and it was my brother who really pushed me to start my own business. I got in touch with a professional photographer who offered mentoring and I worked with her for two years. It made a huge difference and helped give me the confidence to launch Fable Photography. I was set projects, had my work critiqued and was given advice on starting my own business. During this time, I built my portfolio and had my website created by a local designer.
Photography has become a fairly saturated marketplace locally, how do you differentiate the service you offer?
Every photographer has their own style and it's like any form of art, different styles appeal to different people.
I feel very passionate about capturing the everyday. I love giving children the opportunity to look back on albums when they are older, to see what they used to do as a family. What their home looked like, what their favourite toy, book or outfit was. My sessions very often are in people's homes, with me capturing families cooking pancakes for breakfast or playing board games, crafting, baking, reading or simply hanging out and having a cuddle on the sofa.
I also photograph families out on walks at a favourite location. The key is being somewhere everyone is familiar with, where both children and adults feel comfortable and can quickly forget I am there.
Before COVID-19, life for many families was hectic, with us all absorbed in the weekly chores and activities, running here and there, but it's important to slow down and treasure the special years of having our children at home. A friend once said after receiving their album 'you capture the things I don't get to see', this is exactly what I want my photography to provide people, memories and glimpses of their life at that time. I think it's important for parents to be in photos, especially if you are the one who takes the photos in the family. In fact, one of things on my 2020 list is to book a shoot for my own family. I want my kids to have photos of me other than just selfies. I'd like them to have photos of me with them, of us all doing what we enjoy doing together like dancing in the kitchen!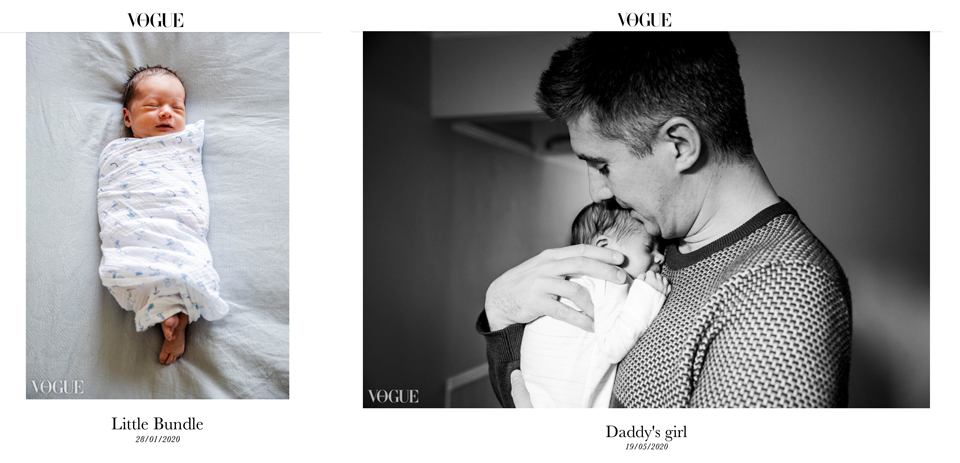 Caroline's images were recently featured by Vogue Italia
Photography is one of the many industries facing significant challenges during COVID-19 pandemic. How are you coping with running the business and what changes have you made?
Lockdown has meant I am unable to go into people's homes and photograph small businesses.
Photography is my therapy so in the first few weeks I focused on capturing my children. I then noticed a few photographers around the world had been photographing people on their doorsteps and thought it was such a great idea and decided to bring it to Reigate.
I had been wanting to help people working on the front line and decided this project would be a lovely way of capturing this period of time for people and raising money for SASH Charity at East Surrey Hospital. So far, the project has raised over £3,600.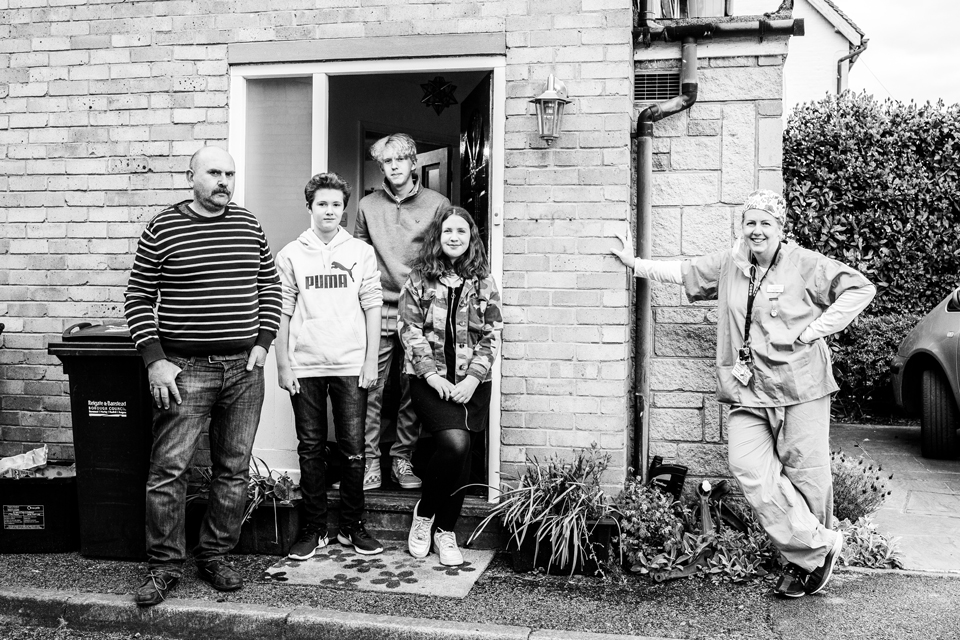 Caroline captures a local midwife with her family during lockdown
Can you tell me more about your 'Families on doorsteps' project?
As well as raising money, the idea is to give people a photo they can show future generations. This is a period of history which will be talked about in years to come.
Whilst out getting my daily exercise, I've been able to capture families across Reigate at the same time. I've had 180 people book, so a lot of doorsteps! It's been amazing to capture so many people, to hear their experiences of this time. I've photographed babies, toddlers, children, teenagers, couples, parents, grandparents, dogs, cats, a hamster, a tortoise and someone in their wedding dress celebrating their 10year wedding anniversary!
The sense of community really shines through when I look at all the photos and I'm keen to do something with all the photos. I have a few ideas and once I have a bit more time, I'll start to put a plan into place. In the last week I have photographed a few local businesses, businesses who have adapted to this time and supported the local community.
Reigate is a special town and I feel that people have gone out of their way to help each other. I'm hoping to give something back to the town with a collection of photos which reflects this.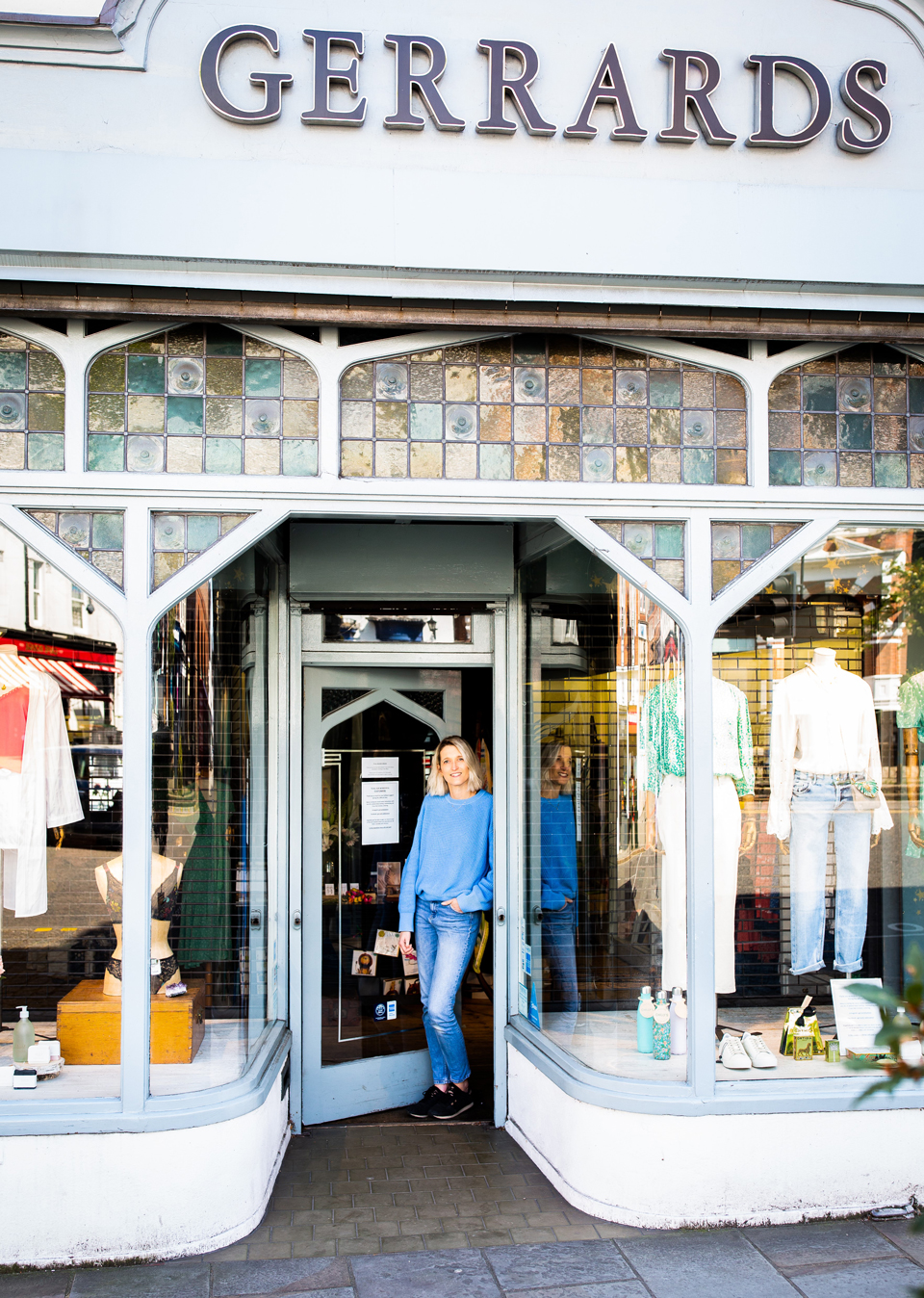 Caroline photographs local business owner Nancy, Gerrards
Do you think this period will fundamentally change how you operate moving forwards?
I think living through COVID-19 will change a lot of us fundamentally. We have all slowed down, started to really appreciate our community and the small things in life. I always aim to capture what is important to families in my sessions and I feel the emphasis on this will be even greater once I'm able to start my shoots again.
I'd love to capture families and friends being reunited for the first time and I'm looking at a package I can offer people for this momentous time of being reunited.
Caroline, many thanks for taking the time to speak to us. I know that some of our team have booked 'Families on doorsteps' shoots with you and we plan to share them on our Instagram page! We look forward to seeing how this exciting project evolves over the coming weeks.
You can view a selection of Caroline's doorstep portraits on her Instagram page: Fable_Photos and to read more about where the money is going please visit SASH Charity fundrasing page.
Caroline will be doing a limited amount of doorstep portraits going forward. To enquire, please email caroline@fable-photoraphy.co.uk
Follow Fable Photography on: Facebook and Instagram.
Do you have a local business story that you would like to share? Get in touch with our team, we'd love to hear from you.