With over 500M daily users, Instagram remains one of the top social media channels for many businesses to showcase their brand. The popular platform has continued to make regular updates throughout 2020 in order to improve user experience and increase commercial appeal as it jostles for market share amid rising competition from the likes of TikTok.
Here's a quick guide to the latest updates and how they can benefit your business:
Reels
'Reels' is the biggest story of Instagram's 2020 updates. Released last month and looking remarkably similar to TikTok in form and function, Instagram Reels give users a creative platform to record 15 second videos using various editing tools such as music and AR effects. Instagram are looking to build on the success of 'Stories', which now enjoys over 400M daily users, by providing additional popular features that all sit on the one platform.
Reels is a brand new feature and many influencers and businesses having been left scratching their heads wondering whether to get involved. After all, this is something that will take time to navigate and polish. However, brands such as Louis Vuitton and Sephora have already been producing some very clever Reels and look to be setting the standard for others to follow:
Louis Vuitton Reel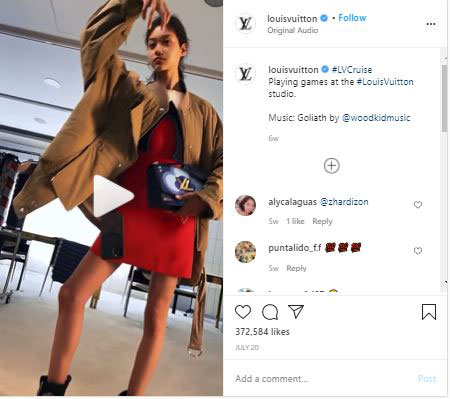 As you might expect, Instagram is dedicating prime space to Reels which includes a new section in Explore where you can search Reels by song, hashtag or effect. Instagram states that 'Reels in Explore showcases the best of trending culture' and has also announced a 'featured' function whereby Instagram selects and promotes the best videos, regardless of following (echoing the TikTok algorithm), to help users discover original content that is most relevant to their interests. With over half of all Instagram accounts browsing Explore at least once a month*, you can begin to see why it might be worth your while investing a little time in the new feature.
Where can I find Reels?
The Reels function is found within Stories. You can use the Instagram camera and select 'Reel' which you'll find next to 'Live' and 'Stories' to film new content. Alternatively, you can use saved footage and imagery that is saved to your camera roll in much the same way that Stories works.
Reels can be shared directly to your feed and to Stories. There is also a separate tab on each individual profile where Reels are listed. You can tag other accounts, use captions and include hashtags.
How do I edit Reels?
The editing tools are displayed to the left of the screen and include:
Audio – record your own audio or chose from Instagram's music library. You can also use audio from other Reels.
AR Effects – Various effects are listed such as bloom to help tie your clips together. Instagram is sure to add to these as the feature is developed further.
Timer & Countdown – this function helps you to film hands-free and set the length of your video.
Align – create smoother transitions between clips with this function.
Speed – add interest to the videos by varying the speed e.g. slo-mo.
Additional updates
Security & transparency
Parent company Facebook has continued to implement more stringent Privacy controls and transparency across its family of apps, including Instagram. This includes a crackdown on fake accounts, tighter ID reviews, greater transparency on sponsored content and ads, and further testing on authentic content.
Shops
A central shopping tab has been added to Explore, allowing businesses to be discovered organically by more users (according to their interests and search terms). The shoppable function is now open to more businesses and a shoppable icon within comments is currently being trialled across the platform. Retail brands can also create a shop front within their main profile, showcasing collections and highlighting specific products.
Desktop integration & insights
Many businesses would like to see further desktop integration to help manage content and engagement. Instagram has offered up a small concession – you can now reply to comments on desktop. Instagram has also made improvements to Insights to help brands better track engagement by audience type and help steer growth.
Suggested posts
Suggested posts have been added to the end of all feeds. These are selected by Instagram according to a user's interests and habits on the platform, representing an additional way for brands to be discovered.
Instagram Live
Instagram Live's viewership is up 70% and brands can now tag and display products in videos. Live videos can be saved to IGTV.
Pinning comments
You can now pin up to 3 comments on posts by swiping left on the comment and tapping the pin icon. This is a valuable addition for businesses who are looking to highlight positive feedback and testimonials to help build brand trust and credibility amongst their audience.
Guides
Facebook has released a series of free online guides to help small businesses maximise their presence across Instagram, LinkedIn and Facebook.
Donate button
In response to the pandemic and other fundraising efforts, Instagram has made it easier to receive donations via a dedicated button.
It's been a busy year so far for Instagram and updates will continue to be tested as we approach year-end. There is talk of merging Messenger with Insta Chat and an in-app page exclusively for Stories. New fonts and stickers have been made available on Stories and you can expect further integration of GIPHY following an Instagram buy-out. Commercially, Instagram remains a valuable marketing tool for many businesses. With clear objectives in mind, targeted strategies and aligned content planning creates a uniquely personal opportunity for brands to reach and engage with their audiences.
Is Instagram the right platform for your business? Contact our team to discuss how to effectively integrate social media into your marketing strategy and which channels will reach your target audience.
*Stats by AdEspresso