We first met Katharine back in 2016 when she attended a social media workshop we had put together for small businesses. Since then, her business has flourished; with over 32.5K followers on Instagram, teaching masterclasses and leading workshops around the world. Katharine is an internationally renowned Classical Pilates instructor who focuses on connecting the mind with the body through simple movement to help rebalance our bodies from the stresses of our hectic modern lifestyles. KSJ Body Control has evolved to include mentoring for instructors and 'Pilates at Work', offering companies support to enhance their employees' well-being as many are increasingly required to work from home.
I recently spoke to Katharine who candidly discussed her very personal struggles which initially led her to Pilates, the subsequent growth of her business and how the discipline can be so beneficial to both mental health and our physical well-being:
Can you tell me about your background and how you came to Pilates?
I originally trained as a Sports Therapist and went on to specialise in soft tissue release, helping those with muscular dysfunction. It became clear to me that self-help was a vitally important component, to educate and empower my clients to feel more in control of their rehabilitation and good movement journey.
A colleague Osteopath introduced me to Pilates and once I had read more about this way of moving I was hooked, so booked myself onto the next available training course! This was in 1996.
It just made sense; to connect the mind with the body, build the body from the inside out, and to move mind, body and soul with control.
Why is Pilates so important to you personally?
Pilates develops muscle strength and balance to support the frame we have been given. Coming from a history of poor self-esteem, body image issues and Anorexia Nervosa during my late teens and into my twenties, Pilates became part of my recovery.
Pilates works to connect the frame, i.e the pelvis, spine and shoulder girdle, making it as long & wide & as strong as it can be, without adding bulk. So, whilst terrified of gaining weight as I recovered from Anorexia, I began to understand and trust that eating well and moving well would enable my mind and my body to be the very best it could be.
This, along with a developing Christian Faith, an incredible Psychotherapist and Pilates Mentor, I began to rebuild without an end goal, to listen within and allow my own individual and unique journey to evolve.
My love is to now enable and empower others to find a healthy relationship with their minds & bodies, and the Classical Repertoire is my tool.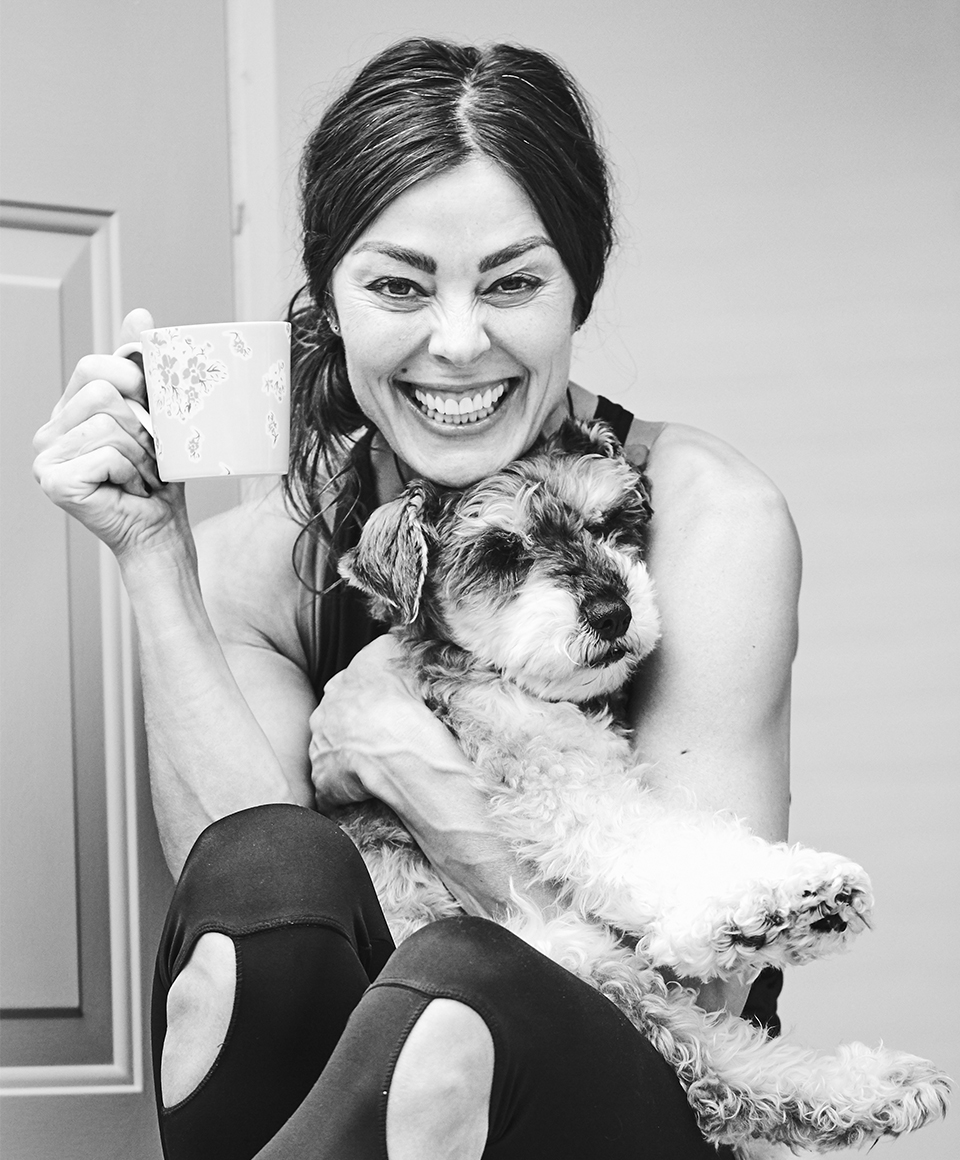 With over 23 years' experience as a teacher, you specialise in Classical Pilates. How does this differ from other forms of the discipline?
Classical Pilates is a continuous sequence of 34 whole body exercises which work the mind and body as one fully integrated unit. It takes time to prepare the mind and body to begin this incredible repertoire, as we first need to release the 'forwardness' of today's lifestyle and bring the body back into balance.
Pilates has changed hugely over the past 10 to 15 years due to its huge growth in the Health & Fitness industry. Large group classes are extremely popular, but in order to accommodate a wide range of abilities in large classes, the Classical Repertoire is very often broken down into simpler movement patterns, to keep everyone 'safe'.
Classical Pilates is best taught to the individual mind and body and can be accessed very easily now with pre-recorded training videos or small classes giving good, clear & accurate instruction. This can be complimented either with 1:1 sessions which I would always recommend to begin, and as a result are tailor made for the individual.
The fundamentals are so important, as they translate beautifully into everyday movement; FEELING these fundamentals is key because if we begin to move using these every day, our actual movement becomes our workout. The Classical Rep then advances the work.
You have a following of 32.5K on Instagram. How have you grown your audience so successfully and has this had an impact on how your business has evolved?
Social media has been an incredible tool to develop and share my practise. Right from the beginning (around 2018), I posted exercise flows with full written instruction to make it as accessible and to help the individual understand more about how The Classical Rep works. Very quickly the interest in my teaching grew, creating new connections worldwide. I have always remained true to my practise, been consistent in my approach, and truthful to the method itself. As a result, I have been fortunate enough to be invited to teach workshops and masterclasses worldwide, including Izmir & Capadoccia, Turkey, Boston and Arizona, USA, Milan Italy, Spain and throughout the UK. What a privilege this has been, to teach and share what has been life changing for me on a worldwide basis. I am beyond grateful!
The nature of your business relies heavily on a strong and constantly progressing library of content. How do you manage your content plan and create the content itself?
Yes indeed, the content I share has evolved in line with the focus of my business and teaching. I share what I do, what is true to me. This has always been the case, I speak and chat openly about areas of mental and physical wellness which are important to me and form part of my lifestyle and teaching.
It has evolved hugely, from initially filming in my lounge, to adding my logo, to now filming and teaching from my home studio in Horley, Surrey! The interaction is without a doubt time consuming to manage, but this investment has developed and nurtured new connections worldwide, leading to numerous teaching opportunities around the world with many new clients, both lay person and Instructor alike.
I now post regular giveaways and challenges to increase interaction, collaborating with other brands including workout gear, lifestyle and wellness products.
What does your typical client look like?
I would say as people begin reaching their 30s & 40s, the day-to-day movement and postural habits based upon a 'forward' lifestyle (use of phones/ipads/computers etc) begin to take their toll on the body, and so definitely this group would form my main clients. However, I also work with a number of elderly clients in their 70s wanting to retain or improve their mobility and posture, couples wanting to develop strength and flexibility, runners wanting to prevent injury and improve performance, individuals with poor self-esteem looking to build confidence in both mind and body, and Instructors seeking to improve technique or develop their business.
But truly, Pilates is for anybody, regardless of age, size, shape, ability, gender, colour or race.
During the pandemic, you have focused on your online offering. How has this developed?
Yes indeed, the current pandemic has brought about a huge change in the way I work. I have always offered online training for those living further afield, but from March/April 2020, it had to become the norm to remain active in my teaching and continue to run my business.
One of the biggest problems I faced was that many clients were not comfortable seeing themselves online, whether via Zoom, FaceTime or Skype, so I decided to record all my live classes, and offer them as an option to purchase for those who wanted to train in their own time, without being seen on a screen.
This became hugely popular, so I decided to add specific Tutorials focusing on common 'problem' areas such as Release for the upper body, hip flexors & hamstrings, & more recently a comprehensive six-hour Fundamentals Training Course available to anyone from novice, right up to Instructor wanting to deepen their understanding of the all-important Fundamentals of the Classical Pilates Matwork Repertoire.
This way, full training and understanding about good movement is both an affordable and practical way to begin or deepen a Classical Pilates Journey, with the option of 1:1 training to support, troubleshoot, and work through any specific problem areas.
You can read more about Katharine's online training here.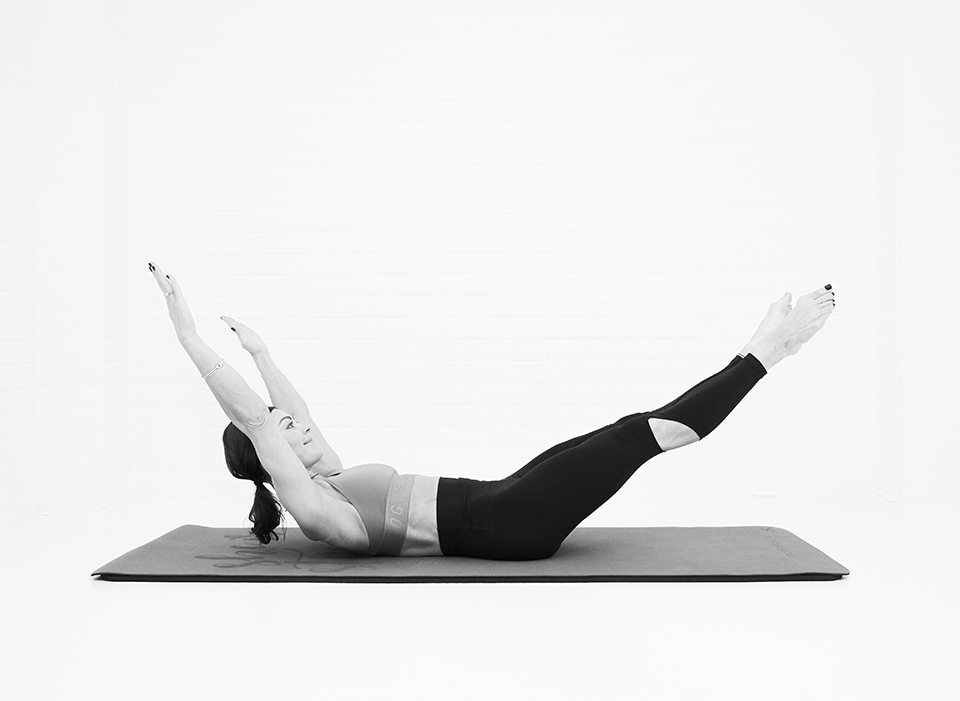 Recently, you have introduced Pilates at Work to support businesses and their employees' well-being in the workplace. Can you tell me more about this?
Yes absolutely, with so many now working from home, lifestyles have changed dramatically. Many large office spaces had the luxury to provide supportive seating for their employees, but with the majority no longer working from the office, dining room chairs, sofas, beds etc have now become the norm. This, along with individuals generally moving less, it's not surprising that the incidence of back pain and mental health issues has increased tenfold.
I have always been a huge advocate of educating and empowering others to move well, both in everyday movement, and on the mat. Pilates has been and is my tool.
So, with this change in our working lives, there seemed to be a great opportunity to provide bespoke training packages to businesses worldwide with the purpose of educating and training their staff to connect mind with body, understand and more importantly feel how to sit well, stand well and move well. Not only this, but to know how to release tension, to breathe well, to 'undo' what we do to our bodies in our day-to-day lifestyles, whether at the beginning, middle or end of the day.
Prevention is everything and I have learned so much from my own personal journey and the journeys of those I have worked with over the past 23 years. And now with the advance of technology, the ability to reach businesses worldwide, whether live or pre-recorded, has become possible.
So, I now offer this bespoke service to all manner of businesses and make it appropriate to the individual nature of the jobs involved.
You also offer mentoring for Pilates instructors. Do you offer guidance on business development as well as perfecting technique?
Yes absolutely, over the past 6 months I have had an increasing number of Instructors getting in touch, requesting help to keep their businesses alive. Social media has been a life saver for me, and it is never too late to begin. I now work with many Instructors to help them adapt their teaching to online, supporting them with confidence and presentation issues. Essentially, to find their identity as an instructor and then build their brand via social media to get their work out there in an authentic and appropriate way to showcase their individual and unique style of teaching.
Do you have any initiatives that will develop your business proposition even further in 2021?
Yes, I am currently in discussion with a number of companies who design & manufacture great ergonomic (and very cool) seating/workstations for the home & workplace, my role being to present their instructionals and offer teaching plans to educate & support those who purchase.
I am also working with a company specialising in Wellness Retreats in Greece & Italy, to design comprehensive Pilates based education programs to use on their 3 & 4 day retreats.
It's been a tough year for so many people, how can Pilates help to ease mental strain as well as benefit physical well-being?
One of the main reasons Pilates is so helpful to ease mental strain is that the brain has to be involved. So much of what I teach is sensory; we have to connect our mind with our body and listen to the feedback it gives, whether through the feet in standing, or via the mat when lying. So often the brain is overburdened with external stressors which take us away from what out body is doing, we become 'detached', and lose connection with our body.
Pilates brings us back. It enables us to feel and learn where we are in space; where we are holding tension, how to release that tension, how to breathe and breathe well, and ultimately to find length, and challenge that length with movement.
So anybody, no matter what age, shape, size, ability, or gender can learn the fundamentals of the Pilates Method, integrate them into their day-to-day movement and begin the incredible journey of listening within and moving well for life.
January is traditionally the time when we embark on a health challenge. If someone is completely new to Pilates, where is the best place to start?
Simply get in touch! I would love to chat with anyone and see how I can help support their Pilates journey.
I offer a free 30 minute Zoom chat where we can meet together, I can gain understanding of where the individual is at, look at budget, issues, aims, goals and lifestyle. From this, we begin to formulate the best training options available.
Pilates truly is a journey for life. We never stop learning as life is always changing and our bodies adapt to how we live and move.
At 50 years old, my body is stronger and longer than ever before. Classical Pilates works. It is not complicated, it simply makes sense. So, please do get in touch and allow me to draw alongside and support your journey, no matter who or where you are.
Katharine, many thanks for taking the time to answer our questions. It has been a fascinating insight into the art of Classical Pilates. We wish you every success as you expand your business proposition in the coming year.
Click here to visit her website to find out more about Katharine and KSJ Body Control.
Click the links below to follow Katharine on social:
Do you have a business story you would like to share? Get in touch with our team, we'd love to hear from you!