This month, we are proud to introduce Lifesaver, an innovative and sustainable start-up producing portable phone power banks who have made it their mission to 'empower people in areas of need'. Lifesaver have recently been accredited B Corporation status, a global community of business leaders who have committed to use business as a force for good through balancing purpose and profit.
I recently met with Archie Wilkinson, Founder of Lifesaver, to discuss his reasons for starting the company and his ambitions for the business.
1. Tell me a bit about your background?
I started selling fruit and veg at school, age 11! I loved coming up with new business ideas and started several further ventures during my school days. I went on to study Marketing at Newcastle and launched a student discount business during my time there.
My career began at M & C Saatchi where I worked on various big brand accounts across PR, events and marketing. I initiated 'Coffee, Croissants and Curiosity' morning talks with business leaders, including Lawrence Kemball-Cook, Founder at Pavegen, a London-based start-up that produces 'smart' floor tiles using pedestrians' footsteps to generate reusable energy. I was inspired by his thinking and built the experiential arm of his team. Whilst here, I was keen to create a lasting legacy for brands beyond the immediate customer experience. Working with the local council, we planted 100 trees with Adidas and Unilever in East London, a project that went on to win the 2018 Forestry Commission Community Award. Pavegen also worked with the emerging 'Smart Cities' globally and I recognised that this was where my passion lay – in sustainable business organisations and practices that give back to communities and the planet.
2. What was your driver for starting Lifesaver?
I was living in Amsterdam at the time with my wife. I came back to the UK to run the London Marathon. I couldn't meet up with my family at the end of the race because their phones had run out of battery tracking me during the event. As a result, I missed my train home. I'd also seen the frustration of clients who were travelling between meetings and unable to charge their phones on the go. People need power on the move. The solutions at the time were not scalable, accessible nor frictionless. At the same time, I recognised the rapid growth of the behavioural economy. This was when I started Lifesaver.
3. Could you give us a summary of the product and how it works?
We want to build a circular model for sharing phone power on the move. Our portable power banks enable you to 'grab and go' and are powered by 100% renewable energy. Users are encouraged to share energy by swapping empty banks for fully charged units at various Lifesaver locations across the UK, including major sporting events, festivals and Network Rail mainline stations.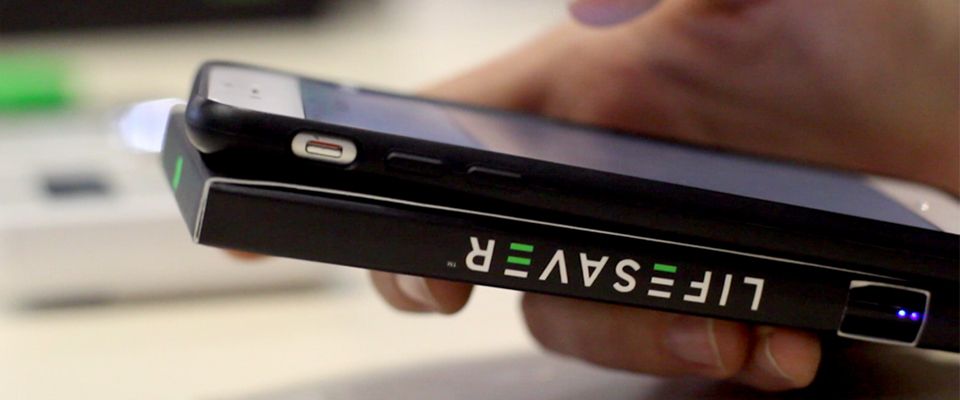 4. Can you talk us through the business model?
We monetise the product in three ways. Firstly, at events where we charge consumers to hire the power banks. They receive a portion of their deposit back when the unit is returned. Secondly, in venues where we charge buyers a one-off fee and they can swap their empty units for fully-charged banks as many times as they want across our network of locations in the UK. And finally, we are approaching brands to sponsor the service.
5. You have recently become the UK's 199th B Corporation certified business. What does this mean for the company?
Yes, this is something that I'm very proud of. I am passionate about the planet and fully adhere to the triple bottom line around Profit, People, Planet that John Elkington set out in 1994. Becoming a B Corp company has been one of our principal objectives from the beginning, both from a commercial prospective and from where I believe the future of business should be. It helps to differentiate us and attract top talent.
6. You talk about Lifesaver's purpose being 'to empower people in areas of need' and have partnered with First Mile and Liter of Light. Could you give us an overview of their work and your partnership?
Essentially, batteries are bad for the environment. We want to change how people use them and drive awareness around their impact on the environment. Cobalt makes up approximately 15% of a lithium iron battery. 67% of the world's cobalt supply comes from the Congo where it has recently been reported that 52% of babies are born with life-changing deformities. In my view, I see this becoming the next major environmental issue in 5 years from now. We acknowledge that we're small but I hope that, in some way, by encouraging people to share power we will ultimately help to reduce the demand for cobalt and help to change and reward consumer behaviour in doing so.
As a business, we are constantly developing our product to improve the customer offering and are now on our 5th model. As a result, we are left with power banks that need to be recycled. We are proud to be working closely with First Mile to recycle the plastic used, and Liter of Light to upcycle the lithium batteries. Through this activity together, we are able deploy off-grid recycled street lighting in areas where it's needed most.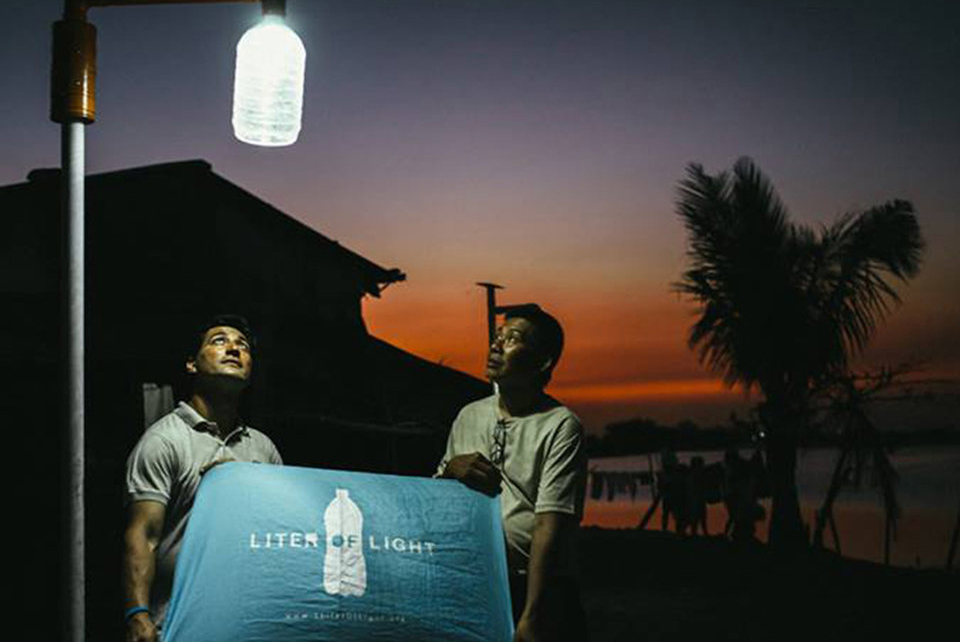 7. Where can we expect to see Lifesaver?
Current Lifesaver locations include London Waterloo, The Jockey Club, The Ryder Cup and the O2. You will also see us at various festivals and additional Network Rail stations in 2020.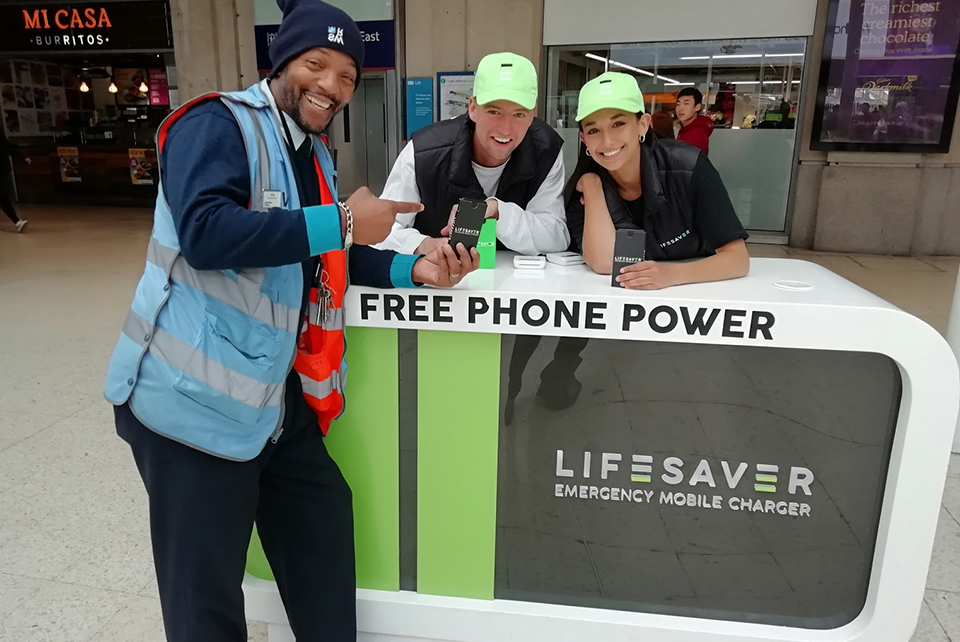 8. You are currently seeking investment. Where will this take the company?
We are currently looking for an investment of between £350-500K. This investment will go into product development, including the integration of new technology and software which will allow for consumer rewards and keep our product at the forefront of this sector. It will also enable us to expand into more venues, including additional mainline Network Rail stations. We have a number of other exciting company developments on the cards and we are also in talks with several high-profile brands. The investment will help Lifesaver to secure a goal of £1M revenue with profit next year.
Archie, many thanks for taking the time to meet with me and we are looking forward to seeing how Lifesaver develops over the coming years.
Learn more about Lifesaver here: lifesaverpower.com
Twitter: @Lifesaver_power
Instagram: @lifesaverpower
Linkedin: Lifesaver Power Ltd.
Facebook: @Lifesaverpower
Get in touch with our team if you would like to share your business story.