When Julian Rowlands was made redundant in June this year, he turned what many would see as a negative into a positive. He finally had some time on his hands to formulate a business plan for an idea he'd had on the back-burner for a while, putting his passion for all things local into action. With over 20 years' experience in building customer engagement and loyalty programmes for big-name brands, Julian is now ready to launch Love Reigate - a local membership business where Reigate independents, the local community and local charities all benefit. What's not to love?
Beccy recently met with Julian to talk through the idea behind the business, how memberships and Love Reigate Gift Cards will work and his plans for future growth:
Tell me about your background and what inspired you to launch Love Reigate?
I'm very much a local having been brought up here, then as a family we moved back to Reigate in 2012. Career-wise, I've spent 20 years working in customer & partner focused roles for big brands like Virgin Holidays & Barclays, as well as a short stint at a fintech start-up which has given me a rounded background in all things customer & commercial.
Much like many other people, my last role was made redundant due to COVID and I've been out of work since June. Finding a new role was super tough and so I started to think about how I could take things into my own hands and use my skills & passion for Reigate to build something for myself. I've always been a keen supporter of the local community, as an active member of the Redhill & Reigate Round Table where our focus is on raising money for local charities & good causes in the RH1 & RH2 postcodes. From there, Love Reigate was born!
Love Reigate aims to 'support local', bringing together participating businesses through gifting options and a membership model, providing members access to exclusive offers. How do each of these work?
The Love Reigate gift card is simple – I've partnered with a broad range of local businesses where customers can use their gift card, making the Love Reigate gift card a great gift choice for someone who lives locally and it also encourages them to spend locally too & support local businesses.
The Love Reigate membership can be bought as a 6 month or 12 month membership & is a great way to unlock exclusive deals, encouraging members to visit new local businesses they might not have used before & also encourages existing customers who are members to come back to those businesses & spend more & show their support – all whilst getting something back themselves. The important final part of the Love Reigate membership is that I'll be giving 5% of all membership fees collected to local charities to help support the wider community.
What types of businesses can get involved?
That's an easy question to answer – any local business can get involved! Whether you're a bricks and mortar shop on the high street or run your own business from home.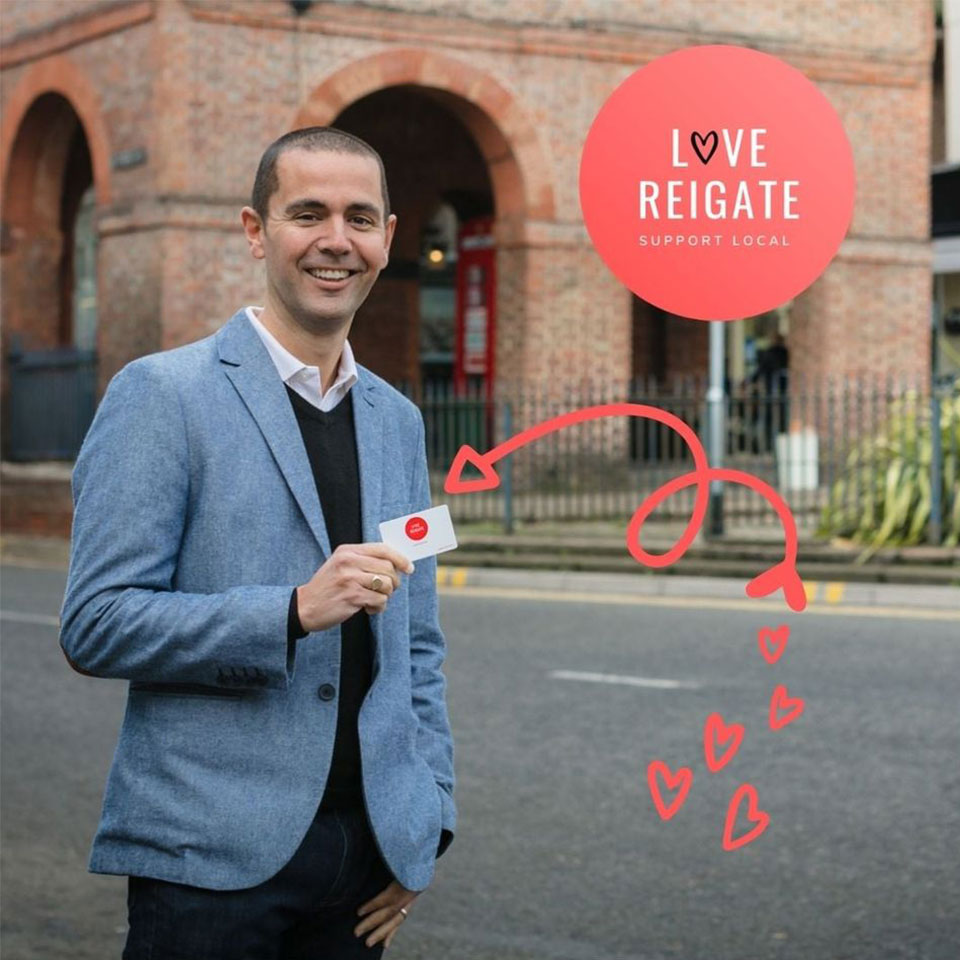 What type of offers can members expect to have access to?
As a Love Reigate member, you can expect access to a wide variety of exclusive offers from our participating businesses that will continue to evolve. For example, you could enjoy 10% off at Chalk Hills Bakery; you can support the environment & save with 5% off at New Leaf Zero Waste Reigate when you spend £25; unwind after your shop at Quattro Rish with free coffee & cake at The Chapel with every £100 spend and grab 10% off your next shop at Robert & Edwards Family Butchers.
In addition to the 'always on' core offers, Love Reigate will also be featuring regular tactical specials from its partners which will be promoted via Facebook and Instagram & the monthly Love Reigate e-newsletter.
You've mentioned that you will be supporting local charities through Love Reigate. Can you tell me more about this?
Love Reigate will be donating 5% of all membership fees collected and giving them to local charities. For launch we will be partnering with Loveworks – a truly worthy charity that does a tremendous amount of amazing work in the local community, particularly this year given the global pandemic. We will be alternating charities every 6 months & the plan is that Love Reigate members will be the ones who decide which charity we support next.
The ever-changing situation with COVID presents a challenge for every business. How have the most recent restrictions affected your launch and ongoing operations?
I won't lie, the latest lockdown announcement on Halloween was as scary for me as it was for a lot of other people, local businesses especially. I'm still going ahead with launch during lockdown but it has made it tougher as certain Love Reigate partners have had to close temporarily.
Putting a positive spin on it though, I'm hopeful that the current & increasing wave of passion from local residents to support their local business owners will mean that things like the Love Reigate gift card might be near the top of people's Christmas shopping list that they can do from the comfort of their own home during lockdown!
What marketing tools are you focusing on to help raise awareness and grow the business?
Social media is very much part of our launch plans – we've been doing a teaser campaign across Instagram & Facebook in the run up to launch & will be taking to these channels to help get Love Reigate known & also to introduce our partner local businesses & some of the faces behind them.
We'll be driving people to visit lovereigate.co.uk where people will be able to buy their membership & gift cards.
There'll also be a monthly email newsletter that people can sign up to on our site which will promote our local partners as well as any additional special offers that they might offer over & above the core deals… watch this space!
Alongside that we will be doing some good old fashioned door drops & hoping to be out & about in Reigate town in a COVID friendly way.
What is your vision for the future of Love Reigate?
Once Love Reigate has been proven to be a success in helping support local Reigate businesses and keeping money in the local economy I can definitely see scope to roll it out across other towns in Surrey & Sussex. I'd ultimately see this as a franchise model that could go nationwide as there are so much demand for local business support and so much appetite for it from local residents.
Alongside the rollout plans, I'm also keen to optimise the customer experience to make it as seamless as possible for residents & partner businesses alike – so making Love Reigate more digital is also on the roadmap.
Julian, many thanks for taking the time to talk through Love Reigate and your plans for the future. We wish you every success as you launch this month!
A list of participating businesses includes:
Churchill Professional Dry Cleaners
Jacksons Shoe Repairing
Sarah Teasdale Gardening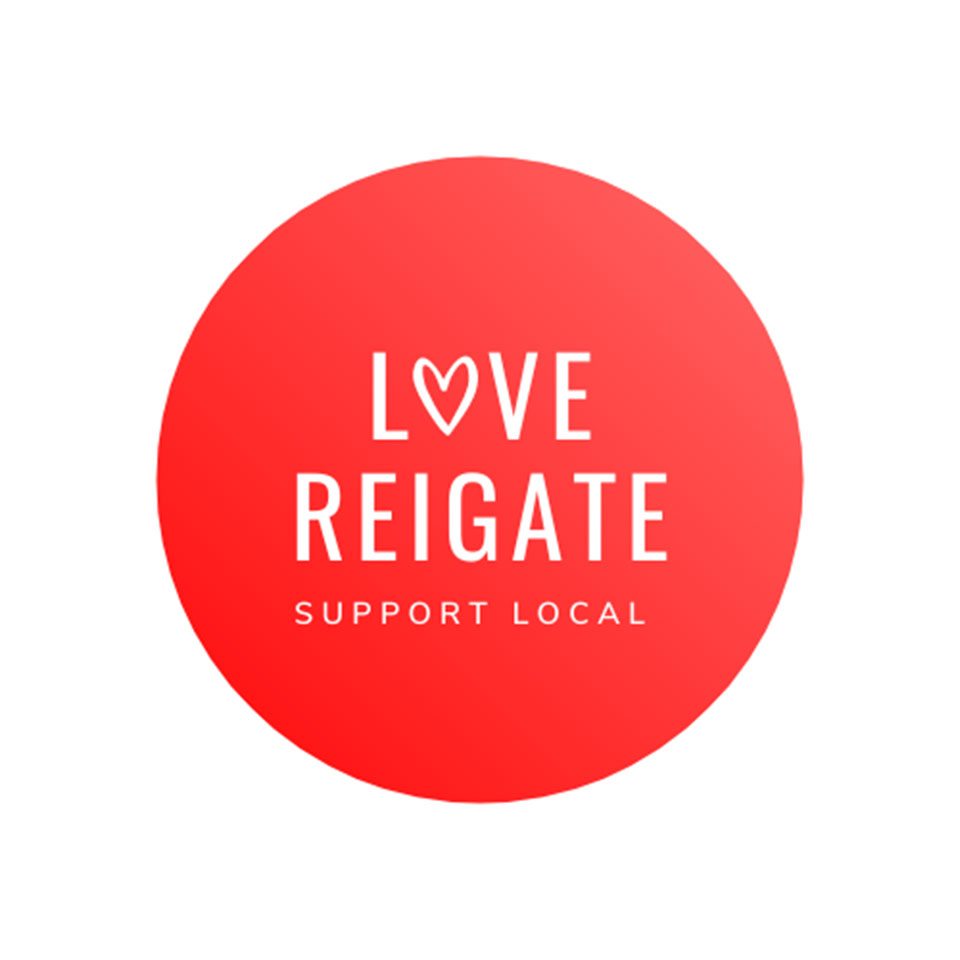 Find the Love Reigate website here, or follow their socials:
Do you have a business story to share? Get in touch with our team, we'd love to hear from you.