In the Summer of 2020, local couple Grace and Sam came up with an idea for a new business. The concept was centred around 'giving the gift of local' – a hamper company that would showcase local artisans and businesses. With a background in Marketing & Events, Grace discovered a gap in the market as she researched corporate gifting for the Christmas season and began to gather ideas and make plans. When Sam was let go from his full-time job in October, the couple decided it was the perfect time to set those plans in motion.
The events of last year have challenged how we live, interact and mark occasions such as birthdays, births, anniversaries and national celebrations. The Reigate Hamper Company aims to offer customers the opportunity to send a tangible, personalised gift whilst also supporting local independent businesses. With a range of hampers available from themed, to bespoke to corporate, Grace and Sam thoughtfully curate each of the locally sourced items and collate every individual hamper themselves for that added personal touch.
Beccy spoke to Grace and Sam to find out more about the business, how 'Shop Local' sits at the very heart of their company ethos and their plans for future growth:
Can you tell me about your backgrounds professionally?
Grace: I've been in marketing project-based roles for around 10 years now. Varying from Marketing Operations roles to more recently, Event Management which I have been loving for the past six years. Yes, I'm one of those strange people that loves working and loves their job! I've worked at some brilliant companies and delivered some huge events over the years, but the common theme has been the people. I love working with people and delivering them joy in some way - I guess Reigate Hamper Company is another form of this. I'm still working full-time while we get RHC off the ground… who needs sleep anyway?
Sam: I used to work in Project Management too, in the construction industry. I worked in the industry for 12 years, and like Grace it was probably the people that kept me going. I've always been a problem solver and am a bit of a regimented to-do lister.
Unfortunately, I lost my job in October which actually was a blessing in disguise as it gave us the push we needed to learn how to start a business and set up RHC.
Let's just say, setting up a business with your other half is a great way to learn about each other very quickly! We are such a good team.
Where did the idea for Reigate Hamper Company come from?
Grace: Sam has to take full credit for the idea! He will love this question.
Sam: I am the ideas man after all! We were having breakfast one morning back in the Summer of 2020, Grace was looking into some corporate gifting ahead of Christmas and it was just all so new to me. I found it fascinating how many companies out there offered such similar hampers and gifts. It made it impossible to choose between one large company and another. So, the idea was planted. Over the next few weeks, we joked about doing our own thing but both still working full-time it felt a bit impossible. Then, we saw so many of our neighbours and friends losing their jobs (chefs, artists etc) and we thought goodness, if we can do something to support them that would be worth the hard work.
Here we are - a hamper company solely committed to supporting local businesses.
Why Reigate?
Sam: I've lived in Reigate for 14 years - I just absolutely love it. Reigate is jam-packed full of incredible local, independent businesses and we love that. The local council are really pushing for people like us to keep supporting local businesses. This sends such a strong message and makes us feel supported.
Grace: Completely agree. I grew up locally but moved to Reigate 2 years ago and fell in love with living here, it has everything and the people are great!
Although we are called Reigate Hamper Co. with many of our suppliers being from Reigate, we are expanding our supplier list every day. We are now supporting local businesses from all over Surrey and parts of Sussex to be able to offer people a huge variety of products.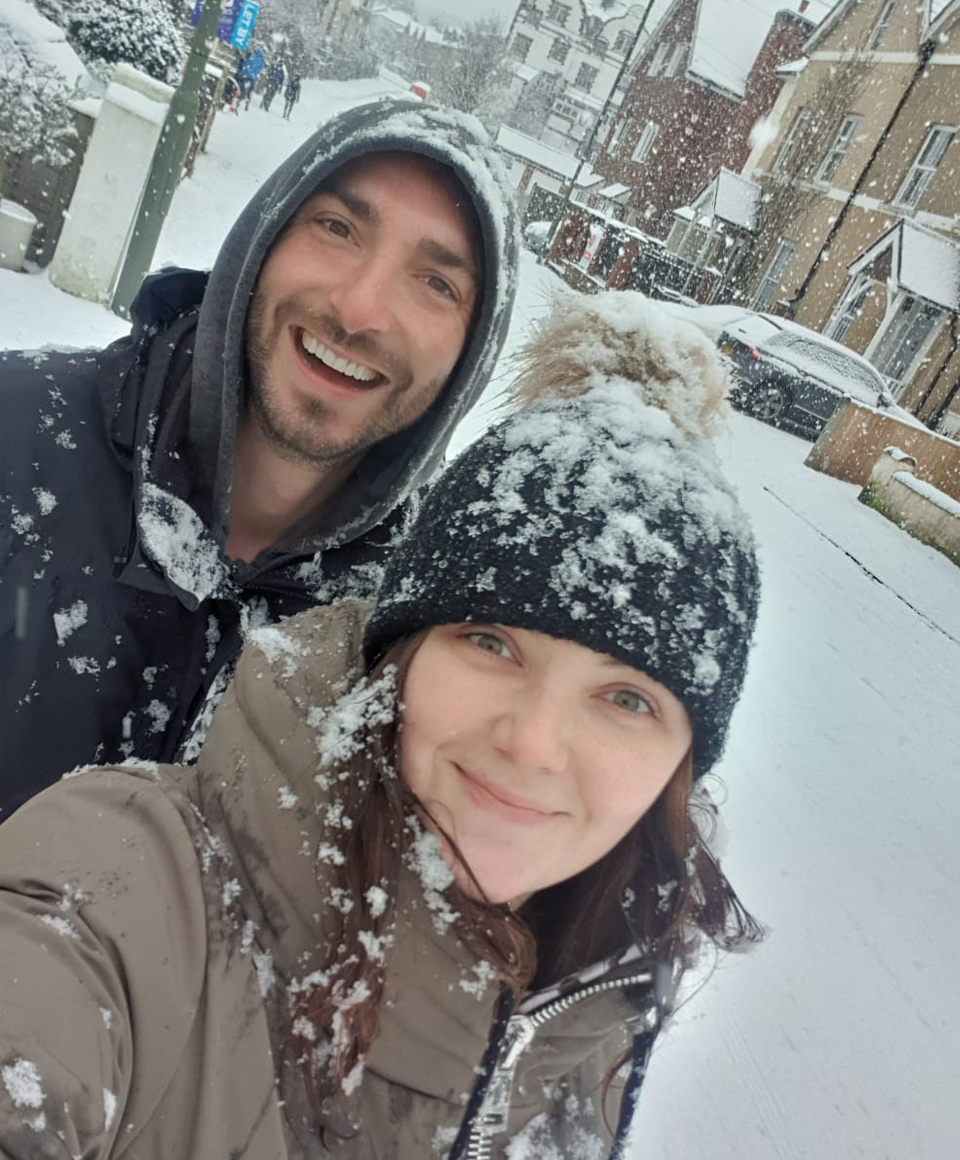 There are many established competitors in this marketplace. Where do you fit and how do you differ?
Grace: As we touched on earlier, we pride ourselves on our commitment to using only local businesses to curate our hampers. We offer a luxury quality, similar to Fortnum and Mason, but at affordable prices and with an added goodwill connotation. We acknowledge that particularly amid such challenging times, people are desperate for human interaction and a friendly service. We get in touch with every customer individually and offer ideas to make their hamper unique and fitting for their recipient. Something we have seen that means a lot to our customers who cannot visit their recipient in person, knowing thought has gone into every element of their gift is reassuring.
'Shop Local' and supporting local businesses sits at the heart of your company ethos. Can you tell me more about some of the local businesses you are working with and how you go about selecting products for the hampers?
Sam: We are now working with and supporting over 100 local businesses! It's quite incredible. We have what we call our core suppliers, who create items for us regularly for our pre-made hampers, but we also have our bespoke suppliers who we will go out to if we have specific requests that their product would fit. As Grace said, we want to offer luxury whilst supporting local businesses, so we do try and choose products that we feel fit the brand ethos too. We have found social media is our go-to when it comes to finding new suppliers – all of the new online markets have been crucial to help us see what talent is out there!
You offer a variety of products, from themed and bespoke hampers to corporate-gifting options at a range of price points. Can you talk us through this in more detail?
Grace: So, we started off with our themed hampers over Christmas, with pre-selected items at a set price. We are now always going to offer pre-made hampers for customers who need a quick purchase. We currently have our Valentine's options live.
Although this worked, we quickly realised how big the bespoke market was. So, we adapted very quickly and started to push the more bespoke options. We offer a service whereby you can let us know the occasion, the budget and a bit of info on the recipient and we will do the leg work for you. We source local products, collect them, create a gorgeous hamper and personalised gift message and either deliver personally or offer collection.
In addition to this, we thought back to why we came up with the idea initially, and it was inspired by the corporate world. We have now supported three corporations with all staff gifting which has been a huge success. We are able to brand multiple items and write customised messaging, so this holds real appeal for corporates. We know corporates in towns such as Reigate recognise the responsibility to help support the local businesses get back on track as things return to normal so we will continue to offer this service.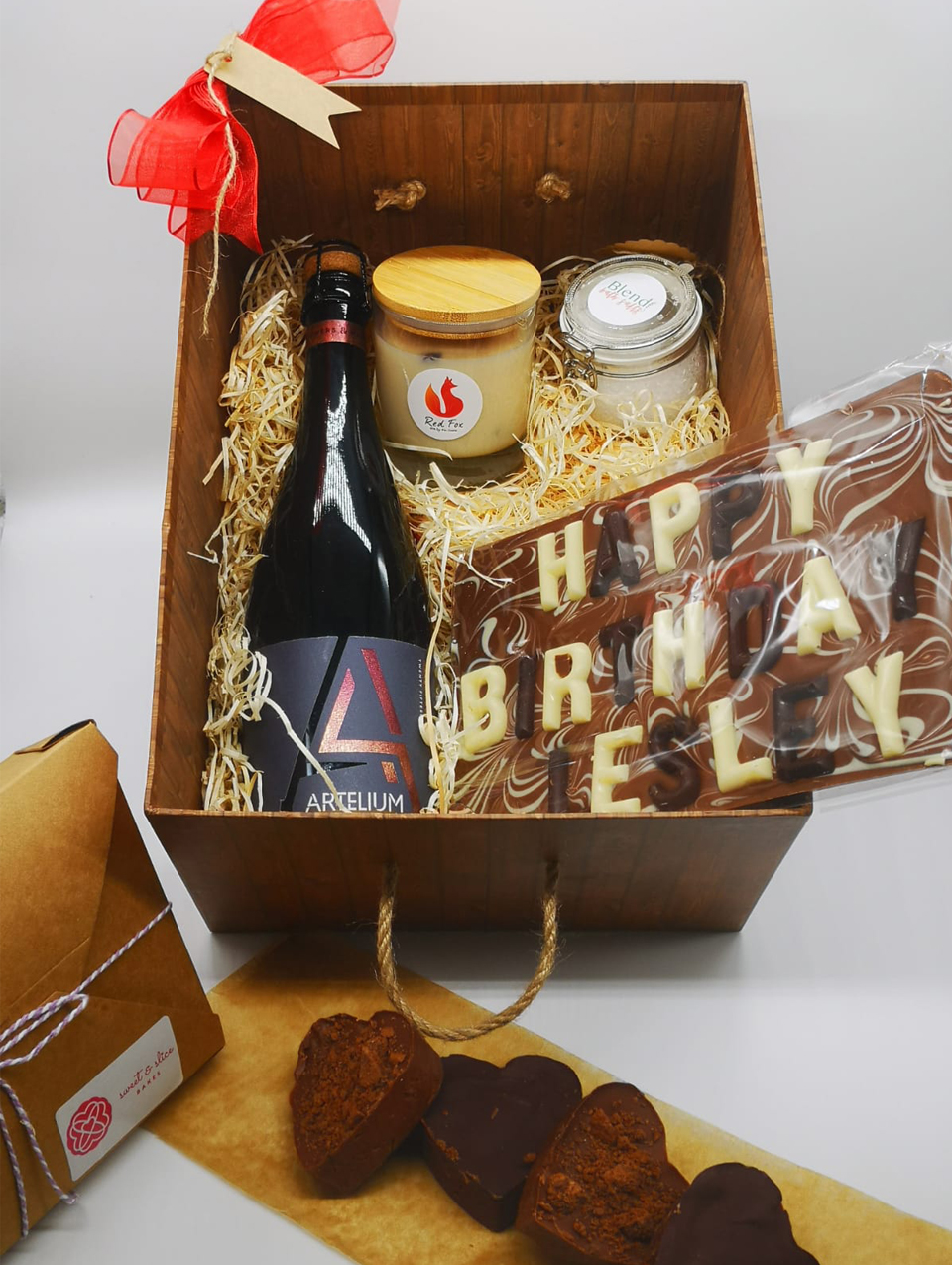 Do you handle the packaging and assembly of the hampers in-house?
Sam: We do indeed. We have some storage, but Grace is keen to wrap each hamper herself in our front room!
Are deliveries restricted to the local area or can hampers be sent further afield? How does this work operationally?
Sam: We have received an order from Australia and delivered to Scotland! So no, we are not restricted to where we can deliver as we would send these via DPD - it just restricts some fresh items we can include.
For local deliveries, we try and do these ourselves over the weekends to greet the individual by name and show them who we are. It's important for us to show our customers how invested we are in their product.
You are also in the process of introducing a subscription package. What will this look like?
Grace: Absolutely, we are so excited about this but still in the research stage at the moment. We want to be able to offer a monthly subscription whereby customers receive a sample of local every month. We are so impressed by the products and product variations our suppliers offer that we wanted to find a better way to showcase the vast amount of talent in the local area and that there really is no reason not to support #ShopLocal.
The subscription service will be delivered once a month and consist of up to 5 locally sourced items for you. This may be food, gifts, cheese, chocolate… who knows! The aim being that you may find a new item you then start to buy regularly from a local business, not the supermarket.
Stay tuned, we hope to be ready to launch by March 2021!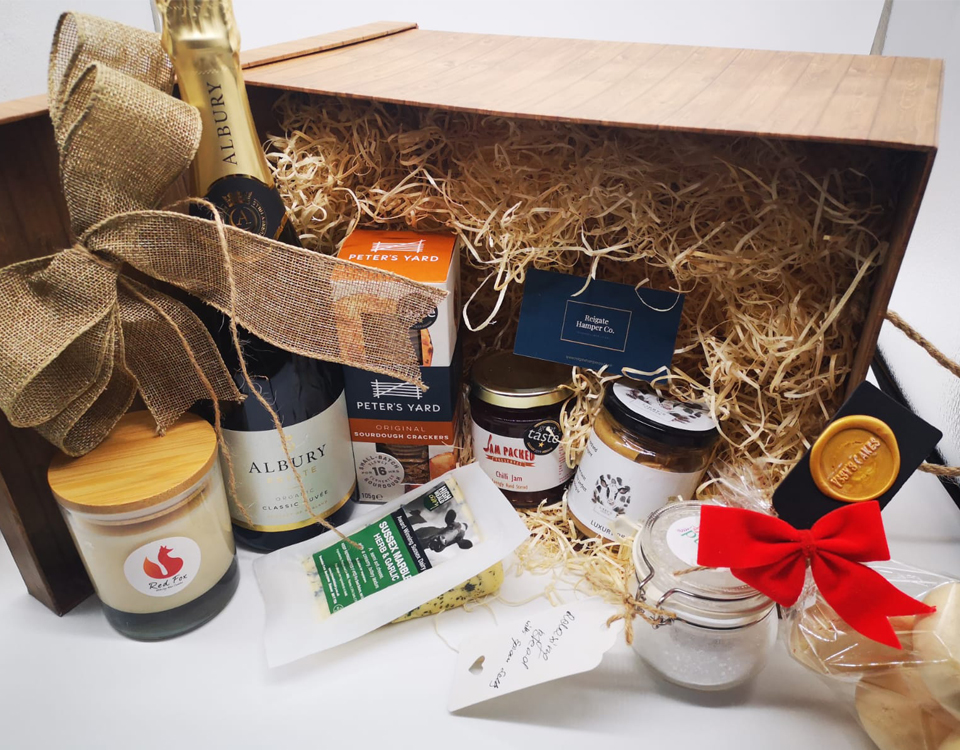 Where would you like to see The Reigate Hamper Company this time next year?
Sam: We would love to expand and be able to support more local areas. The key for us would be to secure some sort of warehouse and start to expand both our offerings and support for local businesses.
Grace: Completely agree, we would like to be in a position to have relationships with most local businesses and start to work together on some larger projects (when things get back to 'normal') to help bring back the high street and raise general morale. We would love to do a Welcome back to Reigate party at some point!
Do you have plans to expand into other towns?
Sam: To be honest, it doesn't feel like we are just Reigate focussed at the moment, so our initial thoughts that we might need to create new names – Dorking Hamper Co. etc for example, seems less of a priority now.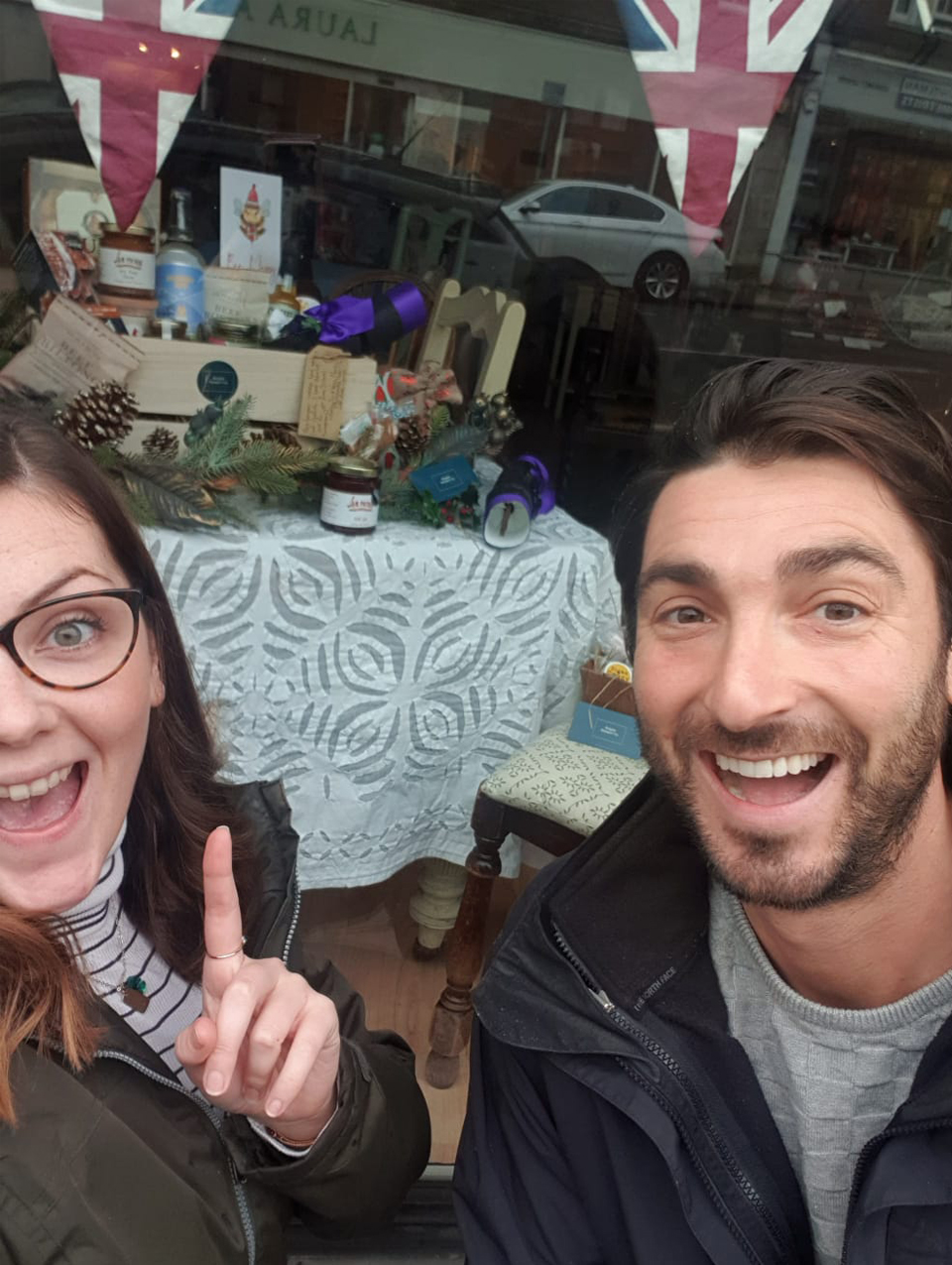 And finally, with Valentine's Day approaching under lockdown restrictions, have you created some special gifts that can be sent to loved ones? And what is the final date for orders to guarantee delivery on or by 14th February?
Grace: I know we are biased, but our Valentine's hampers are absolute luxury and just stunning!
We have launched 5 pre-made Valentine's hampers, ranging from £47.99 to £79.99. Each hamper supports a minimum of 8 local businesses and includes a hand-written, personalised gift tag by a local artist.
We are also offering bespoke Valentine's options for something unique for that special someone. Just let us know your budget and a bit about your recipient's favourite things!
Take a look at the full range here.
Sam: We are offering delivery or collection on 13th and 14th Feb, last orders to guarantee this delivery is 9th Feb. Get your orders in – we'll do the leg-work and you can take the credit!
Grace and Sam, many thanks for taking the time to talk us through Reigate Hamper Company and your plans for the future. We look forward to watching you grow!
Follow Reigate Hamper Company here:
Do you have a local business story you would like to share? Get in touch with our team, we'd love to hear from you!