Nestled in the beautiful countryside just outside Reigate lies Surrey's only open-fire cookery school, The Salt Box. Celebrating seasonal and wild ingredients cooked over open-fire, their award-winning sustainably minded cooks host woodland dining events and cooking workshops, bringing people together under the trees to create unique and unforgettable feasts. Rhi spoke to founders Beckie Wingrove and Christian Armstrong to find out more about how their dream to open a woodland cookery school became a reality, how the operation has had to adapt to comply with Covid-19 regulations and which marketing tools have proved most effective when growing the business:
Can you tell me about yours and Christian's career backgrounds and how the business idea for The Salt Box came about?
Our experience and career backgrounds really were polar opposites when we started The Salt Box. Before starting the business, I spent 10 years working in Events and PR in a very corporate environment for automotive brands, whilst Christian's experience was as a chef, butcher and cookery tutor.
We both had a real passion for seasonal, local and wild food - keen to reconnect people with what's on their plate, inspired by a root-to-fruit and nose-to-tail ethos. The business grew from a dream to work outside of four walls - encouraging people to get outdoors through our dining experiences and fire cookery courses in our woodland kitchen.
It first started back in Autumn 2017, when we started hosting pop-up events in and around Surrey. In Spring 2019, we ran a crowdfunding campaign following which we opened our premises here on the Priory Farm Estate, where we host a range of experiences in our cosy Barn and Woodland Glen.
Can you tell me some more about the kind of events you run and the cooking workshops you offer?
At The Salt Box, all of our events celebrate seasonal, local food cooked over an open-fire beneath the trees - bringing people together through food and fire. We offer both Woodland Dining Experiences and Open-Fire Cookery Courses, as well as a selection of collaborations with local businesses, including combining delicious food with art classes, yoga workshop, woodwork and lots more.
Our events are centred around spending time in the great outdoors, championing seasonal and local producers and artisans, whilst making the most of nature's larder throughout the seasons. Through our courses, we aim to restore the ancient skill of open-fire cookery and demonstrate how an outdoor feast tastes far better prepared over a crackling fire. Each and every event is inspired by our fires - whether it's cooking our food, warming our guests or simply providing light for us to work by, we are never far from the flames!
We host our events in our Woodland Glen here on the Priory Farm Estate, as well as in our cosy barn. There's no better place to learn a new skill or enjoy a delicious meal than surrounded by a crackling fire!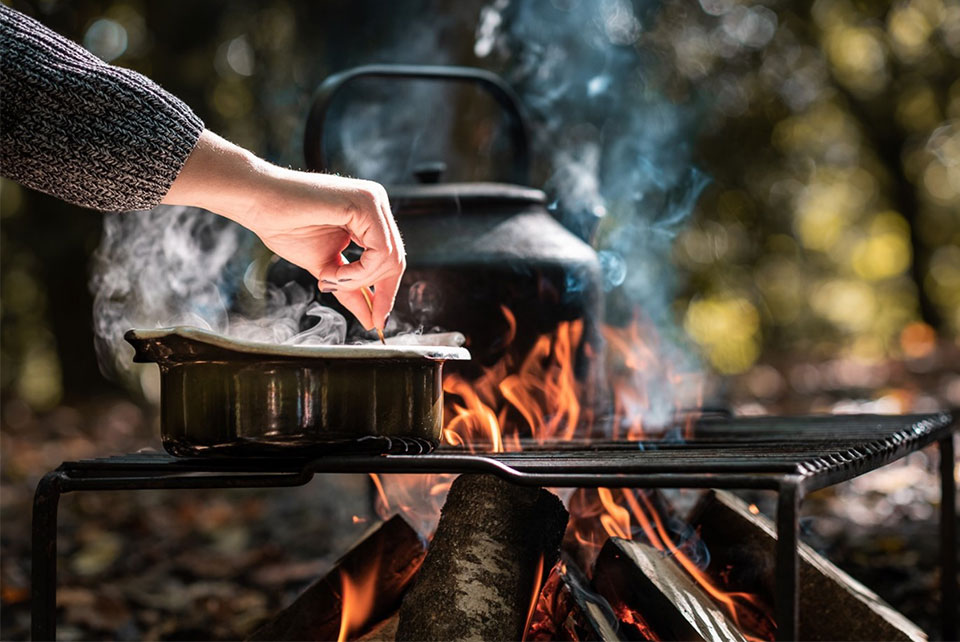 You are based in a stunning location on the Priory Farm Estate just outside Reigate, what made you choose to launch the business in this area of Surrey?
Collaboration has always been the key to our success. Surrey is a hub of creativity, full of wonderful people doing incredible things. We have been extremely lucky to work with a long list of inspiring people in and around Surrey who we not only share our common values with, but also provide us with new perspectives, trigger our creativity and generally are a great help as we continue our adventure.
Prior to moving on to the estate, we hosted a number of our pop-up events there and were lucky to win a Surrey Life Food and Drink Award alongside the Priory Farm Shop back in 2018. A casual conversation about what our long-term plans followed, and a few months later we found ourselves moving onto the estate. We're incredibly lucky to be tucked away in a beautiful spot, with access to so many wild ingredients from nature's larder here on our doorstep. The team at Priory Farm have been integral to our growth for which we're ever so grateful!
Given the business operates outdoors, does this mean the summer months tend to be more popular or do you find there is equal interest all year round for the courses/events you offer?
We host our dining events and courses 12 months of the year, no matter what the weather (within reason!). We've found our guests to be just as eager to dine beneath the trees on a chilly evening in mid-February as a summer's day in August! We're firm believers that there's no such thing as bad weather - just bad clothing. In the winter, our evenings are cosy affairs as we gather around the fires with heartier fare and a steaming mug of something warm - a mulled apple gin toddy is a favourite.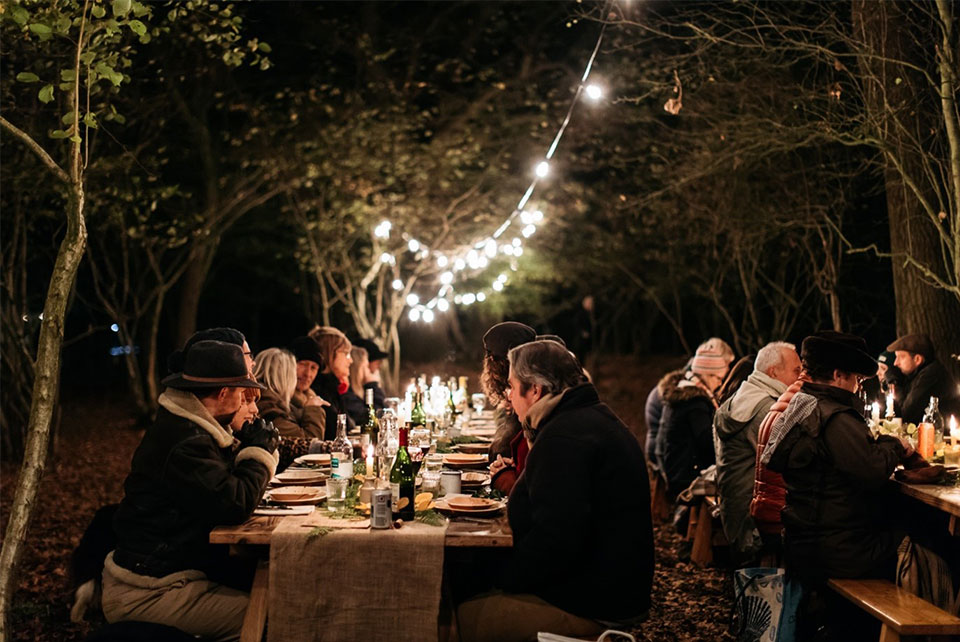 What kind of customer would you say you typically attract?
We have the pleasure of welcoming a wide range of customers to our events - from families with young children to couples celebrating their 50th wedding anniversary! Our customers all share a love of being in the great outdoors and tucking into a delicious meal, prepared over the flames right in front of them.
Which marketing tools do you feel work most effectively for you when promoting the business?
Word-of-mouth and social media have been our most powerful tools with regards to spreading the word. We've been incredibly lucky to build a very loyal customer base, who join us time and time again, often bringing new friends or family members.
The nature of what we do is also very visual, so we've been able to convey our ethos and messaging quite effectively through images and videos. The combination of our natural surroundings, delicious food and the flickering flames of our fires never gets old!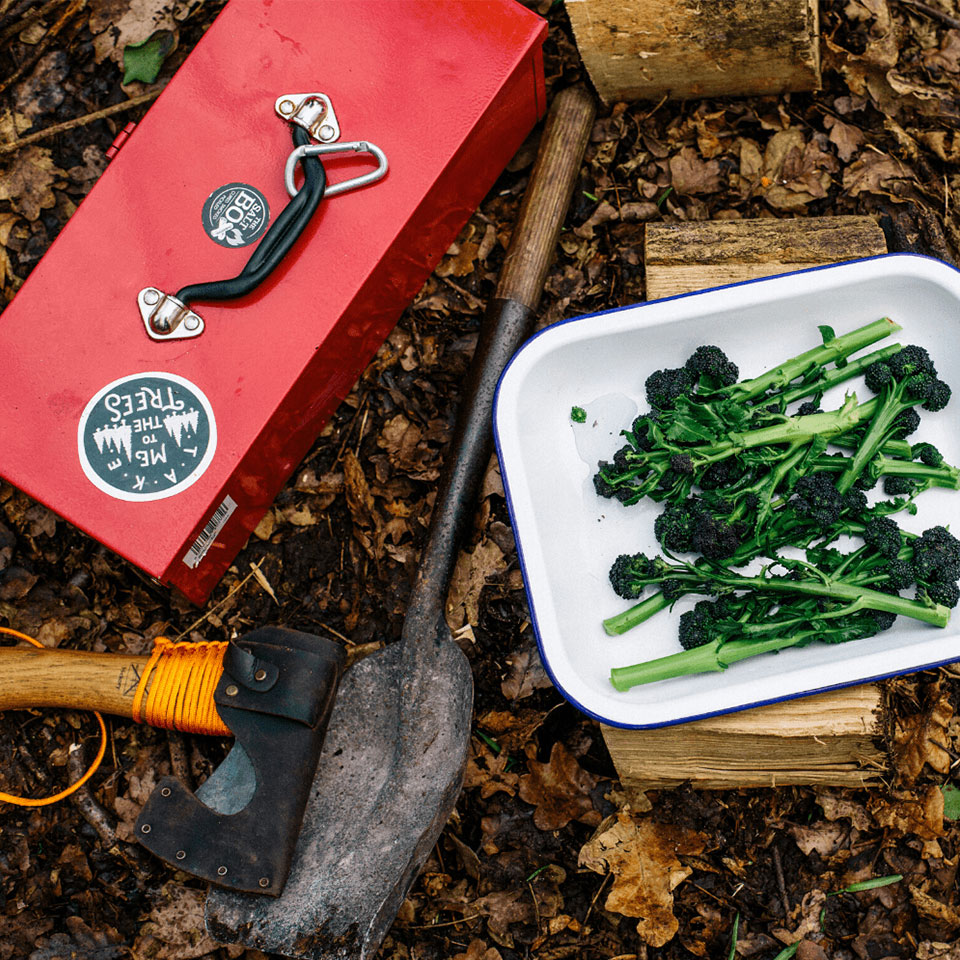 This is clearly a tough period for the hospitality sector. What adaptations have you had to make to the business to allow you to continue operating during Covid-19?
It's crazy to think we'll have been closed for 4 out of 12 months of this year (as have so many businesses). At the heart of our business is bringing people together through food, so getting our heads around a new angle to the business whereby we don't have people physically here has been a challenge.
We have just launched a 6-session online Fire Cookery course, which we are really excited about. Alongside this, we have also launched a range of Salt Box products, including our signature seasonings, hand-made fire-strikers, aprons, enamel mugs and lots more. The experiences are really popular gifts, so our gift vouchers continue to be successful - as everyone is looking to have something to look forward to!
What is your favourite meal to cook over fire?
That's a tricky one! The beauty of cooking over fire is that it's all about slowing down and enjoying the experience - from lighting your fire, to nurturing and managing it ready to cook over.
A favourite is our super-simple flatbreads, which are great for any meal - whether it's with spiced scrambled eggs and bacon for brunch, or paired with a fire-spun leg of venison and a selection of seasonal pickles.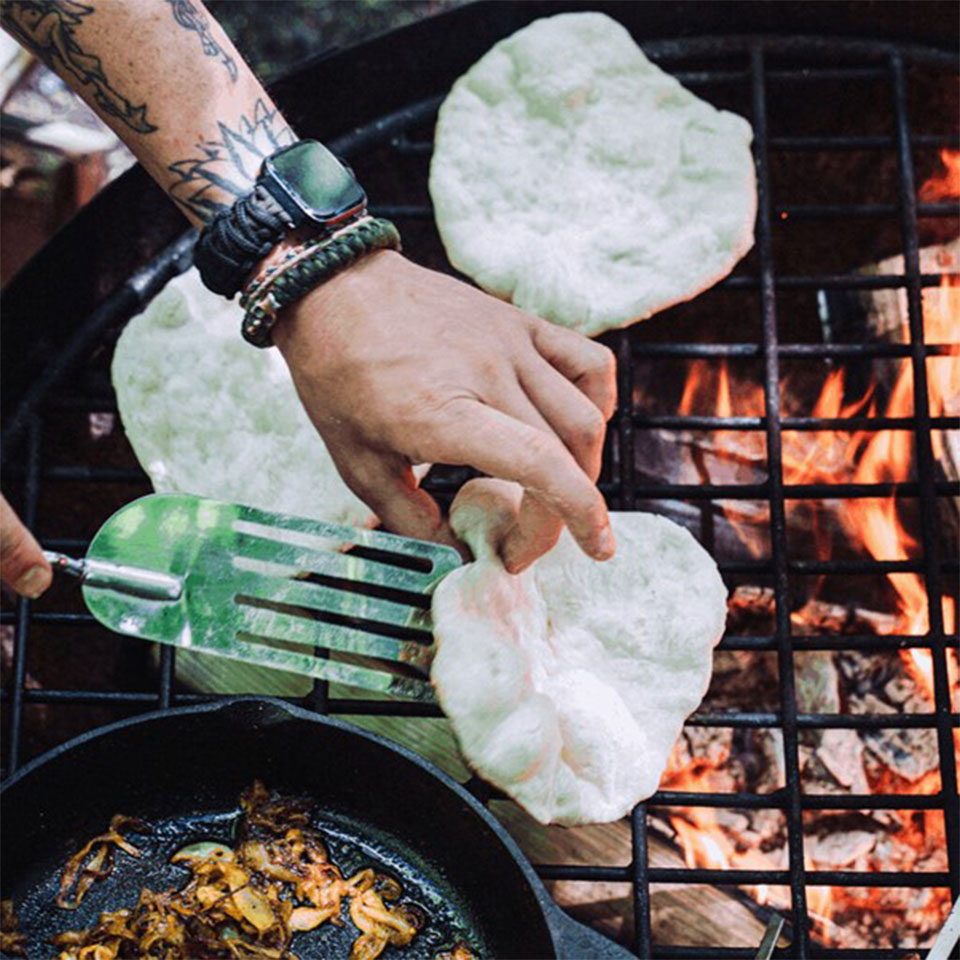 What is your long-term vision for The Salt Box?
2020 scuppered a few of our plans that's for sure - but the time away from events has really allowed us to take a step back and make bigger plans for the long term. We're really looking forward to welcoming our online audience through our brand new digital classroom, which we hope to grow in the coming years. We continue to work with local farmers, growers and makers to feature ingredients available on our doorstep in our feasts - so there's always a focus on hunting down exciting new suppliers to work with.
We've got plenty of dining events and courses in the pipeline for the new year too, along with expanding our product range. The rest is all top secret - for now!
Thank you so much Beckie and Christian. We can't wait to find out what exciting plans you have in store for the business and of course come and enjoy one of your delicious open-fire feasts!
Click here to visit their website or find The Salt Box on social:
Please get in touch with our team if you have a small business story that you would like to share.