Sustainability
Over the past decade the retail clothing landscape in the UK has changed dramatically, characterised by the rapid growth of cheap, fast-fashion brands such as Primark, Zara and supermarkets introducing low-price clothing ranges, all of which has led to consumer consumption on a terrifying scale. In recent years, the tide has started to turn, and as consumers become increasingly aware of the damaging effects the clothing industry is having on the planet. Consumers are beginning to change their shopping habits, leading to mounting pressure on retailers to become as sustainable as possible.
Oxfam's Mission
Oxfam estimates that a staggering two tonnes of clothing are bought each minute in the UK alone, more than any other country in Europe. This amount produces nearly 50 tonnes of carbon emissions – equivalent to driving 162,000 miles in a car. They also estimate that a staggering 11 million clothing items end up in landfill every week
With charities such as Oxfam and the Red Cross drawing consumer attention to the huge pressure clothing production is placing on rapidly depleting greenhouse gas supplies and the high carbon footprint created by the clothing production supply chain, a growing number of consumers are starting to respond by reducing the amount of money spent on new clothes, instead opting to buy second-hand.
As part of its ongoing mission to help curb the throwaway culture and highlight the issues surrounding high levels of fashion consumption, Oxfam launched its Second-Hand September campaign, which encourages consumers to take the pledge not to buy any new clothing items for 30 days. As part of the campaign, people can upload photos of their second-hand buys via social media. This campaign has received huge support across social media with many of the biggest fashion influencers getting involved.
Re-Work It* has now opened
In response to the issue on a local level, a new sustainable fashion boutique, 'Re-Work It', recently opened on Reigate High Street. Run by Surrey care provider Active Prosepects, a charity which focuses on empowering people with disabilities to live inspiring lives through providing work, it sells solely donated fashion items. Customers who donate are given the option to give the entire proceeds of the sale to the charity, receive 50% of the agreed sale price as cash or as vouchers to spend in the boutique.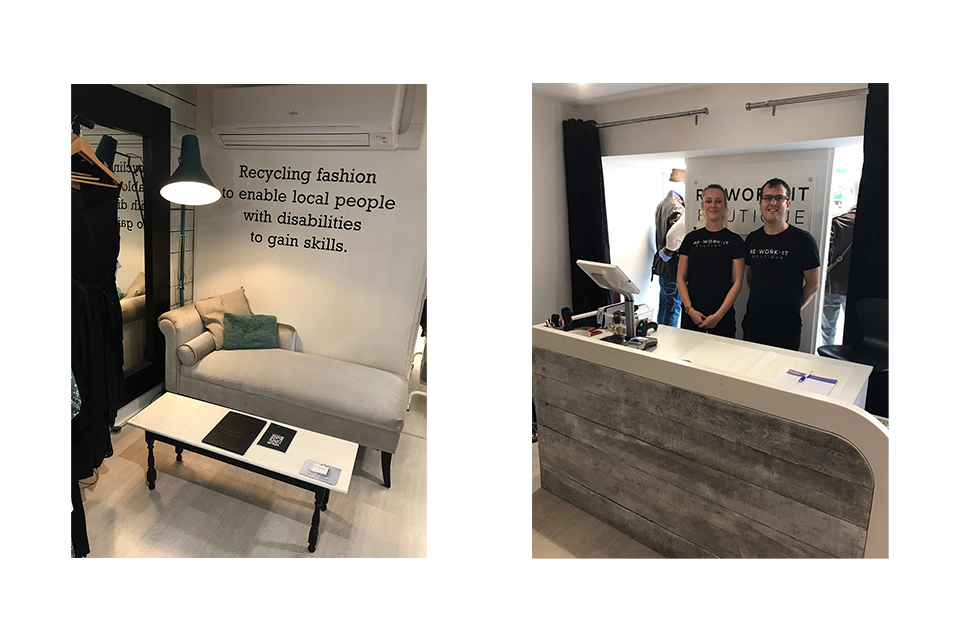 "The response from the community has been phenomenal and every day is an exciting journey! We love making a difference to people's lives whilst promoting sustainability."
Sarah Parsons – Store Manager
The Surge for second hand clothing
Across the country, there has also been a huge growth in the number of charity shops appearing on the high street as well as the resurgence of jumble sales, albeit more glamourous ones. Fashion Re: Boot which runs sustainable fashion events across the country, publicised via social media and encouraging consumers to buy, sell and gather, has a growing following of loyal consumers.
The surge in popularity of second-hand clothing clearly puts retailers in a compromising position. Faced with the toughest retail conditions in decades, retailers are focused on survival and profits are key so driving maximum sales volumes is critical, and supporting initiatives aimed at reducing consumption is clearly at odds with this. However, environmental issues are a top priority for many young consumers and retailers cannot risk alienating this audience.
In addition to the risk of reputational damage by not adopting a sustainable approach , retailers are also facing the potential threat of government tax levies on garments as well as fines for filling landfill with unwanted garments, which has in turn led to a rapidly growing number of retailers integrating recycling initiatives and sustainability into their marketing strategy.
In-Store Recycling Initiatives
One of the first retailer to launch an in-store recycling initiative was Swedish retailer H&M, who has been collecting unwanted clothes since 2013. All H&M stores contain a garment collecting box and the business collected 20,000 tonnes of textiles in 2018. Clothing that can be worn again is sold second-hand (proceeds go to the British Red Cross and the H&M Foundation), older clothes are repurposed into other products, and the remainder is broken down into textile fibres. Customers receive a £5 voucher to use on their next purchase of £25 or more when they drop off unwanted clothes. Clearly the coupon is to incentivise future purchases which could be argued as encouraging more wasteful shopping.
Many other retailers including Zara, and Primark have since introduced recycling or take-back schemes within stores to try to ease their waste levels
However, introducing a take-back or recycling scheme is not without its challenges. Retailers need to identify the right partner, communicate with customers and ensure they have enough human resource to gather, sort and transport what they collect. If the scheme is not introduced in the right manner, it could backfire altogether, and generate negative publicity for the brand.
Studies are showing that young consumers do not wish to be labelled and put in gender boxes and are in fact very encouraging of a more accepting society. Media and advertising play a critical role in educating and driving equality and social acceptance. Therefore, it is vital to be aware of the wider message portrayed in communications, and the impact this may have on the intended target audience.
While recycling schemes are starting to make an impact and consumers are beginning to change habits and engage with the various schemes, ultimately retailers need to ensure that they are not just paying lip service to the issue and are doing everything they can to improve sustainabil-ity at all stages of the supply chain and within the business itself. Fashion companies are under increased scrutiny from consumers, who are demanding ethical production practices and re-sponsible retailing, particularly concerning excess levels of stock and the disposal of unwanted garments.
Global retailer Zara recently made the commitment that all collections will be manufactured using 100% sustainable fabrics by 2025 and is the first high street store to make such a claim. It has also declared that by 2025, 80% of the energy consumed in Zara's headquarters, factories and stores will be from renewable sources and its facilities will produce zero landfill waste. It is expected that following this announcement, many more retailers will be forced to follow suit.
Sustainability from a legal standpoint
With regard to the legal position, in July 2019, the UK government voted to reject the parlia-mentary environmental audit committee proposals for a tax levy on garments and a ban on sending items to landfill, recommending that positive approaches are adopted instead to find-ing outlets for waste textiles.
While the government response has bought more time for retailers who are still considering their approach to sustainability, ultimately the environmental threat is of such concern to a growing number of consumers that pressure will be mounting on organisations across all indus-tries to take action. If brands are not seen to be addressing sustainability there is the potential threat of losing existing consumers as well as deterring new ones, and so for businesses to be best placed to survive an uncertain future, setting in place a robust sustainability strategy should be made a priority.
*ReWork It Boutique, 61 Reigate High Street. Please contact Shop Manager Sarah Parsons on 07557 924794 to arrange an appointment for pricing your clothing.
If you are thinking of bringing your business sustainability credentials into your overall marketing strategy, Get in touch to speak to a member of our team.