It's that time of year again – Christmas ad battles are unleashed, I'm a Celeb returns to our screens and extended Black Friday deals are announced to entice us into some serious shopping action! Perhaps a more welcome seasonal import from across the pond is Small Business Saturday. This year falling on 7th December, the annual date is designed to celebrate the British High Street independents and small businesses across the country.
What is Small Business Saturday?
In 2010, American Express launched Small Business Saturday in the US as part of an ongoing marketing initiative which focuses on championing the High Street. The date was chosen to counteract the commercial excesses of Black Friday which traditionally falls during the Thanksgiving holiday week – a time when many Americans take leave from work to spend time with family and, also coincides with the last pay date before Christmas.
Small Business Saturday UK
The first Small Business Saturday in the UK took place in 2013 and has gained momentum in subsequent years. Once again, American Express have been the principal supporter of the campaign which is run by Small is Big CIC, a not-for-profit organisation set up to support the interests of small businesses in the UK.
Commenting on the growth of the grass roots campaign, Small is Big CIC reported an estimated and sizeable £812M being spent in small businesses across the UK on Small Business Saturday 2018 – an 8% increase on the previous year. The 2018 campaign also enjoyed significant media leverage and garnered support from key figures from the political and business worlds. #SmallBizSatUK and #SmallBusinessSaturday trended on twitter throughout the day with related tweets reaching over 100million people!
#SmallBizSatUK Bus Tour 2019 & Website Portal
Amongst the many activities this year, the Small Business Saturday Bus Tour has returned to our streets, visiting a total of twenty-seven towns and cities across five weeks in the lead up to 7th December. Each 'bus stop' offers free mentoring to small business owners, speed networking, opportunities to exhibit and interviews on the iconic blue sofa which have been streamed live across social media.
The Small Business Saturday website, gives organisations the opportunity to register on their online portal which helps to promote their businesses before, during and after the date, as well as being featured in the 'Small Business Finder' directory on the site.
Shop Small with American Express
American Express , are activating the UK campaign by encouraging people to 'love where you live' and offering £5 credit* to any customer who spends £10 or more at a participating business between 7th – 22nd December. This year, they have also launched the Shop Small Magazine in partnership with Courier which includes top tips for independents and 'in the spotlight' business features, alongside other industry-relevant articles.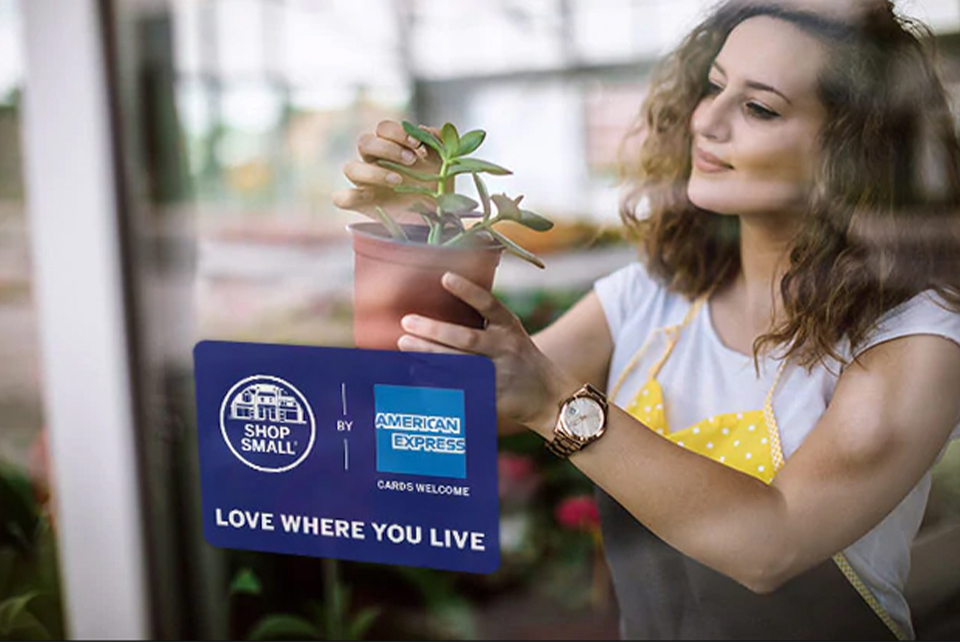 On describing their commitment to the Shop Small UK manifesto, American Express state:
"For many of us our local high street is more than just bricks and mortar. It is the place we go to seek out experiences, to gather expertise from local small business owners and to meet our friends. It is our community. So, it's not surprising that when people feel part of, and get involved in their local community, everyone thrives."
Supporting Small Business Saturday in Surrey
There are many events taking place over Small Business Saturday and in the run up to Christmas where you can show your support to small businesses and help your high street to thrive. We've handpicked a few events which are local to Reigate, Surrey:
29th November – 1st December - Time: 10:30-17:00
Venue: Polesden Lacey's Great Bookham RH5 6BD
1st December Time: 14:00 – 18:00
Venue: Dorking Halls Dorking RH4 1SG
Time: 17:00 – 20:00 Venue: Reigate High Street (a selection of independent retailers will be open as part of the Reigate Guild event)
As Christmas approaches, we are given the perfect opportunity to support our local independents on the high street and beyond. Small businesses often give that extra level of customer care and expertise that you might not find in larger retailers through a more invested and focused understanding of their product offering and the audience they are trying to reach. Through helping your local small businesses to grow, the wider community thrives.
Are you a small business looking to grow? Get in touch with our team to see how our marketing services could help.
* American Express Shop Small UK offer is limited to maximum £50 total spend.