Doesn't everybody love a challenge? There have been so many thrown my way during lockdown that I've lost count (I've been nominated for '5K for £5' five times – does that mean I need to run 25K?) As a family of five stuck at home, we've loved taking part in Zoom quiz nights, 5K runs, I'm a Celeb style eating trials and watching some of the weird and wonderful achievements from around the world as our local and global community come together in solidarity through creativity, fun and celebration amid this pandemic.
It should come as no surprise then that Tik Tok has become the social media phenomenon of lockdown as people look to alleviate the monotony of day to day life. The platform launched its first-ever UK TV ad this week highlighting content created by users of all ages 'making the most of right now' during lockdown. Mobile insight firm, Sensor Tower has reported 2 billion downloads of the app with a surge of 315M downloads in the first quarter of 2020, the highest ever number of downloads of any app in this timeframe. The likes of Zoom, a previously under pressure Netflix and Amazon have also seen a rise in downloads and subscriptions as they provide households with entertainment and access to the outside world without needing to travel beyond the home environment.
Tik Tok is the self-labelled 'destination for mobile videos'. It offers users a creative platform to create content with various editing tools via short-form video. Lip-syncing, dance challenges, acro-moves, pets, footie-skills, cooking…. really anything goes! What is truly unique about this social platform is the chronological hashtag-led algorithm. Tik Tok delivers the newest content (according to each user's interests) onto home pages rather than prioritising videos with the most engagement and regardless of the creator's following count. This means that you or I could feature at the top of any A-Lister's feed with our first attempt! Jennifer Aniston recently shared, with her 32M followers on Instagram, a quarantine-inspired remake of the Friends theme tune performed on Tik Tok by up and coming Irish singer-songwriter JC Stewart, helping to raise his profile considerably.
Lockdown family bonding
Traditionally the domain of the under-25s, Tik Tok's audience has broadened more recently. With the hashtag 'lockdown' currently trending high (16.2 billion views as of 13th May), younger generations within households have introduced other family members to the platform, challenging each other to master the dance moves. These videos are then shared on older family members' preferred social platforms such as Facebook and Instagram, widening the reach of Tik Tok further. Tech-savvy youngsters have put together videos from separate households to include loved ones that can't be together or are under isolation.
Here are some heart-warming examples of how families are coming together to entertain themselves and others:
Dame Judi Dench and her grandson
85 year old Dame Judi Dench has admitted that she has been finding lockdown life tough. Her grandson, Sam Williams has helped to keep her entertained by challenging her to learn Tik Tok dances. With #judidench now trending across social feeds, the duo has gone on to post multiple clips, including Dame Dench's witty rebukes of her grandson's jokes. Other famous relatives being featured on their children's feeds include Courtney Cox, Victoria Beckham and The Ramsey's.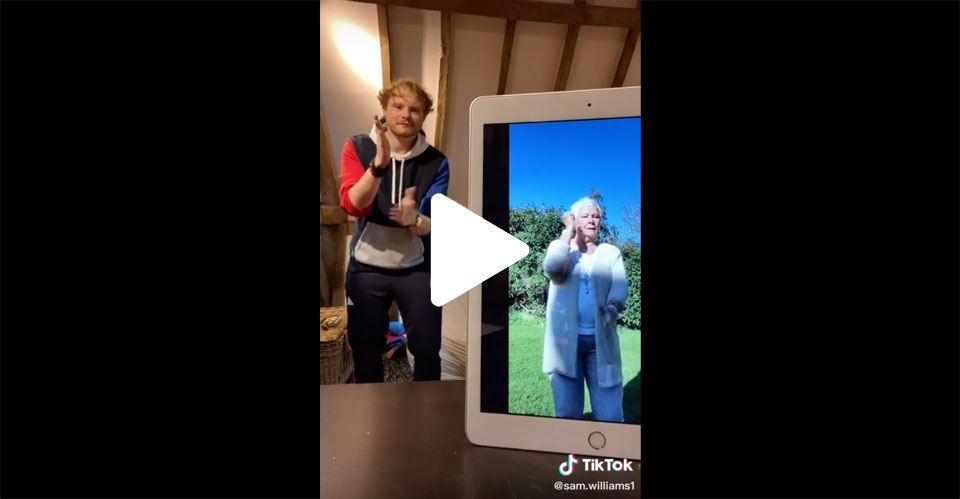 The Flemings vs Tik Tok Dance
Posted nearer the beginning of lockdown, Irish content creator Tadhg Fleming posted a hilarious 10-minute video montage teaching his Dad, Derry and other family members the popular 'Blinding Lights' by The Weeknd Tik Tok dance. The video soon went viral with Tadhg commenting that is was "probably the longest video we've ever done…but that was all down to Derry's feet not cooperating!"
The clip encouraged countless other families around the UK to take on the challenge, including some of our Your Marketing Team team members!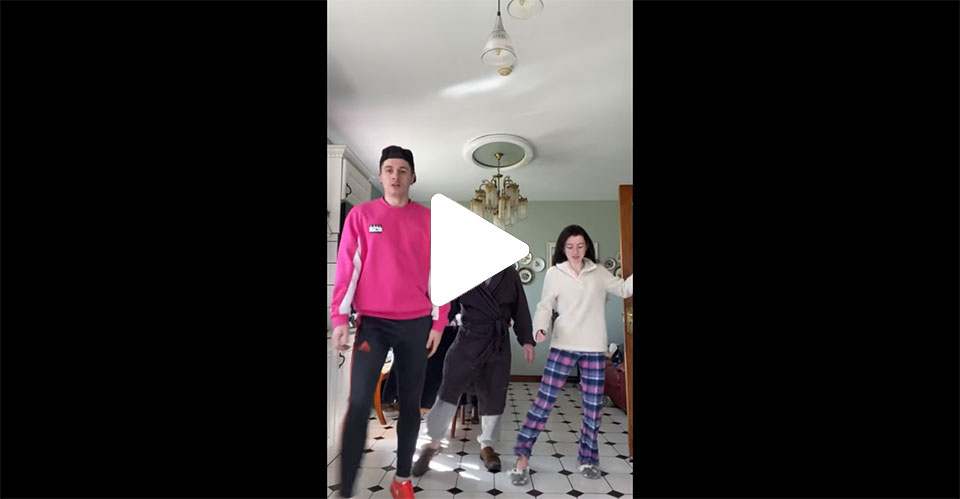 Care home worker teaches residents with dementia
Aiden Middleton, 18 is keeping spirits up and residents active at Wellburn House in County Durham by creating collaborative Tik Tok videos. Many of the residents at the care home have dementia. His videos have been shared worldwide with 1.3M users viewing a clip of Aiden dancing with residents Willy and Ron. Aiden said:
"The main thing is keeping them happy and keeping them smiling – not leaving anyone out. They love getting up and getting energy in them. It puts a smile on their face."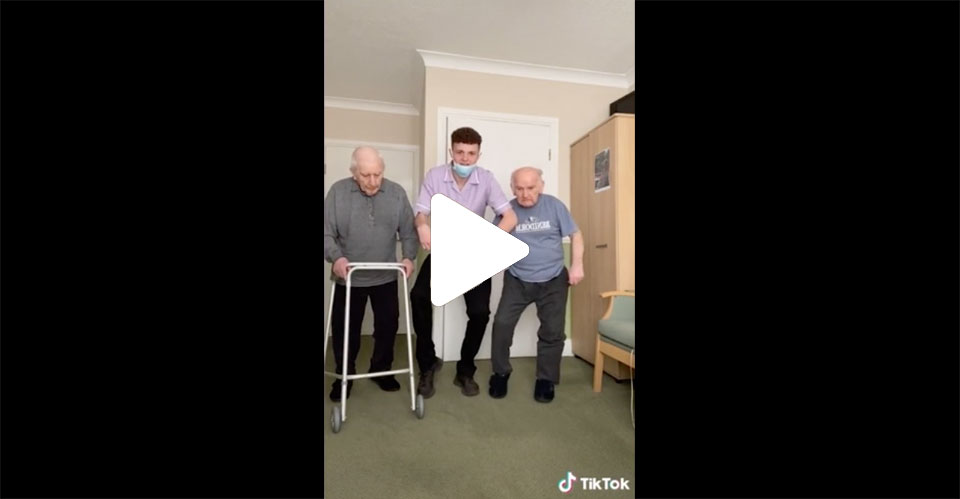 Kemp Team Challenge
Penny, Sally and Harriet all took on the Blinding Lights Tik Tok challenge, expertly guided through the moves and video edits by their daughters!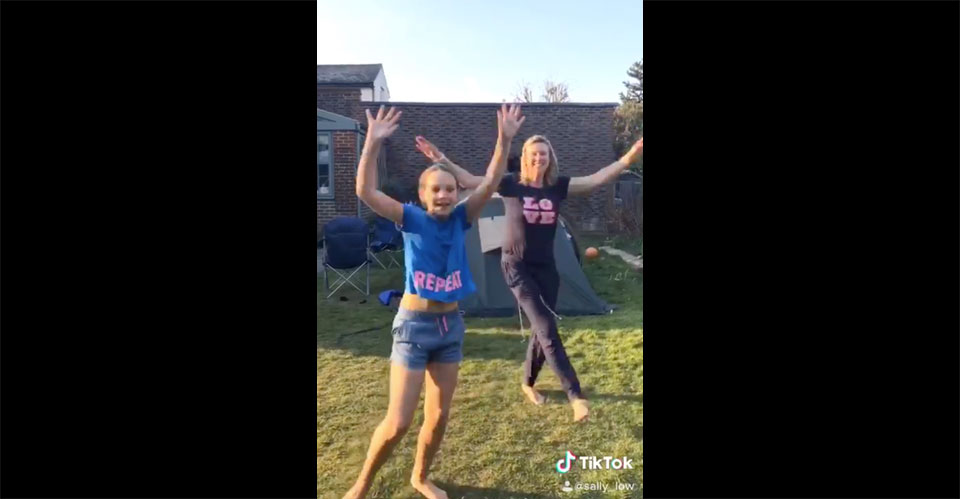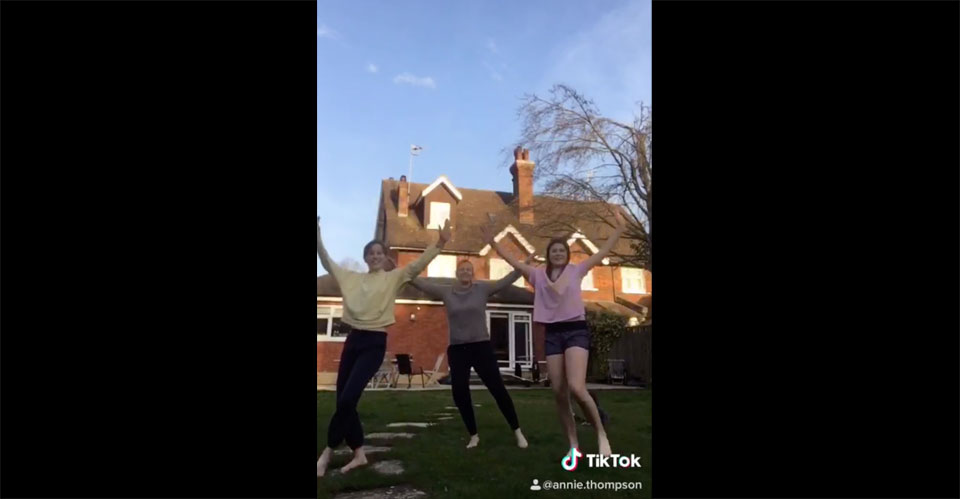 Fundraising and sense of purpose
In recognition of its influence during the pandemic, Tik Tok has recently introduced donation stickers enabling users to include a link to fundraising efforts on their videos. The platform has gone further by committing to match the first $10million raised and has teamed up with various charities, including The British Red Cross, to ensure the funds go to where they are needed most.
As a previous Tik Tok nay-sayer, concerned by how it could affect my impressionable young children, I can not deny the positive impact the platform has had during COVID-19. The ability to bring together generations and give joy when it's needed most is surely something to celebrate. Whilst this universal reach could be short-lived, Tik Tok has helped to shift brand perception amongst many with a real sense of purpose. This is something that is likely to resonate beyond the pandemic, building further value into their proposition as the social 'newbie' continues to evolve.