We recently met with Rae, Director and Founder of local business FWP BY Rae. Based in Reigate, Surrey, Rae launched FWP BY Rae last year selling slogan t-shirts and jumpers. The brand has built a loyal fanbase on social media, with circa 4.5k followers on fashion-loving Instagram and enjoys the support of several popular bloggers. As she enters her second year of business, we asked Rae what her motivation was behind starting the business, the role that social media has played in growing her audience and where she sees the future for FWP BY Rae.
Beccy: Talk us through your background and how you came up with the idea for FWP BY Rae?
Rae:
"Before I had my children, I worked to Director level in media. The industry certainly lived up to its name during the 80s/90s and my job was filled with glamour and abundance, which enabled me to fuel my love of fashion and shopping.
In 2011, after meeting my husband and having two kids, we decided we needed a lifestyle change. We sold our house in South London, bought an old house in France with two gites and set about running a holiday business. At the same time, and with my husband's experience as a restauranteur, we decided to set up a wine import business. More stress and less glamour! Within a couple of years, we made the decision to move back to the UK for both business and personal reasons.
Back on UK soil, although I loved the wine business, I did not love the admin and I was not good enough at differentiating between grapes, nor did I have my husband's 30years of experience and knowledge to make it more interesting for me. I needed another focus. What I did have was a solid background in marketing and a love of fashion. This is when I came up with the idea for FWP By Rae (French Wine Project by Rae)."
Beccy: How did you go about launching the business?
Rae:
"I borrowed £1000 from the wine business and began with just a handful of product. It took me a while to find a good printer and months to find the supplier I wanted to work with as style was very important and I'm very fussy! Sourcing quality product was at the forefront of this. I don't have anywhere near the disposable income I had when I was in media, so the price point was crucial. I wanted the garments to last and not shrink after one or two washes.
I planned on launching in February 2017, but I had to push back due to issues with samples. This was very frustrating as I had planned to launch with sweatshirts but, by May, I felt it was too warm. I quickly changed my plan.
I wanted to be clever with words and phrases and less gimmicky. Rosé and Bon Vintage were the first two ideas that I had. These are the two that keep giving. Rosé had a waitlist when it relaunched in March this year and we have introduced new colours for Bon Vintage. Premier Cru has also been a great success and I have the ever-popular fashion blogger Kat Farmer of Doesmybumlook40 to thank for that. She is a big fan of my tops and she styles them brilliantly. If she stops wanting my clothes who knows what will happen (laughs).
To begin with, I had four font styles to choose from and I couldn't decide. I was an avid follower of The Frugality and loved her style. I approached her and asked for her advice. She was really lovely and was more than happy to help. The font she chose is the one I went with."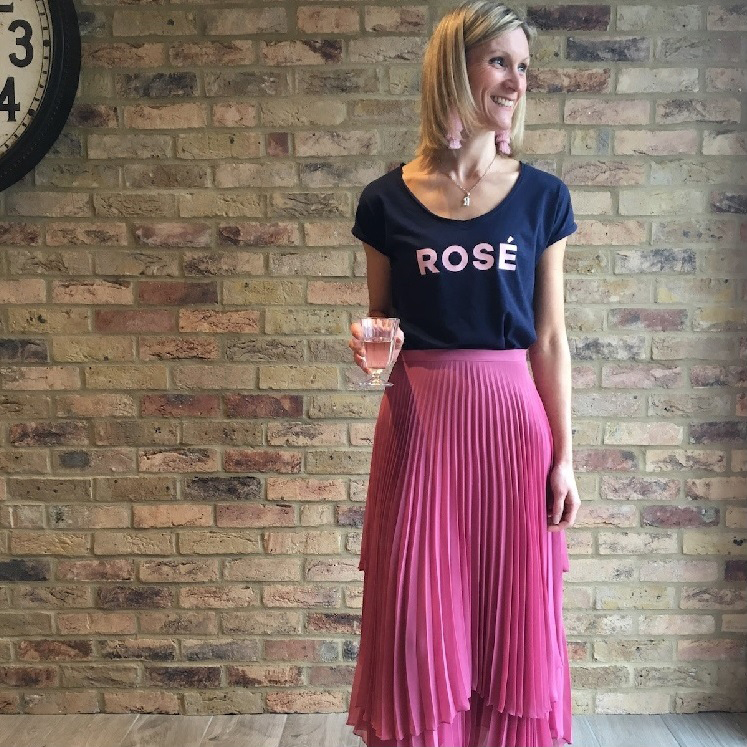 The popular Rosé design in pink and navy
Beccy: How important has the role of social media and influencers been in growing your business?
Rae:
"Social media is at the heart of my business. I always joke that if Instagram was taken away tomorrow I'd probably disappear! We live in a nation of instant gratification, and whereas magazines were the place to get style inspiration, social media, in my opinion, has become much more important. If you see something in a magazine, it was shot months ago and most likely is out of stock or not made it to the stores yet. On Instagram, bloggers are literally in the changing rooms showing the latest styles available. I'm lucky that I've had one of the biggest UK style bloggers fall in love with my products. She has taken me to a point where she can post herself wearing one my tops and I will sell out that day. Typically, I never know if or when they will post a picture, and I've been caught out before where I've had little or no stock. Unbeknown to me, Gaby Roslin bought a Premier Cru sweater back in February and did an Instagram video wearing it. I've never seen sales like it! Luckily, I can turn things around quite quickly."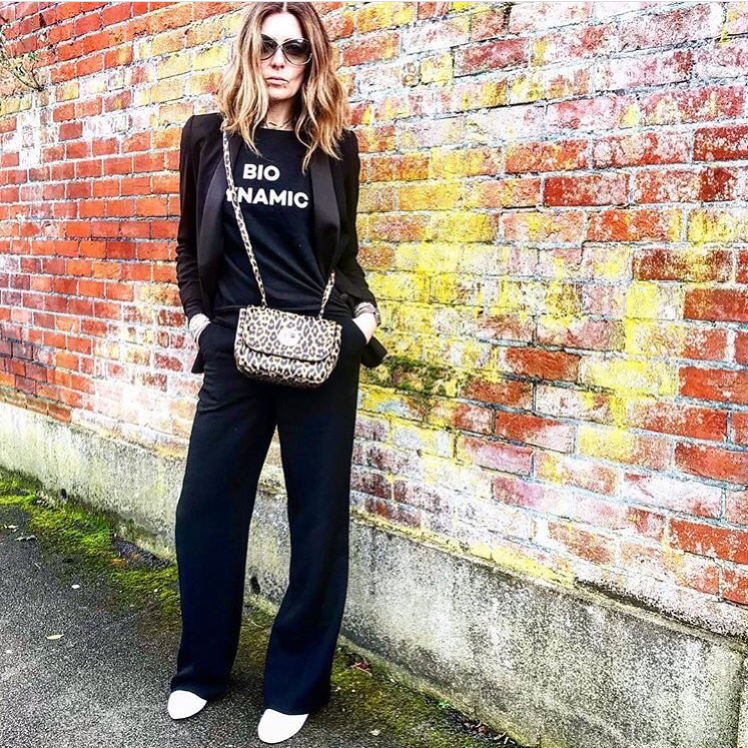 Fashion Blogger, Kat Farmer of Does My Bum Look 40
Beccy: You have released several limited-edition products with selected brands and charities. How have you chosen these?
Rae:
"I'm careful who I work with and, mostly because I work solo, I can't take on too much. I will collaborate with like-minded brands where we can help each other. I love The Alex Edit and Alex approached me last summer asking to sell my tops. We have done a bespoke colour just for her. Likewise, with Neon Beach Club who I have created some one-off neon Tees for. The charity aspect came via a friend who is friends with Vicki, the mother of George who was diagnosed with a rare form of cancer last year and they live locally. Vicki set up George and The Giant Pledge. It was just a natural instinct to want to do something to help. Also, as it's for the Royal Marsden hospital, it touched a nerve because I have a couple of friends who were under their care until the end."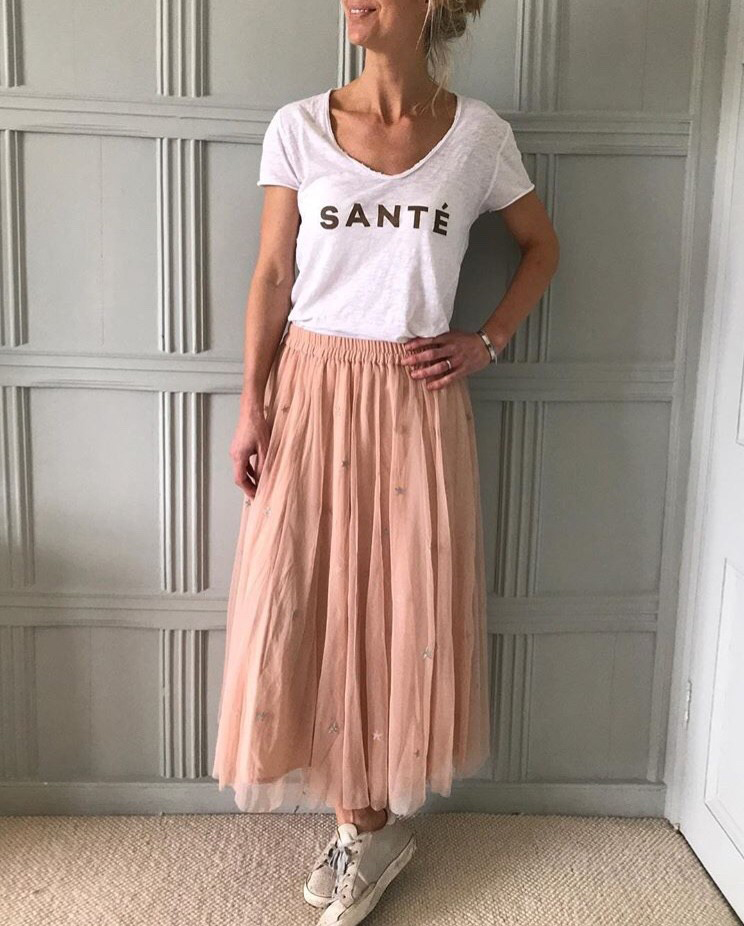 Santé t-shirt on white with metallic bronze slogan
Beccy: Where do you hope to see FWP BY Rae this time next year?
Rae:
"I love putting together whole outfits around the tops. It makes it much more exciting for me as I can see a whole look come together and look to follow what's trending currently. But I also love classic pieces, so it's important I can match them to different items in order to give them longevity.
I have just taken someone on to work alongside me. I have lots of plans to extend the brand in the future. Too many to be honest! I'm trying to hone and prioritise them. That's why it's been brilliant to find someone to work with – she can reign me in when I come up with totally crazy ideas!"
Beccy: Sounds exciting! Thanks for taking the time to meet with me. I'm looking forward to seeing what's next for FWP BY Rae.