Although many business owners and entrepreneurs may be led to believe that an eye-catching, easy to navigate website will quickly gain traffic and users, this isn't always the case. No matter how user-friendly and aesthetically pleasing a website might be, it will often struggle for visitors without it being optimised for search. Search Engine Optimisation (SEO) is key to improving the quality and quantity of traffic from a search engine to a website. If your website isn't getting the traffic that you'd have hoped for, or if your site has only just launched and you'd like to gain visitors organically, then the following 5 steps could help you to do so:
1 - Set up/monitor Google Analytics
The first step in optimising your site for search involves reviewing your site's current traffic and seeing how many organic search visitors you are receiving. This can be done using Google Analytics – a free analytics tool which is useful for gaining insights into your website users' activity. If you haven't already set up Google Analytics, Hootsuite have a helpful guide showing you how to do so.
Specifically for SEO, Google Analytics will show you how many visitors you are getting, how they reached your site and how they behave when browsing your pages. In the left navigation bar of Analytics, you will see the Acquisition tab under Reports – here you want to go to Acquisition > Overview to see the amount of Direct vs Organic Search visitors and how many of these were new visitors. We would recommend monitoring your Organic Search visitors over time to see how many people are clicking through to your website from search engines. Additionally, Analytics gives insights into which content and pages are getting the most attention/dwell time – head to Behaviour > Overview in the navigation bar to see a bounce rate percentage for the whole site or a specific page. A high bounce rate (70%+) could indicate that your site is difficult to navigate or doesn't instantly make your offering clear.
2 - Keyword analysis
Keyword analysis is important in your SEO efforts to decide which keywords and search terms you are going to optimise each page for. Firstly, choose which pages of your site you'd like to optimise – your home and services pages may be a good place to start. Next, identify keywords per page. The right keywords to optimise for can be researched using Google's Keyword Planner. The Keyword Planner can help you to see the volume of which a certain keyword is being searched in search engines. Choose a keyword per page based on which are getting a good volume of searches, but always bear in mind what your target audience may be searching for and how relevant each keyword/search term is to the needs of your potential customers.
3 - Naturally embed keywords into copy
The next step in kicking off your search optimisation is naturally embedding your chosen keywords from your keyword analysis into the copy on your pages. 'Naturally' is definitely the focus here, as over-using a keyword can have a detrimental effect on how you're ranked by a search engine. Moz recommends using your page's keyword once in the title/headline, 2-3 times in the copy/content and once in the meta description. They also advise getting the keyword in the page URL, but don't force it in if the content is about various topics which are not all related to the keyword.
4 - Ongoing optimisation
As you continue to monitor your Organic Search visitors as time progresses, it is vital that you optimise each new page or article that is added to your site. If your website is built using Wordpress, the Yoast SEO plugin is a useful tool for ongoing optimisation. Yoast offers a dedicated area for choosing a 'focus keyphrase' (keyword) for each page – it recommends using a different focus keyphrase for every page. It also has a box for the 'SEO title', and this controls how the title of a page is displayed in the search engine. You can also edit the 'slug' (the page's URL), and the meta description (the description of the page below the SEO title in the search engine). SEO gurus say the optimal length for a meta description is 160 characters. It will also show you a traffic light system for optimising a page, giving you prompts and tips on how to improve each page's optimisation. You will see a screenshot of Yoast's traffic light system below.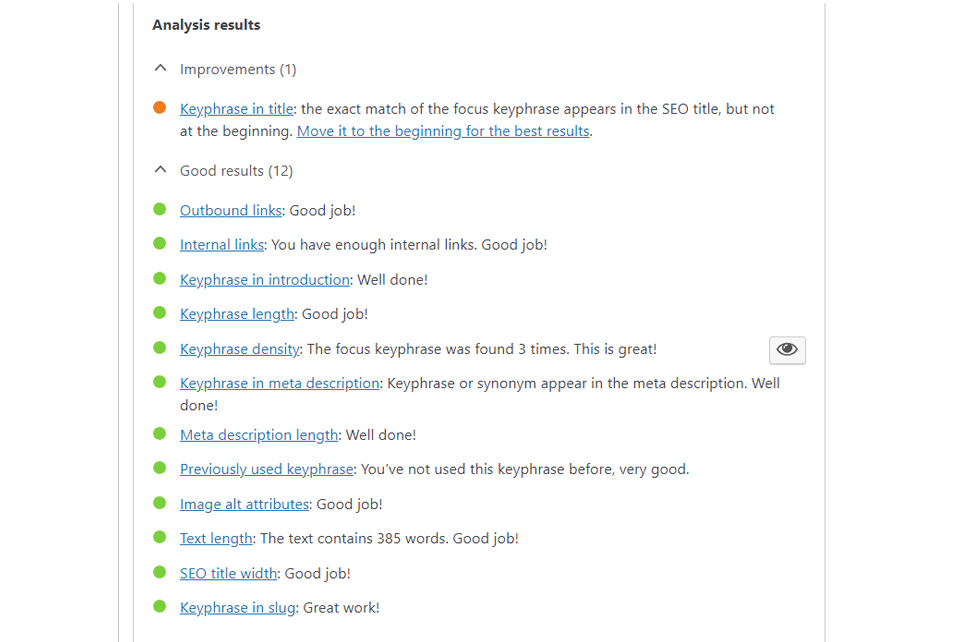 If your website is built using HTML, pages can be optimised using the same principles as Yoast – just without the traffic light system. In your code, ensure that your page title inside the title tags is around 50-60 characters and your meta description is around 160 characters. It's also important to make sure that inside of your "og description" tags your description is around 160 characters and the "og url" and "canonical" tags are no more than 60 characters as these tags determine how the URL is displayed on the page and when the page is shared as a social media post. Below is a screenshot from some demo HTML code to give you a visual idea of how you can optimise a page.

5 - Ensure your website is technically sound
Last but not least in kicking off your SEO is making sure that your website is technically sound. Alongside using Google Analytics, analysing keywords and embedding them into copy, and optimising each page as they are added, you should keep an eye on your site's loading speed and any content, metadata and redirect issues. Starting with loading speed, Google Developers' PageSpeed Insights is a very helpful tool to see how quickly your website loads on desktop and mobile. It also makes suggestions on what to look into to make your pages load faster. Finally, we would recommend carrying out frequent site crawls to identify content, meta data and redirect issues which need fixing. Put simply, these issues refer to anywhere on the site in which optimal character length can be improved, places in which descriptions or titles are missing, and internal links are broken. We use Moz to crawl our sites and flag up any issues, but a similar and popular alternate site crawler is SEMRush.
There you have it – 5 steps to get started with your website's search engine optimisation. If you have an idea of your site's keywords and the sort of visitors you would like to receive, but you need a defined strategy and ongoing SEO expertise to keep on top of it, then please contact our team to see how we can help.