Based in Redhill, Voluntary Action Reigate & Banstead (VARB) provide volunteers for a wide variety of charities that assist the elderly, carers, people with disabilities, people with mental health issues and people going through times of crisis. Charlie recently spoke to Nina Porter from VARB who told us all about their organisation, and also offered advice to those individuals and businesses who would like to support the community during the current COVID-19 situation:
How did VARB begin? What is the history?
VARB started in 1995 – so this year is our 25th anniversary. Originally there were separate smaller Volunteer Centres in Horley and Redhill. These joined to form a Borough-wide service in 1995. We have had a couple of name changes along the way from Reigate & Banstead Council for Voluntary Services to Reigate & Banstead Voluntary Service (to avoid people confusing us with the Borough Council) to Voluntary Action Reigate & Banstead in 2016.
How is VARB funded?
We receive core funding from Surrey County Council, Reigate & Banstead Borough Council and East Surrey Clinical Commissioning Group. However, we need to raise about 30% of our budget from other sources so we also apply to a range of funders. We currently have funding from BUPA UK Foundation and Community Foundation for Surrey to deliver projects that maximise the mental wellbeing of volunteers and support young volunteers.
What makes volunteering so important in the local community?
A large proportion of voluntary organisations and charities rely on their volunteers to enable them to run their services. People might be unaware of the support that local charities provide – until they or a family member needs that support. There are charities offering help in hundreds of ways – supporting older people, carers, people with disabilities, survivors of domestic abuse, people with mental health issues and people who are going through times of crisis. Charities and voluntary organisations are also about improving life for local people and taking positive steps e.g. to protect the environment, provide places and activities for people to come together, running sports clubs and activities for young people and putting on community events. Volunteers are essential to all of these.
Aside from finding volunteers, how else do you support local not-for-profit organisations?
VARB provides a range of support including:
- Helping to find and apply for funding – always an issue for small charities and voluntary organisations
- Advice and support for trustees of charities
- Training in areas relevant to charities e.g. fundraising training, digital solutions, strategy development
- Governance advice to new and smaller organisations
- Holding network events so that organisations can share ideas and experience
- Signposting to other national support and resources – VARB is a small charity ourselves with just 3 members of staff so we cannot be experts at everything. We use our website and monthly newsletter to update voluntary organisations on what (free) resources are out there as well as what is available locally.
Last year we provided support to over 130 organisations through our events and advice.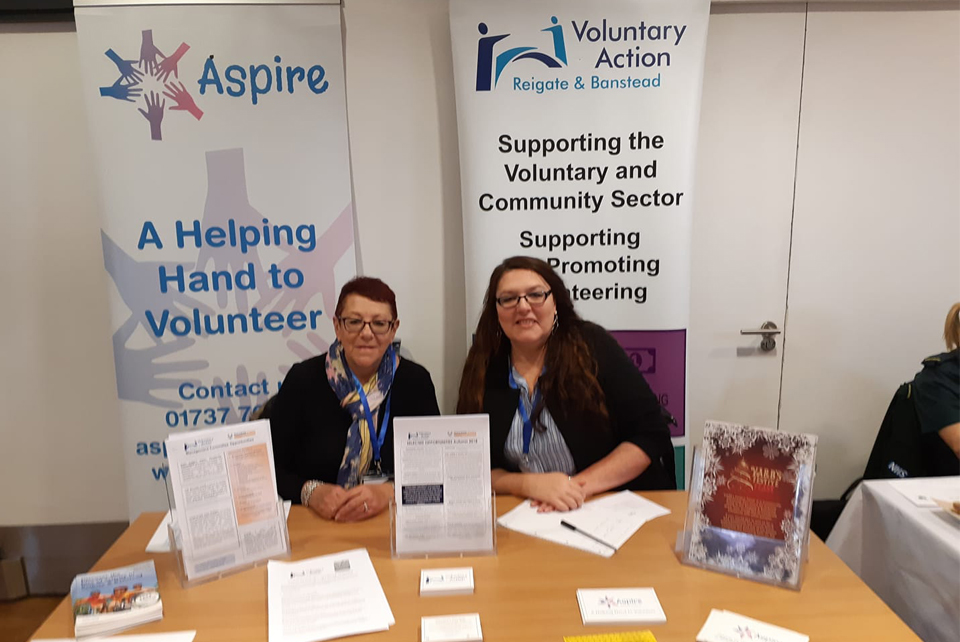 Is there an opportunity for local businesses to get involved?
Yes! More and more businesses are looking for opportunities to get involved with their community. It is something that their employees and customers like. Many employers offer staff volunteer days and VARB keeps a list of local organisations that are looking for teams or short term volunteers to help. It is particularly valuable when local businesses can offer their skills (e.g. marketing, website design, logistics) and this is something we are trying to encourage. We have had some great examples such as a volunteer from Pfizer supporting Age Concern Merstham to create a website and a team from Fidelity helping the Include choir to develop an elearning package – we estimated the skills involved would have cost around £10,000 to access commercially which would have put it out of reach for the charity.
There are other ways to get involved besides volunteering:
- Holding fundraising events or taking part in sponsored challenge events;
- Inviting in speakers from charities to raise awareness among your staff about issues such as dementia, domestic abuse or being disability aware;
- Holding collections in-kind at your places of work e.g. food and toiletries for foodbanks or childrens clothes for Stripey Stork baby bank.
- Or you could look at some of the services voluntary organisations can provide e.g. YMCA offers a corporate membership to their gym facilities in Redhill and can offer free health checks to employees – by supporting the organisation in this way you enable them to deliver the wide range of services to people in need (disability play schemes, homeless accommodation)
What sort of volunteering opportunities do you organise?
VARB mainly acts as a volunteer broker ie. we match volunteers with local not for profit organisations that need volunteers. There are a huge range of volunteer opportunities – from one off events/activities, flexible volunteering or ongoing roles. We share our database of volunteer opportunities with most of Surrey so you can search over 1000 different opportunities (specifying how close to your home you want to volunteer). At the moment there are a lot of local charities looking for trustees to join their boards. Previous board experience is not usually required and these are great opportunities for people of all ages and backgrounds to get involved in shaping the contribution made by charities.
We do have a few volunteer roles at VARB itself – Maria, John, Val and Linda all help out in the office (updating our database, preparing for events and shredding). Our newest volunteer Siti has been doing some really interesting work analysing the data we hold on volunteers so we can identify trends and target our work more effectively. At Christmas time we hold a community dinner on Christmas Day for people facing Christmas alone. We recruit volunteers just for that one event and get an amazing response from people happy to give up their Christmas Day to help others.
What advice would you give to someone who is looking to volunteer for the first time?
Think about what interest or excites you. Think about what skills or experience you can offer (and if relevant what skills/experience you want to gain). Be realistic about the time you have available to commit to volunteering. It is much better to start small and dip your toe in rather than over committing. You can search our database of volunteer opportunities online here. If there are too many choices and you are really not sure what would best suit you then give VARB a call/email and we are happy to talk you through the different options either over the phone or in person.
Do you give support or training to volunteers, if so how?
VARB provides support to volunteers whilst they are looking for a volunteer role/activity. Once they have found that role/activity then the host organisation will be responsible for training them and providing ongoing support. (We provide indirect support through our quarterly network for Volunteer Co-ordinators – we bring local charities together to provide guidance and training in volunteer management and share best practice).
What does the future look like for VARB?
The immediate future is uncertain. VARB is looking at how we can support voluntary organisations through the coming weeks and months where the Coronavirus will be affecting how we live.
In the longer term, we have no shortage of ideas about how we can evolve. We are investing time to improve how we use digital resources to reach a wider audience and to operate more effectively. And it is exciting how much interest and support there is locally in volunteering from both individuals and businesses.
Nina, many thanks for taking the time to answer our questions, and for a fascinating insight into Voluntary Action Reigate & Banstead.
VARB are looking for volunteers to support the community response to COVID-19. Click here to register on their website.
Would you like to share your small business story? Get in touch with our team.